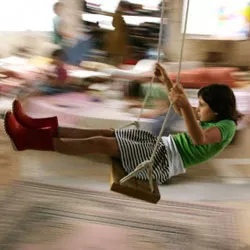 GIRL, DISRUPTED Jaeger plays a 10-year-old trying to make sense of the 1970s counterculture in Van Den Berghe's My Queen Karo.
You know how sometimes you take a chance on an obscure movie and like it so much you want to tell everyone you know? That's how I feel about two films playing next week at the Vermont International Film Festival. Both these foreign flicks are girls' coming-of-age stories that put disturbing twists on the theme — which means they won't appeal to everyone. But if your interest is piqued, check them out now, since they may not hit big screens in our area again.
My Queen Karo is a Belgian film from writer-director Dorothée Van Den Berghe. Like the Swedish movie Together, it takes a jaundiced look back at the heyday of the European counterculture, showing us the "liberated" behavior of the '60s generation through the eyes of their kids.
Karo is set in Amsterdam in 1974, when hordes of young, idealistic squatters invaded old buildings and refused to leave. Among them are the parents of 10-year-old Karo (Anna Franziska Jaeger). Her father (Matthias Schoenaerts) is a charismatic artist with revolutionary pretensions; her beautiful young mother (Déborah François) is a runaway boarding-school girl. They believe in total freedom, even if it means a fractured family.
Van Den Berghe's camera brings us into Karo's daily life without judgment. We observe how hectic and perilous and, yes, fun a child's existence could be in the days before helicopter parenting. But we also see Karo grasping desperately for structure. She gravitates toward rituals, the very things her parents have rejected. Jaeger is so natural and noncute that you may feel like reaching through the screen and hugging — or sometimes shaking — her. The film looks pretty (these hippies could be H&M models), and it has a strain of lyricism, but the emotions are painfully real.
Another pretty film that's likely to spark post-viewing discussions is Air Doll, the latest from Japanese director Hirokazu Koreeda, who made the critical favorite Nobody Knows. Based on a manga, the plot is a modern twist on Hans Christian Andersen's "The Little Mermaid," with a bit of everything from Blade Runner to Toy Story thrown in.
Nozomi (Korean star Doona Bae) is a blow-up sex doll who "grows a heart" and comes to life one day while her middle-aged owner is at work. Childlike and enthralled by the world, she slips out of his gloomy apartment and gets a job at a video store. But the more she sees of the city and its people — people so disconnected they turn to inanimate objects for sex and companionship — the more she realizes she's not the only one who's hollow inside.
It's hard for filmmakers not to get heavy-handed with the blow-up-doll motif. But Air Doll has a surreal, fairy-tale quality that keeps it light — until, again like a fairy tale, it turns gruesome. While not a horror movie, it belongs beside the notorious Audition, another Japanese film about a woman who only seems to embody a man's submissive fantasy.
Bae's performance gives the living doll a strangeness that approaches the uncanny; she initially takes stutter steps, like a Barbie trying to ambulate, and her voice lurches from a cutesy chirp to something hoarse and a little scary. Yes, the theme of the doll or toy that yearns for humanity has been done to death, as has the urban alienation thing. The film is undeniably slow, too. But, by the end, I found myself caring a great deal about this particular inflatable.
I was less taken with the third film I previewed, an American indie called The Rock 'n' Roll Dreams of Duncan Christopher. But I will say this: If you enjoy karaoke, role-playing games and general quirkiness, you have no excuse not to catch this Oklahoma production. See you all at VTIFF...