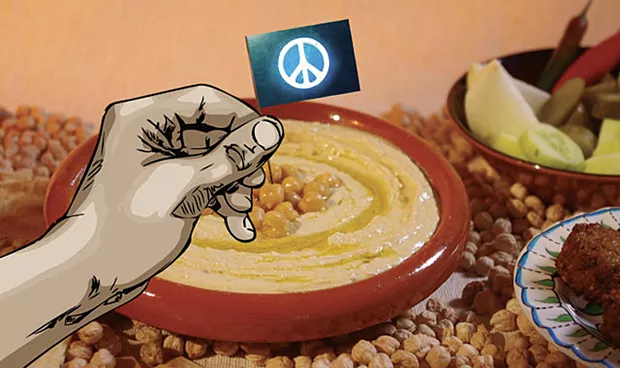 Since she debuted a series of food-themed flicks at the 2011 Vermont International Film Festival, executive director Orly Yadin has worked to step up the fest's culinary quotient each year. In 2013, the series is hitting its stride.
The fun starts on October 12 at Burlington's Main Street Landing Film House with the Italian film Slow Food Story. An hour before the 6:15 p.m. showing, sponsor Healthy Living Market will serve locavore eats and display more foods from Slow Food Vermont and the Burlington Farmers Market.
The name of Burlington bean crafter Chick Peace Hummus has never been more appropriate than the showing of Make Hummus Not War on October 15 at 6:30 p.m. The company will serve its hummus, while Palestinian members of the Burlington-Bethlehem-Arad Sister City Project offer their own version. The documentary brings to life Middle Eastern countries' battle over which one "invented" the tangy spread.
Documentary Red Obsession deals with the Chinese vogue for Bordeaux wines. Pistou and Dedalus Wine, which are sponsoring the film, will prepare food and wine for tasting at the October 17 screening at 5:45 p.m.
Filmmaker Suzanne Wasserman will be on hand to discuss her film Meat Hooked!, along with Vermont butchering superstar Cole Ward on October 19. Guild Fine Meats will ensure that viewers aren't hungry as they watch the movie about the revival of urban whole-animal butchery. A tasting of meaty bits will precede the 5 p.m. screening.
In food and film, there's no accounting for taste, but chances are that fans of both will find something to dig into at VTIFF this year.