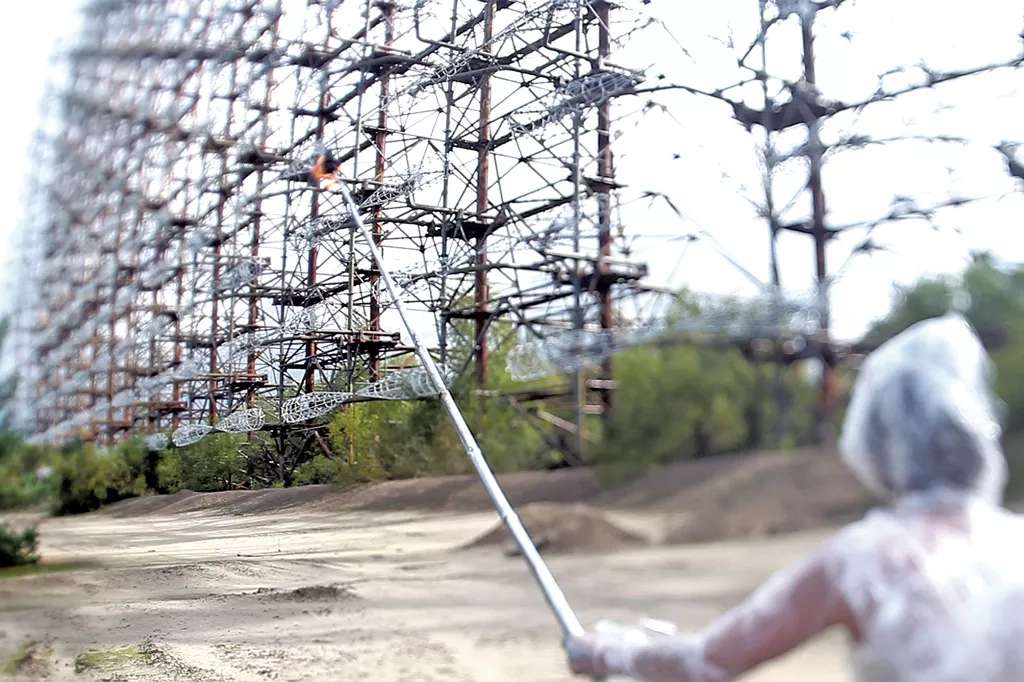 Courtesy of Vermont International Film Festival
The Russian Woodpecker
This week, movie fans and geeks everywhere celebrate the 30th anniversary of Back to the Future, Robert Zemeckis' beloved time-travel comedy. 2015 marks another 30-year cinematic milestone, this one with a local flavor. The Vermont International Film Festival, which begins on October 23, is also celebrating its 30th birthday this year.
Now a robust affair with some 75 films from more than 20 countries, VTIFF once had a narrower focus, reflected in its original name: the EarthPeace International Film Festival. A 1991 poster touts its emphasis on "Peace, Justice, Human Rights and the Environment."
Since taking over as the Vermont International Film Foundation's executive director in 2012, Orly Yadin has endeavored to program films on the basis of their artistic merits rather than their engagement with big issues. That doesn't mean that such issues are unwelcome, only that they now take a back seat to cinematic craft.
Yadin and Seth Jarvis, VTIFF's education and outreach director, note that this year's issue-oriented films provide one of several opportunities to celebrate the festival's three decades of history. As Yadin puts it, "Almost subliminally, we discovered recently that two films we have selected this year" — the two American/Ukrainian documentaries The Russian Woodpecker and The Babushkas of Chernobyl — "are both related to the Chernobyl and nuclear subjects. In a way, you could say that is our salute to the very first film shown in [what would become] the Vermont International Film Festival." That first film was the 1981 anti-nuke doc From Washington to Moscow, directed by the festival's cofounders, George and Sonia Cullinen.
Other programming "strands" in the upcoming festival engage with that notion of forging something new from the works of the past. Jarvis mentions two films that, in recontextualizing rare archival footage, offer viewers a privileged glimpse into the complexities of World War I, which has its approximate centennial this year. Bill Morrison's Beyond Zero: 1914-1918 and director-composer Michael Nyman's War Work: 8 Songs with Film are "simultaneously historical documentaries as well as experimental films," Jarvis says.
Among this year's narrative selections are several noted foreign films that haven't yet reached Vermont screens, including Guy Maddin's latest, The Forbidden Room; François Ozon's The New Girlfriend; the Austrian chiller Goodnight Mommy; and Cannes Film Festival Grand Prix Winner The Wonders, billed as a Fellini-esque exploration of adolescence.
In addition to showing films from Austria, Québec, Chile and other lands, the festival emphasizes homegrown cinema. While the bulk of VTIFF is curated by its programmers, local filmmakers submit their work to the popular Vermont Filmmakers Showcase series, and festival attendees can vote for an audience favorite award in this category.
The fest is also encouraging the next wave of Vermont film by staging the Sleepless in Burlington competition, which gives teams of students from local colleges 40 hours to write, shoot and edit a 10-minute film. All the Sleepless shorts will screen on the festival's last day, then be judged by a panel of three prominent Vermont media makers: A Band Called Death codirector Mark Covino, "Stuck in Vermont" creator Eva Sollberger and Jurassic World director Colin Trevorrow.
A continued emphasis on the expansion and professionalization of the festival is another hallmark of its 30th year. For one thing, Yadin says, organizers have made a "huge effort to bring more filmmakers this year." Most prominent among this year's visitors is director Tom DiCillo, who will introduce the remastered 20th-anniversary edition of his pioneering indie film Living in Oblivion, as well as his most recent feature, the documentary Down in Shadowland. Insofar as DiCillo will present both an old and a new work, his visit dovetails, Yadin says, with the "looking back, looking forward" mission of the fest.
Another mark of VTIFF's expansion: Its budget has steadily risen during the four years of Yadin's stewardship. In 2012, Yadin's first year as executive director (she was formerly a board member), the budget for the nonprofit festival was about $95,000, she estimates. This year's budget is around $150,000, the better to bring in such filmmakers as Québécois Stéphane Lafleur, whose 2014 slice-of-life comedy Tu Dors Nicole, playing in the festival, has gained critical praise.
"Every year, it's a challenge to raise the money," says Yadin, "but what I have noticed in the last couple of years, as we have become more visible and more prominent ... is that there are more businesses that see the value of supporting us." One of the new sponsors is Hotel Vermont, which will host several of the festival's visitors. VTIFF's expansion efforts also include a continued partnership with the Brattleboro Film Festival and an in-the-works plan to screen some of the locally made films on Vermont PBS.
Perhaps the most significant sign of VTIFF's maturity is that its staffers have begun to dig into the archives with the goal of documenting the festival's history. Already those efforts have yielded a Flickr gallery of posters from festivals past; a display case of ephemera from VTIFF's three decades will be on exhibit at Main Street Landing Performing Arts Center during the festival. "We've found some real gems in there," says Jarvis.
Most of the archival digging has been undertaken by interns from Champlain College, says Yadin. "What delights me is that these students, who are maybe 18, 19, 20 years old, find it so fascinating to go through these archives," she says. "It's not just fuddy-duddies who are interested in the past, but students who are getting excited." Some of those students even went so far as to produce a short video about VTIFF's history, to be screened during the fest.
It's one more sign that the festival's past may well point the way toward its future.