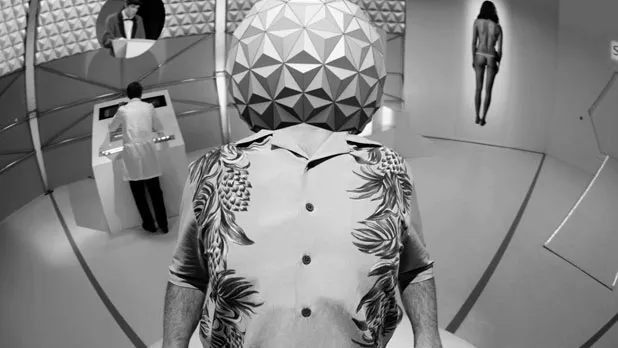 The official themes of the Vermont International Film Festival, which starts this Friday, are Identity, Artists in Action, Sport & Film, Food & Film and Water. But, as always, we've made up our own categories to preview the fest's 37 features and more than 40 shorts. (For a look at the food films, check out Food News in the October 2 issue of Seven Days.) One thing we're especially happy to see at VTIFF this year: flicks that generated buzz at festivals around the world but haven't played in Vermont.
Fest Faves: Everybody's talking about The Act of Killing, a provocative documentary in which director Joshua Oppenheimer invites former members of a notorious Indonesian death squad to reenact their crimes for his camera. "We can commit to any kind of crime if we have a story to justify it," the director has written.
Escape From Tomorrow explores a more benign line between fantasy and reality. But this thriller, filmed inside Disney parks without permission from the almighty Mouse, has made its own share of waves. (Disney has declined to sue its makers, for now.)
Making waves — with echoes of the French New Wave — is something at which young Québécois director Xavier Dolan excels. His first film was called I Killed My Mother. His third, Laurence Anyways (look for my review on October 16), concerns a romance with a transgender twist.
If you're excited about Captain Phillips opening this week (which I reviewed in the October 2 Seven Days), check out its thought-provoking Danish counterpart, A Hijacking (see movie review, page 84, this issue). Almayer's Folly, a 2011 Joseph Conrad adaptation, is the latest from Belgian auteur Chantal Akerman. Fans of Noah Baumbach have another chance to see Frances Ha (hailed by some critics as a new Annie Hall) on the big screen at VTIFF.
Winter Sports: Getting pumped for the Olympics? On Sunday, October 13, VTIFF presents a full afternoon and evening of related programming. It starts at 3 p.m. with a presentation on "Restoring Olympic Films" by Adrian Wood, archival consultant to the International Olympic Committee. At 4 p.m., the documentary A Passion for Snow chronicles a century of skiing at Dartmouth College. Former Olympians, including members of Vermont's Cochran family, will attend a Q&A and reception. Finally, at 6:45 p.m., Wood will present his restored version of White Rock, the official film of the Innsbruck 1976 Winter Olympics.
For fans of cold-weather exertions, the programming doesn't end there. Check out The Ridge, a documentary about a harrowing Himalayan rescue; and King Curling, a Norwegian underdog dramedy about, yes, that sport with the brooms. And, of course, the thoughtful snowboarding doc The Crash Reel, about former professional Vermont snowboarder Kevin Pearce, which opens the fest.
Locally Grown: VTIFF is the place to catch up on recent Vermont-made films. Sam Mayfield's doc Wisconsin Rising gets its local premiere here. You can also see Worst Thing About Coming Out — a project from Rob Barracano and his Champlain College students — Cow Power: The Film; "Still Moving: Pilobolus at Forty"; and "I Am in Here," a portrait of living with autism created by Mark Utter through VSA Vermont.
Short-film showcases let you sample the latest work of local directors such as Tim Joy, Stephen Maas, Michael Fisher, Ashley DeLucco and Elizabeth Rossano. You're bound to see more — and more exhausted — filmmakers at the Sleepless in Burlington 24-hour film slam on October 20.
Just the Facts: VTIFF's focus this year on "Artists in Action" brings us documentaries such as Chihuly Outside and Gregory Crewdson: Brief Encounters. Filmmaker Peter Mettler takes an impressionist journey around the world with The End of Time. The Genius of Marian profiles a family struggling with Alzheimer's disease, while A River Changes Course documents environmental degradation through portraits of three Cambodian families.
Halloween's a-Coming: Get that putrefying-flesh makeup ready! For the other kind of Deadheads — fans of zombie impresario George A. Romero, that is — VTIFF offers the documentary Birth of the Living Dead on October 18. It's followed by a late-night screening of its subject, horror classic Night of the Living Dead. Also on the VTIFF menu, Irish director Neil Jordan's moody Byzantium may not be your typical horror film, but it does star Saoirse Ronan and Gemma Arterton as vampires.
VTIFF's organizers are asking you to buy your tix online this year. Find more film descriptions, full schedule and ticketing info at vtiff.org.
VTIFF's "Lunchtime Shorts" series at the BCA Center offers a chance to see cutting-edge short films from around the world, including a full program of animated shorts on October 16.
This Sunday, animation buffs — and their kids — may also want to check out a special event at Dartmouth College's Hopkins Center for the Arts. Dan Scanlon and Kori Rae, director and producer of Monsters University, respectively, will accept the Dartmouth Film Award on behalf of Pixar. Catch a Q&A, a compilation reel of clips from beloved flicks such as Toy Story and The Incredibles, and more for the family-friendly ticket price of $5.
Things usually turn out OK for the talking animals in animated flicks. Not so for the real majestic pachyderms in the 2013 National Geographic Special Battle for the Elephants. Hunted for their tusks, they could be "extirpated" within a decade, says director John Heminway. On Thursday, October 17, Heminway will speak at the University of Vermont after a screening of the documentary, part of a panel that also includes Shelburne wildlife-trafficking expert and frequent National Geographic contributor Laurel Neme.
Vermont International Film Festival. Friday, October 11, through Sunday, October 20, at Main Street Landing Performing Arts Center, Lakeside Pavilion at ECHO Lake Aquarium and Science Center and BCA Center in Burlington. $10 per film; $8 seniors; $5 college students and kids 11 and under. Find schedule and purchase tickets at vtiff.org.
Dartmouth Film Award presentation: Pixar. Sunday, October 13, 7 p.m. at Spaulding Auditorium, Hopkins Center for the Arts, Dartmouth College, in Hanover, N.H. $5. "Battle for the Elephants" screening and panel discussion. Thursday, October 17, 4:30 p.m. at Ira Allen Chapel, University of Vermont in Burlington. Free.