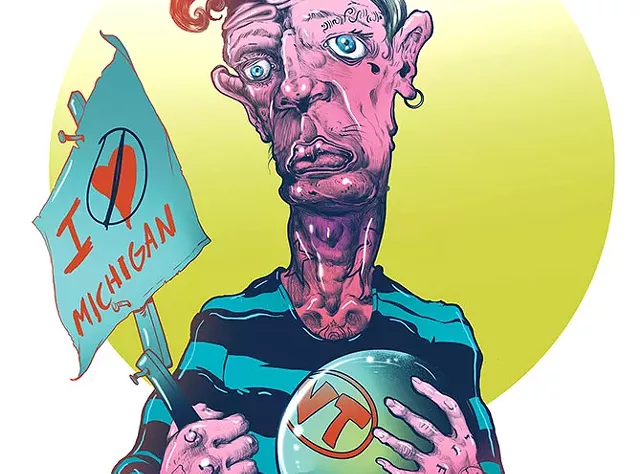 In June, the Vermont Department of Corrections ended its controversial 11-year relationship with the Corrections Corporation of America and started a new one with a rival private prison company, the GEO Group. As a result, 350 Vermont inmates were transferred from a CCA prison in Kentucky to a GEO facility in Michigan.
Five months later, inmates and the officials who advocate for them say they were better off in Kentucky.
They claim the transition to the North Lake Correctional Facility in Baldwin, Mich., has been rife with problems. Inmates accustomed to the open dorm-style living in Kentucky are now stuck in Michigan in windowless cells and allowed little freedom of movement. They no longer have access to many of the jobs, classes and activities that helped them pass the time — and stay out of trouble — in Kentucky.
To learn about life in the GEO prison, Seven Days exchanged emails with several inmates. A new system now gives prisoners in both Michigan and Vermont an alternative to calling "collect": digital means to communicate with the outside world — for 40 cents per email.
Inmates who engaged with Seven Days described a chaotic transition during which rules were unclear and GEO seemed ill prepared to host them. North Lake, which had been mothballed for several years, received them just two months after GEO announced the two-year, $30 million contract with Vermont and began hiring new guards. In fact, the Vermonters are the only inmates in the 1,740-bed prison, which is about three hours northwest of Detroit.
"The underlying theme is that we have been treated like guinea pigs," wrote inmate Victor Hall, who was convicted of aggravated sexual assault. The GEO facility, he wrote, "wasn't ready for us at all, and these five months later they are still patching holes in the boat. When we got to Michigan, nobody knew anything about how this place should operate, including the staff."
Some of the wrinkles have been smoothed out, inmates say. GEO hired a dentist, set commissary prices, and resolved the laundry and toilet paper delivery schedule.
But inmates and their allies fear some problems may be intractable.
One of the biggest complaints: There is a scarcity of jobs that could help prisoners pass the time and earn a small amount of money, around 50 cents a day, to buy personal items at the commissary.
"North Lake feels a lot more like 'dead time' than CCA," said inmate Shaun Bryer, a former Morrisville teacher and select board member convicted in 2011 of sexually assaulting former students. "What you have are guys who used to occupy themselves for hours a day with nothing to do ... Time seems to go slower, and little problems seem bigger."
In Kentucky, every inmate who wanted a job had one. In Michigan, even though the Vermont inmate population has plummeted to 240 — something state officials say is partly the result of prison diversion programs — there aren't nearly enough jobs to go around.
Programs have been affected, too. In Kentucky, many inmates spent several hours a day making elaborate craft projects — ranging from jewelry boxes to small pieces of furniture — using Popsicle sticks and glue. DOC officials told inmates the program would continue in Michigan. Instead, guards there deemed the materials contraband and confiscated them. The warden rejected pleas to restore the program, according to several inmates.
In Kentucky, some prisoners took advantage of a canine-training program. They spent six to eight weeks teaching obedience to shelter dogs that were in danger of being euthanized as a result of behavioral problems. There's no such program in Michigan.
"We're put in storage, and with nothing positive to fill our time, we are left with two choices: Do nothing or do wrong things," Hall said. "There isn't enough offered here to make good use of the massive time we have to spend here. Many, many men here do nothing. They waste and rot, largely for nothing."
It's been more than 20 years since the Vermont DOC had enough room to accommodate its prisoner population. When the 1,600 beds in seven facilities are all occupied, the state relies on private companies to step in. Generally, inmates with longer sentences get sent out of state, where non-Vermonters are responsible for their mental health and safety.
The prisoners' primary advocate in Vermont said he is concerned that security at North Lake is weaker than it was in Kentucky, and a few fights have already broken out. "There is the potential for a lot more trouble," said Seth Lipschutz, supervising attorney for the Vermont Prisoners' Rights Office. "My sense is that this place is somewhat less safe than Kentucky."
Inmates live in four wings. At the center is a small hub that is usually staffed by just one guard, Lipschutz said. Other guards walk through the wings and check on the inmates infrequently. There have been instances of inmates being bullied into paying "rent" to other inmates for the privilege of living in their assigned cells, Lipschutz said. "One of the main problems that concerns me is the potential — and incidents I've heard about — for inmate-on-inmate violence and the strong preying on the weak."
Vermont inmates contacted by Seven Days did not, however, express any significant security concerns. Nor were they immune from violence in CCA prisons. Last year, Vermont inmates rioted in a CCA prison in Arizona, where the company used to house a small number of Vermonters who had disciplinary problems in Kentucky. In 2004, inmates rioted inside the Kentucky prison.
DOC Commissioner Lisa Menard, who was appointed to her position in September, said in an interview that her agency is pleased with GEO's work and described the switch as a "smooth transition" with normal "growing pains."
"You're taking people who don't have any control over where we're moving them," Menard said. "They didn't choose Kentucky. But they were comfortable. They established their routine, and we moved them. Like anybody, they want their routine back."
Menard confirmed that some fights had occurred in Michigan, but nothing out of the ordinary. She said no one had been seriously injured.
GEO, a publicly traded company based in Florida that owns more than 100 prisons worldwide, did not respond to a request for comment by press time.
Menard said GEO was not contractually obligated to provide inmates jobs or crafts programs but that the DOC is working with the company to create more work opportunities. GEO has discretion in the classes and activities it offers, she said.
"I've definitely heard the same complaints, and we continue to look at them," Menard said. "Their concerns are not falling on deaf ears."
Compounding inmates' frustration is a grim routine. Outdoor time is limited to an hour or two a day, when it's offered at all. In Kentucky, by contrast, inmates could roam between various wings and go outside largely unfettered, as long as they behaved. In Kentucky, the cells had windows. In Michigan, they don't.
"When your world closes in on you, little things become much more important in a way we in the public don't understand," Lipschutz said.
Not all inmates fault GEO.
Kaseen Smith said he prefers Michigan to Kentucky. GEO staffers, he said, have treated inmates fairly. He attributed any shortcomings to the Vermont DOC, which he claimed cares little about its out-of-state inmates. "These people here at GEO make a valid effort to meet our needs," said Smith, who was convicted of aggravated domestic assault. "They do what they can."
Though they have just begun to settle in, some inmates are now worried that they could soon be forced to relocate again and go through another uncomfortable transition. A few told Seven Days that wardens and guards have said that North Lake is in danger of closing if it doesn't get more prisoners.
GEO announced in May that up to 1,000 inmates from the State of Washington were coming to North Lake. But the Washington inmates never arrived. The Washington DOC has since said it will only use Michigan as a fallback, and it has no immediate plans to send inmates there.
Lipschutz said that guards at the Michigan prison had asked him whether Vermont could send more inmates, to keep the prison economically viable.
Menard said she was unaware of any possible change in GEO's plans for North Lake, and, while the state would like to reduce its inmate population so it can cut all ties with the private prison industry, that isn't likely to happen anytime soon. "What's frustrating," she said, "is that we're doing prisoners out of state at all."
Meantime, inmates in Michigan say their time spent there does little to prepare them for life on the outside. In Kentucky, Bryer taught a basic adult education class to help inmates obtain their GEDs. His class was usually full. Over the years, he said, more than 800 Vermonters obtained their high school equivalencies through the program.
Now, there are no classes to teach. Bryer spends some of his abundant free time lobbying GEO officials for more programs.
He asked: "Isn't the goal of corrections to correct?"