Benjamin Littenberg, MD, a professor of internal medicine at the University of Vermont, isn't big on fiery foods. "I don't like hot peppers; they make my nose run," he says. "I'm just not a spicy food guy."
Nonetheless, when one of his students, Mustafa Chopan, came to him with an interest in studying the relationship between peppers and health, he gave the project the go-ahead. Says Littenberg, "[Chopan] had been reading up on inflammation, and he came across a study out of China that had associated peppers with reduced mortality."
They decided to see if they could confirm those results in the U.S., using a federal database for which a population had been interviewed and then tracked for 20 years. Sure enough, the data "showed that people who ate hot red peppers tended to live longer, and it was not a random association," Littenberg says. Their paper, "The Association of Hot Red Chili Pepper Consumption and Mortality: A Large Population-Based Cohort Study," showed that "Consumption of hot red chili peppers was associated with a 13% reduction in the instantaneous hazard of death."
Upon publication, the study was covered by a slew of media outlets and went viral on the internet. "It occupied the front page of Reddit for 24 hours straight," says Littenberg. "My really good research doesn't get that much attention."
Littenberg says more research is needed for doctors to understand the mechanisms by which hot peppers — particularly their distinguishing ingredient, capsaicin — may lead to increased longevity. So, for now, Littenberg isn't suggesting that people change their diets. His recommendation: "[Hot peppers] won't hurt you, might help you, and, if you like [them], that's great."
The pepper harvest is in full swing, so now's the time to buy cayenne, habañero, tabasco and bird's-eye chiles at the market.
Don't want to risk the stinging eyes and oh-so-spicy fingertips from chopping and seeding chiles but still want to increase your capsaicin intake? Hot sauce is a perfect solution. Despite its oft-lamented dearth of authentic Mexican cuisine, Vermont boasts plenty of hot sauce producers, from farmers who sell a few bottles alongside their pickles and jams to companies that specialize in selling the burn. The heat is on at businesses such as Benito's Hot Sauce, which puts out about 50,000 bottles per year; Butterfly Bakery of Vermont, which contracted to buy 17,000 pounds of local peppers in 2017; and Angry Goat Pepper, which has brought home numerous awards from events such as the NYC Hot Sauce Expo.
We asked the owners of those three thriving artisan pepper sauce businesses a few questions about their craft.
Jason Parker, owner, Angry Goat Pepper
240 South Main Street, White River Junction, 272-1274, angrygoatpepperco.com
How he got into the hot sauce business:
Pretty much by accident ... I first got introduced to pepper jelly in Bermuda on my honeymoon. Several years went by, and I left my corporate job and was doing the farmers market thing with chicken and eggs. The market didn't have anything spicy, and I decided to do pepper jelly, and it took off from there. I have my production kitchen here in White River Junction, and I have a hot sauce shop. I don't just carry my own stuff: We have spicy pickles, mustards, barbecue, salsa.
What sets his company apart:
In my opinion, we have better flavor and better heat. Hot sauce is such a saturated market that you have to differentiate yourself with your flavors and combinations. We get our milder peppers from a produce dealer locally. I get all my hot peppers from a family farm in Pennsylvania.
Any funny hot pepper stories?
Nothing I want on the record, put it that way. They're more the "That's embarrassing; why did I do that?" type of story.
His favorite kind of pepper right now:
I actually don't like the flavors of hot peppers myself, [but] I like the burn after it's in the sauce. We use a lot of ghost pepper, and I like the characteristics of that one the most, because it's a delayed heat — you get all the flavor, and the heat will kind of build slowly.
Favorite sauce:
My Purple Hippo Hot Sauce made with prickly pear juice and strawberry. We've picked up six national awards for it. It's one of those things that's completely outside the box. It's deceptively sweet and fruity to begin with, and the heat kind of creeps in at the end. That sauce is what we're known for in the industry.
Best ways to serve his sauces:
The biggest thing we do at home is tacos. We have three kids, so we make everything bland to start with, and I doctor it up from there.
Has he noticed any health effects?
I make more than I eat; I think I absorb more capsaicin through my skin. [But] there are numerous studies out there about the benefits.
Ben Maniscalco, owner, Benito's Hot Sauce
559 Harrel St., Morrisville, 730-6823, benitoshotsauce.com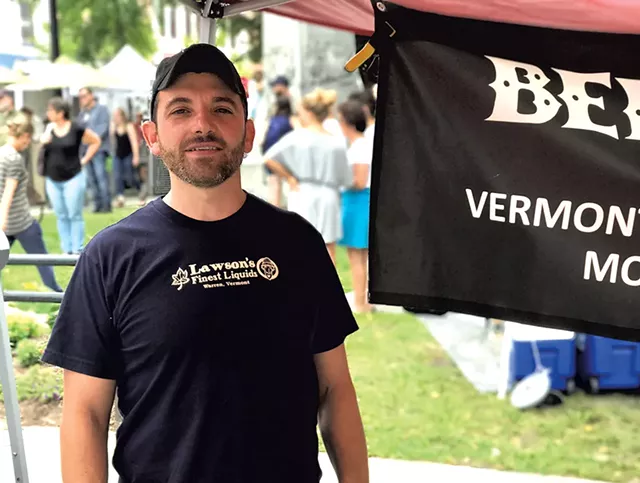 Suzanne Podhaizer
Ben Maniscalco
How he got into the hot sauce business:
By happenstance, from having an organic chile garden behind my house and getting into hot chile peppers in general. At first, I was drying them and putting them in the shaker, and then I thought of hot sauce as a natural way to preserve them.
What sets his company apart:
When I started making hot sauce about 10 years ago, everything was either generic, like Tabasco, or a novelty, blow-your-face-off sauce. I saw a lack in the craft of creating that balance of fire and flavor. We make fresh vegetable purée hot sauces. They have a high viscosity ... I don't use a lot of vinegar. Living in Vermont is great because I can source tons and tons of local vegetables. We're working with eight Vermont farms. It's also the fact that we go the extra mile to certifications. About a third of our product line is certified organic; it's all non-GMO certified.
Any funny hot pepper stories?
I used to work for a chef at a Mexican restaurant. When he got fed up at the staff on a rough Saturday night, he'd throw chiles into a really hot cast-iron pan, so they'd immediately scorch, and a cloud would rise up from the pan. It would clear out the kitchen.
His favorite kind of pepper right now:
I really like fatalii peppers. They look a lot like a yellow ghost pepper, but it's a different variety. They're extremely flavorful with a nice, refreshing almost-sourness and very intense heat. They're not easy to get; they're not the most common.
Favorite sauce:
The one that we use the most is probably the carrot-habañero [Original Naranja] — it's our flagship sauce. We use local organic carrots from Full Moon Farm [in Hinesburg], habañero from Foote Brook Farm [in Johnson], organic vinegar and organic lime juice, onions, sweet peppers.
Best ways to serve his sauces:
Definitely [with] proteins like chicken, eggs, white fish, shellfish. A breakfast sandwich is a great thing to put hot sauce on. Mexican food is a big one, but I also love it on sushi.
Has he noticed any health effects?
I have asthma, and, believe it or not, it seems to help ... I tend not to have any bouts when I'm producing, or the day after. It definitely helps the sinuses; it's great for circulation, regulating blood pressure. But for me, I'd say respiratory health in general. You wouldn't think that, because it makes you cough.
Claire Fitts Georges, owner, Butterfly Bakery of Vermont
46 Gallison Hill Road, Montpelier, 310-1725, butterflybakery.com
How she got into the hot sauce business:
By accident. I was baking, and, while the business was doing fine, my farmers market sales were really slow. I decided I needed to find a product my farmers market customers wanted to buy or find something else to do with my Saturday mornings. I started doing specials ... random things [such as] compound butter, pesto, chimichurri. A lot of farmers like to grow peppers — they grow pretty easily in Vermont — but there aren't a lot of people buying them, so there are a lot of leftover peppers. So I started [making hot sauce], and then people started really liking it ... Now, it's about 50 percent of my business.
What sets her company apart:
I use 100 percent Vermont-grown peppers. The only other company I know with that same commitment is Benito's, and I would say my hot sauce is different from his in that he uses lime juice as his acidifier, and I use vinegar. I'm constantly trying out new things ... Some of those experiments come and go; some become something more [regular]. I work with 10 pepper farmers. This year, I'm contracted to buy about 17,000 pounds. Last year I bought 6,500 pounds, and it wasn't even close to enough.
Any funny hot pepper stories?
The very first batch of hot sauce I ever made was a fun, random thing with my then-brand-new boyfriend, now husband. I had the brilliant idea that the best way to prepare the peppers was to sauté them over high heat, which created pepper gas. Now I boil them. We called that first hot sauce Cough Cough, Wheeze Wheeze.
Her favorite kind of pepper right now:
I work mostly with jalapeños because they grow well here. Habañero has a nice kick. Cayennes are really good; they have a richer flavor than jalapeños, but they're really expensive.
Favorite sauce:
I go through phases of being all over a certain hot sauce. I really like smoked stuff, so the Smoked Onion would be my usual favorite. I'm coming out with a line of beer hot sauces: I've got a Heady Topper hot sauce; habañero-lime Switchback [Brewing]; peppercorn-porter with Queen City Brewery's Yorkshire Porter; carrot-hopped cider with Stowe Cider's Safety Meeting; and maple-garlic stout with 14th Star [Brewing's] Maple Breakfast Stout.
Best ways to serve her sauces:
I almost always put them on eggs, pizza. I'll use the Sriracha as a salad dressing. If I'm making ramen, I'll definitely put hot sauce in there. I go through fits and starts ... Sometimes hot sauce tastes a little too much like work to me.
Has she noticed any health effects?
I've eaten hot sauce my whole life — I had my first habañero when I was 7. I know capsaicin is supposed to have all these benefits. But, for myself, I have no idea.