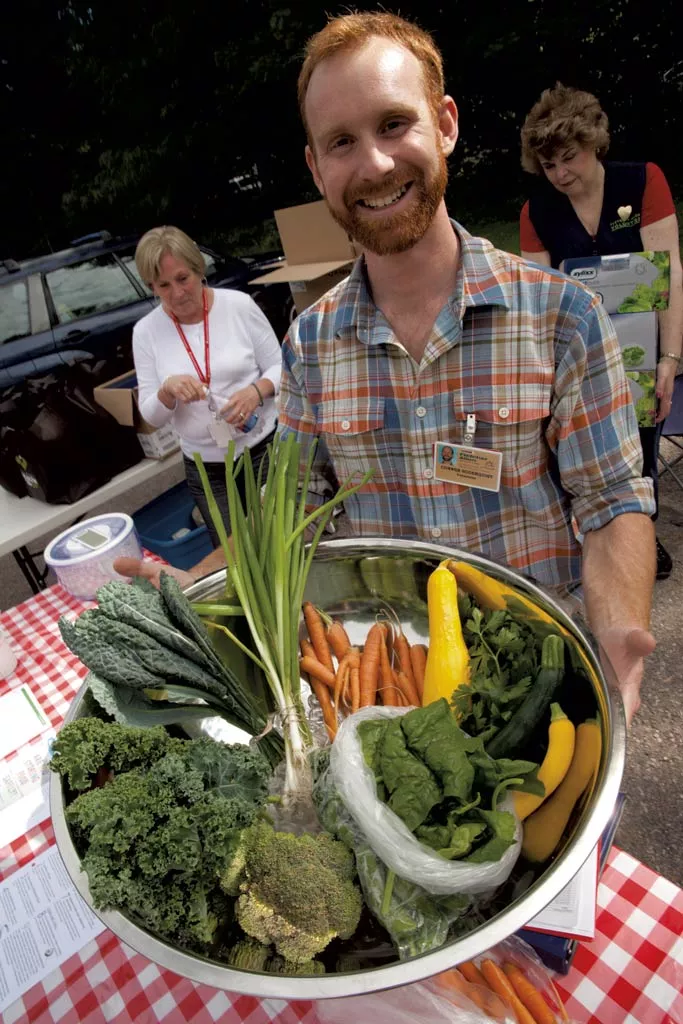 Photos: Matthew Thorsen
Volunteer Conner Soderquist
What if, instead of meds, doctors prescribed peas and carrots?
That's the idea behind a growing partnership between the Vermont Youth Conservation Corps and two Vermont hospitals. Volunteers, doctors and nurses are giving hefty doses of fresh, local vegetables to patients from Fletcher Allen Health Care and Central Vermont Medical Center.
Part community-supported agriculture, part doctor's orders, the program is free for patients who have been recommended by their physicians.
"Good nutrition is the cheapest health care insurance you can ever buy," said Diane Imrie, the director of nutrition services at Fletcher Allen. "If we want to talk about having a 'well' community, they have to be well fed."
Vermont is not alone in treating food as medicine. Hospitals and health insurers in other parts of the country have already started to experiment with nutrition-based healing. Since 2005, a handful of health insurance companies in Wisconsin have offered rebates for customers who sign up for CSAs — it's a way to incentivize healthy eating habits. Another venture is FVRx — a fruit and vegetable "prescription" program that started in Connecticut and gives patients vouchers to purchase healthy food.
Such programs are starting to produce results. FVRx tracked body-mass index decreases in 41 percent of children who participated.
VYCC initially started its farm-share program with Central Vermont Medical Center in 2012. Last year, the program expanded to Chittenden County through a pilot project with Colchester Family Practice. This year, the VYCC farm program is twice as big as it was to start: Ten student-farmers — ranging in age from 15 to 21, who are paid to work on the VYCC farm in Richmond — are planting and harvesting eight acres of vegetables, enough food for 300 families.
The rationale?
"It's really easy to tell people to eat all this healthy food," said Joanne Hunt, a nurse practitioner at Colchester Family Practice. But patients might not know what to buy, or how to prepare it. Or they could struggle to afford local, fresh vegetables. The health share program, she said, is about "showing them and giving them real examples of what they can do ... We're not just throwing medications at them. They're involved in this."
Imrie noted that last year's pilot yielded more qualitative than quantitative data, but she said the anecdotes from patients were powerful. Dr. Alicia Jacobs, a family practice doctor at the same Colchester practice, said at least four patients "told us this changed their lives." One woman lost 20 pounds.
On a recent Thursday afternoon — the second pickup date in the 12-week program — volunteers outside Colchester Family Practice manned a small table on which they'd arranged kale, scallions, spinach, summer squash, broccoli and tender young carrots in a large bowl. One volunteer dished up beets and carrots for each participant, talking up the suggested recipe for the week. In addition to the veggie share, participants took home a free salad spinner and a binder with lessons and recipe suggestions.
Volunteer Conner Soderquist greeted patients with a smile and a clipboard. He was administering a wellness survey to serve as the baseline for the program; the physicians and nutritionists want to chart just how effective the free veggie share is in encouraging healthier behaviors.
"I'm a farmer that, along the way, decided that I wanted to be a doctor as well," said Soderquist, who recently wrapped up some pre-medical courses at the University of Vermont and is now applying to medical school. He learned about the health shares program from Imrie and was immediately hooked. "It's a pretty perfect overlap," he said. "I think that we have a great opportunity and a great responsibility to utilize food as the basis for our health care."
Vermont, he said, is perfectly positioned to move the industry in that direction.
"We're ready," Soderquist said.
Are patients? By the end of the two-hour pickup in Colchester, about half of the waiting 33 shares had not been claimed — despite personal calls to every recipient on the list. Even typical CSA programs have a certain rate of no-shows every week, but the volunteers said that for some patients, getting to the pickup sites can be a struggle. Some work long hours. Others have unreliable transportation. Last year, Soderquist ended up personally delivering a share to one woman every week because she couldn't make it to the doctor's office.
Last year's patients were selected because of high blood pressure. This year, doctors and nurses focused on families, with the goal of encouraging nutritious, home-cooked family meals.
Imrie and her cohort of volunteers and partners are tracking biometrics such as blood pressure and body mass index. They're also studying the effectiveness of the curriculum designed to accompany the weekly food deliveries, which includes lessons on whole grains, antioxidants and "feeling full on fewer calories."
VYCC charges the hospitals the going rate for their vegetables — about $250 a share for 12 weeks' worth of food. The 300 total shares it produces are divided equally between Fletcher Allen and Central Vermont Medical Center. Fletcher Allen turned to the Department of Health, TD Bank and its own community outreach department for donations to cover the cost; Imrie said the budget for the entire program — not counting staff time — is about $60,000 this year.
Central Vermont Medical Center, meanwhile, asks employees to donate to the program through payroll deductions. The medical center's chief operating officer, Nancy Lothian, said that raising $20,000 every year can be a stretch for employees, and she worries about the long-term sustainability of the program.
However, she hopes the staff at the medical center will champion the program moving forward. Already the VYCC partnership has spilled over into other areas of the hospital's culture; VYCC employees show up every week for an informal farmers market for the medical staff.
Paul Feenan, the food and farm director at VYCC's farm site in Richmond, said he'd love to see the program expand to other hospitals in the region — and other farms.
"We really see this as a catalyst for local agricultural development throughout the state," said Feenan. Already, hospitals in Rutland, Bennington and Windsor have signaled interest in the model. Next on VYCC's to-do list is reaching out to insurance companies to explore the option of funding or rebates for patients.
Pausing for lunch in the VYCC farmhouse, the students who grow and harvest the veggie "prescriptions" wolfed down zucchini bread and pasta salad with fresh veggies. Most of these students also take home a share of vegetables each week and are learning to cook them, as well. "They're not that bad, when you get used to them," joked 16-year-old Lee Benoit of Jericho about the veggies on his plate.
"I think it has huge potential," said VYCC leader Kellee Jackson, 21, a recent UVM grad with a degree in environmental studies. "We're showing that health care doesn't have to be an end-of-the-pipe thing — that we can approach health care earlier."
Once they'd finished their lunch, the students headed back outside to weed carrots.
The original print version of this article was headlined "What the Doctor Ordered: Vermont Hospitals Prescribe Farm Fresh Food"