AP/Toby Talbot
Farmers To You founder Greg Georgaklis
In the last week of March, Pete's Greens produce farm in Craftsbury sold about 35,000 pounds of root vegetables, roughly double the farm's weekly distribution of storage crops, owner Pete Johnson said.
The organic farm he started 21 years ago is also experiencing a surge in its CSA business, the part of the farm that sells vegetables and other locally produced food directly to consumers. About 200 families joined the farm's Good Eats CSA in the last two weeks of March, bringing the membership to about 600 families, according to Pete's Greens. And more people keep joining.
"It's just been nutty, I didn't really expect it," Johnson said last week by phone. "It's been really great, actually, if we can keep the wheels on. It's pretty challenging."
266 S. Craftsbury Rd.
Northeast Kingdom
Craftsbury, VT
Farm
The increased demand for food from Pete's Greens and other Vermont growers coincides with — and is attributable to — the first reports of the coronavirus in Vermont, according to farmers and other agriculture experts.
Vern Grubinger, vegetable and berry specialist for University of Vermont Extension, cautioned that it's too early to evaluate or draw conclusions about the growing interest in local produce. He added that there's no data to explain why more people appear to want locally grown food. But the phenomenon, he said, "seems like a bit of a silver lining to this horrible pandemic situation."
"One can assume that people feel local food is safe," Grubinger said, adding that the "pandemic has raised some concerns" about the food distribution system.
"It's nice to know we have a local supply, and I think people want to support that by supporting local farms," Grubinger said. In addition, he noted, "when you have a direct relationship with growers, or know the [food's] point of origin is in your state, it provides a level of confidence that people appreciate."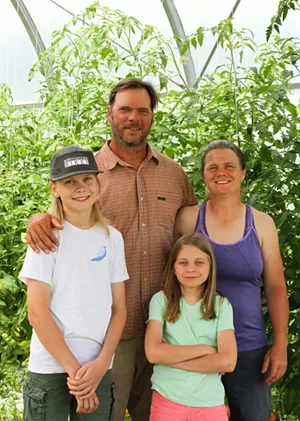 Courtesy Of Carol Sullivan
Mark Fasching, Christa Alexander and their children
Christa Alexander, who owns Jericho Settlers Farm with her husband, Mark Fasching, said CSA spring membership sign-ups have doubled in the past couple of weeks. Business at their Jericho farm store has increased by a factor of eight.
"In some ways, it saddens me that people are so scared and they're finding local food because of that," Alexander said. "But I'm also heartened that they will really appreciate the quality and the nutritional value of the food and the local economy that they're contributing to — and stick with it."
Farmers are adept at confronting challenging and changing circumstances in their work. They're accustomed to making fast adjustments related to factors such as weather and labor. But growing and distributing food during a pandemic presents particular — and unprecedented — challenges. Chief among them is attempting to ensure the well-being of employees who work on the farm and are doing so under trying conditions.
"There's a lot of worry and stress," Johnson said. "It's tricky. There's a whole lot of background noise right now."
22 Barber Farm Rd.
Chittenden County
Jericho, VT
Farm
Anson Tebbetts, secretary of the Vermont Agency of Agriculture, Food and Markets, said people who are getting food "from the farm to the fork" — including growers, truck drivers and grocery clerks — are among the "silent heroes" of the crisis.
"As we work our way through this whole thing, I think there will be opportunities to reset and reevaluate," Tebbetts said. "And one thing that's clear over the last three weeks: Agriculture is so valuable. We have a food system in Vermont that I think could be, and is, very valuable to us."
Even so, as opportunities arise for some produce farmers, the dairy market is in decline. Recently, some Vermont dairy farmers have had to dump milk because markets for it are gone, he said.
"It's heartbreaking to think that we've got this wonderful, wholesome product that there isn't a market for," Tebbetts commented.
By contrast, among vegetable farmers, Grubinger cited indicators of an expanding market: Wholesale growers of storage crops such as potatoes have reported sales comparable to Thanksgiving week; a farm in north-central Vermont had new-member CSA sign-ups worth $25,000 in less than a week.
Kim Mercer, communications manager at the Northeast Organic Farming Association of Vermont, said her organization is aware of 12 farms that started a CSA or expanded an existing one in a week.
Sally Pollak
Weekly farm share from Pete's Greens
Locally grown food provides a "sense of insurance" when the national food supply appears "brittle," she said.
"If you have a farm in your town that has a farmstand, when you go there you're really voting for a strong local food system, which we see that we need," Mercer said. "It's completely clear now that it's vital."
Among various models for purchasing local food is an online business called Farmers To You, founded 10 years ago by Greg Georgaklis of Calais. He's a former horticulture farmer who moved to central Vermont from New Hampshire to start a farm but got "sidetracked when my farming friends said I needed to do this instead," he explained.
His Berlin-based business aggregates local products — including grains, vegetables, cheese, milk, fruit and bread — from about 100 farms and producers. The food is distributed to customers in Vermont and greater Boston who place weekly orders online.
In the three weeks since the pandemic erupted in New England, business at Farmers To You increased from 800 orders per week to 1,250, Georgaklis said. The company has 60 employees, many of whom are part time; it had 40 three weeks ago.
"We're all stumbling around here," Georgaklis said. "It's been pretty wild."
Farmers To You currently has a waiting list of about 900 families in the Boston area, he noted. Business has grown primarily via word of mouth.
"Our families are incredibly loyal, and they talk us up a lot," Georgaklis said. "You can imagine that went crazy. It just went nuts."
He called the pandemic a "forced opportunity."
"We knew it would take something pretty dramatic to change people's behavior around food and food purchasing," Georgaklis continued. "Food is our medicine. Our farmers up here are really way ahead of the curve. We're so spoiled in Vermont."
Just a few weeks into the buying frenzy, a question raised by several farmers is whether the interest in local food will remain after the crisis subsides.
Johnson, who said he's had to turn down wholesale business recently (but welcomes new CSA members), recognizes a "tremendous pent-up potential in the Vermont farming community." Still, he thinks the boon will be "relatively short-term."
"I doubt in two years we're going to be saying we're selling 50 percent more ever since the coronavirus thing," Johnson said. "I think it would be surprising if it were a societal change."
In Brookfield, Kyle Doda of 1000 Stone Farm said business at his farm store, which he opened last summer, doubled in recent weeks. "That's been a gift to us and the community," he said.
New precautions are in place at the rural store: a one-customer limit inside, and curbside pickup on Fridays for customers who don't want to enter the store. With spring planting coming, Doda questions how long the bump in business will last.
"When the money-making machine turns on, when capitalism kicks back in, will our communities across the nation just go back to their old ways?" he asked. "What kind of retention rate will we see for local farms? If we saw even a 10 percent retention rate of what we're seeing now, it would change the world."
1102 Stone Rd.
Randolph/Royalton
Brookfield, VT
Farm
Vermont growers, Grubinger said, "by and large have the capacity to meet an increased demand."
He added that local farmers have established significant pre-pandemic food safety measures and innovations. These include improvements to winter storage facilities, where careful attention to temperature and humidity levels increases the shelf life of stored products.
Growers have developed their own accreditation program, called Community Accreditation for Produce Safety, a peer-reviewed food-safety program operated by UVM Extension under the direction of the Vermont Vegetable and Berry Growers Association. Participation in the program has expanded from two dozen growers in 2015 to 127 last year, Grubinger said.
"Vermont growers have really been dialed in to food safety for quite a while now," he said.
And they have adapted quickly to the pandemic by implementing new sanitation protocols, building online marketing and practicing "no-touch delivery."
In Bennington, the farmers market moved to a drive-through model in late March and filled about 100 orders for local food in the first week. At the April 4 market, business more than doubled to over 200 orders from 140 people, according to organizers. Customers drive up and pop their trunks, and a worker places their food in the car.
"They should be applauded for feeding their community and doing it on the fly," Tebbetts said of the Bennington market.
Last week, this reporter picked up a Pete's Greens CSA share from boxes set under a tree in a Burlington parking lot. The site was both carefully chosen and on the fly: The building where Pete's Greens usually delivers is closed under the governor's stay-at-home directive.
The share included fresh spring chard — a mood booster even in normal times — and two heads of cabbage that look and taste like they were picked yesterday. Johnson said the cabbage was harvested in late October. He called it "pretty amazing."