Courtesy Of Pebble Brook Farm
Pies at Pebble Brook Farm
It's a classic Vermont scene: You're cruising along a back road through some rural hamlet when you happen upon a farmhouse, an old red barn or a little roadside shack with the words "Farm Stand" painted on the side.
You've got a few dollars in your wallet, so you pull over. After all, these are the places where you're likely to find free-range eggs for $2.50 a dozen, maple syrup for $35 per gallon and fist-size beets for 50 cents per pound. Score!
Even if the selection is slim, you know it's fresh. You grab a bunch of carrots or a dozen ears of corn, deposit your money in a lockbox or coffee can, and you're on your way in minutes. The transaction harks back to a more innocent time, and the food is satisfying in an ineffable as well as nutritious way.
Vermont is still scattered with roadside stops like this one. They appear and disappear in an annual flux as crops expand and contract. But over the past few years, a new breed of on-farm store has emerged, upping the ante on what consumers can expect to find. They represent a movement in which food growers and producers are creating fresh ways to market their products collaboratively.
Like the spots featured here, these farm stands tend to offer an array of goods and services: Freezers hold local meats, ice creams and fresh fish, while refrigerator cases stock prepared foods, artisan cheeses, beverages and other tasty tidbits. Dry goods include everything from handmade soaps to herbal tonics and tinctures, table linens, and pottery.
Any or all of these items might be produced on the host farm's property, or they may hail from neighboring farms. When passersby stop for eggs and a bag of potatoes, they might also take home an unexpected tub of cultured butter or bouquet of flowers. And everybody wins.
For Seven Days' 2017 Summer Preview Issue, we've rounded up a sample of excellent new — or newly updated — farm stands you might visit during Vermont day-trip excursions. Then again, they are worthy destinations on their own.
Trillium Hill Farm
Open daily, mid-March through Thanksgiving.
Courtesy Of Trillium Hill Farm
Greens at Trillium Hill Farm
Located right on Route 116 near its intersection with the Hinesburg-Charlotte Road, the Trillium Hill farm stand is incredibly convenient for passersby on the main thoroughfare.
Although smaller than some of the other stands on this list, it stocks an impressive supply of proteins, including its own beef tenderloin, hot dogs and short ribs, plus poultry from Maple Wind Farm in Huntington, lamb from Rolling Bale Farm in Shoreham and coho salmon from Starbird Fish.
10643 Route 116
Chittenden County
Hinesburg, VT
802-482-4139
Farm
The grass-fed beef in the fridge — from the Angus, Hereford and British White herd — is one of Trillium's points of pride. In the warmer seasons, these farmers move the cattle one to three times a day, a grazing practice that helps improve the soil and sequester as much carbon as possible.
In addition to meats, the stand offers eggs, fermented foods from Sobremesa and a variety of Trillium's homegrown veggies. A recent visit yielded bags of claytonia — a green also known as miner's lettuce — as well as carrots and spinach.
Like many others, the farm stand is self-serve, which allows the farmers to be out in the field while customers help themselves.
— S.P.
Pebble Brook Farm
Open Thursday through Sunday, Memorial Day weekend through October.
As a tenant farmer, Chip Natvig worked the fields at 188 Menard Road in Braintree for several years. Then, in 2016, he and his family purchased the property and moved into the old farmhouse. They continued cultivating a three-acre vegetable spread in the low fields along Ayers Brook, just off Route 12. Last July, Natvig opened a farm stand in an unused horse stall in the 19th-century barn and loaded it up with salad greens, heirloom tomatoes, brassica crops, squash and other fresh produce.
Natvig's wife, Sarah, the chef-owner at Black Krim Tavern in Randolph, supplied the stand with breads, pastries and other just-baked goodies from the restaurant galley. At first, they offered simple, crusty white and whole-wheat loaves, and then ... "One day I did this cinnamon bread," Sarah said, standing in the grassy barnyard last week, "and it was all downhill from there."
188 Menard Rd.
Randolph/Royalton
Braintree, VT
802-728-6251
Farm
People started showing up for baked goods as the stand opened each morning — most of the loaves would be gone before they'd even cooled. The shop was so successful that, for year two, the Natvigs decided to forego their 15-member CSA. Most of their members frequented the stand anyway — and spent more money there on the specific products they wanted.
This year, the couple installed a walk-in cooler in an adjacent stall — it serves as cold storage for the stand and for the farm's wholesale vegetable operation. In addition to fresh summer veggies, and then winter squash and root crops, visitors can find maple products from Raven Hill Farm; frozen pork and beef from Fog Lake Farms; duck, goose and chicken eggs from Bulrush Family Farm; coffee by Northfield's Carrier Roasting; and ceramics and other crafts by local artists.
New this summer, look for pints of Black Krim's handmade ice cream, along with refrigerated soups in quart containers, a salad bar stocked with the day's harvest, housemade dressings and other accoutrements. When the weather cools down, customers will find hot cider and coffee.
— H.P.E.
Philo Ridge Farm
Open Tuesday through Saturday, mid-June through November.
Suzanne Podhaizer
Lambs at Philo Ridge Farm
In 2012, Diana McCargo and Peter Swift began an ecological farming project at 400-acre Philo Ridge Farm, formerly operated as a conventional dairy known as Foote Farm. Since then, they've been working to improve the pastures with thoughtful, diversified agricultural practices and, with a team of helpers, are producing meat, wool, garlic, grains, and fruit and vegetable crops.
Currently, the Philo Ridge crew is putting up a barn that will serve as the farm store. It will feature prepared foods made on-site as well as raw ingredients. For now, shoppers can find the farm's goods in a charming, tiny building at the edge of Mt. Philo Road with a glorious view of mountains and valleys.
2766 Mt. Philo Rd.
Chittenden County
Charlotte, VT
802-539-2912
Farm
As the season runs its course, there will be pork, chicken, beef and sometimes lamb, as well as dried beans, sweet corn, chile peppers and other selections from the fields. The stand will also offer flowers, both fresh and dried.
Two of the most unusual items sold at Philo Ridge are wool made with the farm's own sheep fleece and blankets woven from that wool by Massachusetts-based fiber artist Peggy Hart. The natural-colored blankets, in gray and black, are elegant and warm.
Because Philo Ridge is a newer operation, its owners and team are still in the process of adding products, figuring out what works best on their particular plot of land and doing research with University of Vermont Extension. Their goal, said McCargo, is to create a model diversified farm that brings the community together, offers delicious and nutritious foods, and can be studied and replicated by other farmers.
— S.P.
Golden Well Farm & Apiaries
Open daily, April through October.
courtesy of golden well farm & Apiaries
Produce at Golden Well Farm & Apiaries
Motorists navigating the graceful curves of River Road in New Haven will come across a colorful, hand-lettered sign at No. 1089 that beckons them to turn off for CSA pickups and a farm stand. On a breezy afternoon last week, four workers in wide-brimmed hats squatted over raised beds along the driveway, transplanting cabbages.
Near the parking area, a tall red gambrel barn is fringed with well-groomed rose and berry bushes. On one side of the barn, a low ell is painted with the words "Farmstand entrance around corner." To the right of the barn, fruit trees put on a show of pink-tinged blooms, well attended by honeybees.
Inside the shop, an abundance of fresh veggies, herbs and flowers will dominate the space as the season takes off. For now, a refrigerator case offers eggs and bottles of farm-brewed APIS Honey Kombucha (also available in growlers), along with coffee from Northern Bayou Cold Brew, Family Cow Farmstand's raw milk, and Sobremesa's kimchi and other ferments. Jars of honey and maple syrup line shelves along the wall, as do V Smiley Preserves' jams and Sweetgrass Herbals' salves, lotions and tinctures.
In the freezer, you can find wild-caught salmon and other seafood from Starbird Fish. Golden Well co-owners Nicole Burke and Ryan Miller plan to add local meats, cheeses and breads later this summer.
1089 River Rd.
Middlebury Area
New Haven, VT
802-870-0361
Farm and Events Venue
Burke and Miller, who purchased the property a year and a half ago, opened the stand last summer. In addition to wholesaling to area restaurants, running a 40- to 60-member CSA, and making weekly trips to Waitsfield and Winooski farmers markets, the couple hosts yoga classes for kids and grown-ups, spiritual retreats and workshops, farm dinners, and live music.
The idea is to bring people together to celebrate the food and the place, but there's a practical aspect, as well. "When people come for yoga, they can go grab a dozen fresh eggs or do some of their shopping of the week [at the farm stand]," Burke said.
— H.P.E.
Family Cow Farmstand
Open Tuesday through Sunday, year-round.
Suzanne Podhaizer
Goods at Family Cow Farmstand
Dairy is the name of the game here. In addition to the farm's own products — 100 percent grass-fed raw milk and pastured chicken — the store's coolers hold Maple Hill Creamery yogurt, cheeses from North Country Creamery and Northland Sheep Dairy in upstate New York, and ricotta, butter and buttermilk from Mountain Home Farm in Tunbridge. (The latter's owners, Lindsay Harris and Evan Reiss, founded Family Cow but sold it when they moved to their current property.)
The stand, which is barn red with a colorful bed of pansies just outside the door, is located right next to Red Wagon Plants — convenient for those who like to buy local and grow their own.
2386 Shelburne Falls Rd.
Chittenden County
Hinesburg, VT
802-482-4440
Events Venue
What else can you get at Family Cow? Plenty. Among other things, flour and cornmeal from Nitty Gritty Grain Co. of Vermont in Charlotte, veggies from Footprint Farm in Starksboro and ShakeyGround Farm in Charlotte, and a luscious, intensely flavored grape juice from Dak & Dill of Essex, N.Y., that puts name brands to shame.
Why sell goods from out of state? Because Essex is just a hop and short ferry ride away. And because so many fine products are made there. The New York cheeses are excellent: An aged Gouda was dark gold in color and complex in flavor, while a slab of Havarti proved perfectly delicate and creamy.
Slap the latter on a sandwich with some baby greens, roasted chicken, and a slathering of Dak & Dill's Dilly Topper — a tangy condiment made with chopped pickled garlic scapes — and you've got yourself a meal.
— S.P.
My Farmers Market
Open Tuesday through Saturday, April through December (and possibly through the winter).
Hannah Palmer Egan
Fiddleheads at My Farmers Market
"I think of this more as a farmers market than a stand," said My Farmers Market cofounder Jennifer Bone, working the counter last Friday. With its regular weekday hours, small size and location inside a small building — formerly a one-room schoolhouse — the market has the look and feel of a farm stand, albeit a well-stocked and diverse one.
Call it what you will, but in the past year, the market has accumulated some 20 members, each of whom works in the storefront a few hours a week. They supply an impressive array of fresh foods and pantry items. Outside, the patio area offers garden vegetable starts, annual flowers and floral hanging baskets.
A walk-in cool room is currently stacked with baskets holding produce: spring-dug turnips, fiddleheads and sprouts from Bone Farm; gorgeous shiitake mushrooms from Cotwinkel Acres Forest Farm in Newbury; aged alpine-style cheeses from Ryegate's Karim Farm & Creamery; and all manner of coffee cakes, quiches, Boston cream cupcakes, and other baked goods and sweets from a handful of vendors.
Fridges and freezers near the checkout counter proffer even more prepared foods — lasagna rolls and other bites from Dinner on Demand of Woodsville, N.H., and beef, lamb, pork and ice cream from Adams Family Farm in Barnet. Across the room, shelves hold breads from School House Bakery in Haverhill, N.H., along with maple syrup, pottery, soaps, pickles and preserves from local artisans.
— H.P.E.
Bread & Butter Farm
Open Monday through Saturday, year-round.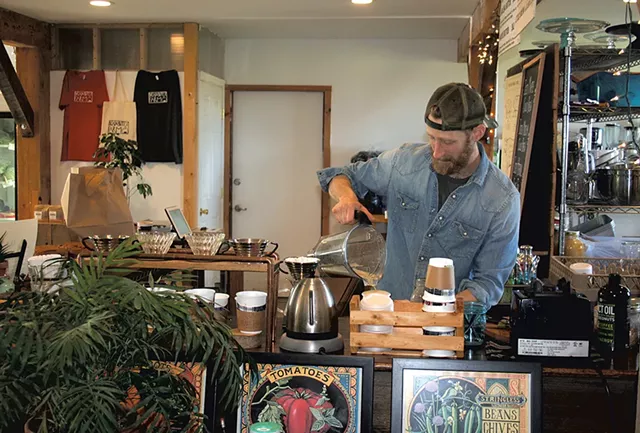 Suzanne podhaizer
The kitchen at Bread & Butter Farm
The farm stand at Bread & Butter — also home to Henry's Dairy, a series of yoga classes and a program called Music for Sprouts — has several offerings that are entirely out of the ordinary.
For instance, how many farm stands have their very own pop-up coffee shop? Bread & Butter houses Blank Page Café, which offers brewed coffee, gluten-free baked goods and super-trendy butter coffee that's flavored with maple or chocolate. (On a recent day, after consuming nothing but a maple butter coffee from Blank Page, this writer was able to visit three other farm stands, climb a small mountain and forage for Japanese knotweed without getting hungry.)
200 Leduc Farm Dr.
Chittenden County
Shelburne, VT
802-985-9200
Farm and Events Venue
B&B also has a particularly plentiful selection of products, even in the shoulder seasons. One week in early May there were six varieties of greens, including tender young collards, along with plenty of roots, raw honey, herb bread from Jeffersonville's Slowfire Bakery and Green Rabbit salad dressings. Several freezers consistently hold a plethora of meats from B&B and other local farms.
Nonedible goods are available, too: onesies for babies, a healing salve for dry skin and leather bags made by Vera Simon-Nobes (who also works with Shelburne Farms and Philo Ridge Farm).
B&B is gearing up for its seventh summer season of Burger Nights. These popular gatherings on Fridays feature burgers, seasonal salads, desserts and live music.
— S.P.