Courtesy of Kathryn Flagg
Vermont Gas gate station in Convent Square
Convent Square is a typical Old North End neighborhood: Older homes sit on small lots, and on a sunny afternoon, a young girl on a bicycle turns circles in the road. The only thing that looks out of place on the L-shaped residential street is a low industrial building behind a chain-link fence topped with barbed wire.
Most residents here say they didn't pay much attention to the Vermont Gas gate station that was erected four decades ago to transfer high-pressure gas supplies to local distribution lines. That is, until a large crane and logging trucks showed up.
In April, Vermont Gas razed the trees around the gate station. Residents were shocked when 40 years of growth — admittedly, some of it overgrown and untended — suddenly disappeared. Scott Gustin, a senior planner in Burlington's planning and zoning office, said that while Vermont Gas did receive a permit for some "rehabilitation" work, the permit application was "misleading," and didn't indicate the extent of clearing that would happen at the property. Vermont Gas counters that their application was accurate.
The city is investigating what, if any, action it can take.
"It was like our street was under assault," said Derek George, a clinical social worker who lives next door. "I'm not exaggerating at all. They took down every single tree on the property, literally to the stumps, in about six hours."
Fueling the conflict is a discovery George made almost two years ago, when he stumbled across long-forgotten city files that suggest Vermont Gas didn't keep the promises it made before building the gate station to supply the Moran Plant. Today the station services most of the city's old and new north ends.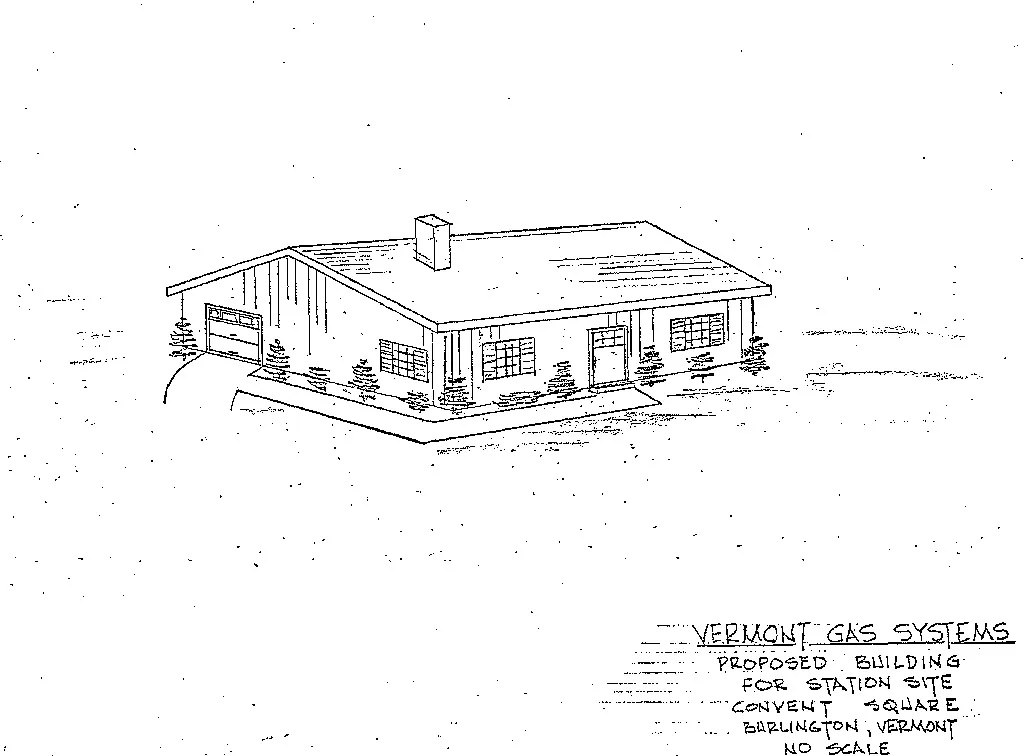 Courtesy of City of Burlington
1970 proposal for the gate station
George was applying for his own zoning permit when he found the 1970 zoning variance that granted Vermont Gas permission to build at the former site of two homes. City records show neighbors objected. Burlington's zoning administrator ultimately green-lighted the project on the condition that the gate station would "look like a residential building" and not "alter the essential character of the neighborhood." Vermont Gas offered a suggestion of its own: They'd hang curtains in the windows to better blend in.
The curtains never came. The station's gray metal siding is uninterrupted by trim or windows, and there's none of the tidy landscaping indicated in a simple illustration that accompanies the 1970 variance.
"The more I've gotten into this, the more I've felt like our neighborhood has been taken advantage of since well before I was living there," said George. Decades ago, Convent Square sported the unflattering nickname "Convict's Square." George said he doubts Vermont Gas could have sited its station in a tonier part of town. Convent Square's absentee landlords have been replaced by younger families and more responsible property managers, but the neighborhood is still modest.
In late 2012, George and his wife, Esther, circulated a neighborhood petition that called for a new fence, a paint job and landscaping that would "[blend] in with the existing trees." Rather than go to zoning officials, they wanted to work with Vermont Gas.
"We're just hoping to get the property beautified," said George.
About a year later, Vermont Gas submitted an application for a city zoning permit. In the project description, Vermont Gas mentioned replacing doors, adding a gravel driveway and installing a decorative fence. The application noted that fewer than 400 square feet of earth would be exposed or disturbed, which is a standard question on city zoning applications. Neighbors, now eyeballing the expanse of stumps and bare earth, suspect Vermont Gas exceeded that threshold, and according to city standards should have included a plan for erosion and sediment control.
That's part of what concerns city planner Gustin. Convent Square sits at the top of a steep embankment that slopes down toward Route 127 and the Intervale. "They cut a lot of trees down, and they've invited some erosion problems," Gustin said.
Last week, Vermont Gas resumed work at the station. The company was installing a wrought-iron fence neighbors requested in front of the property. (Neighbors on either side will still face a chain-link fence topped with barbed wire.)
Vermont Gas spokesman Steve Wark said that a combination of aesthetics, neighborhood feedback and safety prompted the project. "Vermont Gas heard from a resident that the general appearance of the gate station needed work — and we agreed," wrote Wark in an email.
"When we are done with the station it will be cleaner, have orderly trees that are easy to maintain — and should fit in better with the character of the neighborhood than the previous situation," wrote Wark.
Wark said that Vermont Gas had not heard any complaints from city planners. "Bottom line, we did everything we were told to," said Wark. "This shouldn't have been a surprise to anyone."
But it was to neighbors, apparently.
"It just feels kind of brutalized," said Stephanie Kaza, a professor of environmental studies at the University of Vermont and author of The Attentive Heart: Conversations With Trees. "There are so many other ways they could have judiciously trimmed, and left it a little more graceful. We were expecting some trimming, but when four trucks show up, it's kind of an army."
"It's a real eyesore, more so than it was," said Ethan Thompson, who lives two doors down. "It just sticks out as an industrial building in the center of an otherwise residential neighborhood."
The clearing exposed overhead utility lines once hidden by the trees. Aaron Stein, a design-build contractor who lives on Convent Square, added that the lights from a nearby Shell Station now shine onto the street. "The trees around it provided a sense of scale and enclosure, and that's gone," Stein said.
Despite their complaints, several neighbors mentioned that they wanted to work with the company to find a solution. Even George, their de facto leader on this issue, said he's not "anti-Vermont Gas." His greatest frustration is not knowing what he and his neighbors can do to hold Vermont Gas, or the city, accountable.
Gustin said his office has consulted with the city attorney and should have a decision soon about whether it will take any enforcement action.
George may be one step ahead of him. He's asking city officials and a lawyer: Are there grounds for revoking the variance from 1970, given Vermont Gas's apparent failure to meet some of its conditions?
"At this point, I would really like to know, is there any basis for them not being in the neighborhood?" said George. "Look, you can't just take advantage of a neighborhood because it's not wealthy."
Meanwhile, George is reaching out to Addison County residents currently embroiled in a debate over a transmission pipeline that would carry natural gas to Middlebury and potentially Ticonderoga, N.Y. As the gas company is making pledges about infrastructure in other communities, he thinks it's important to look at the promises it's made in his.