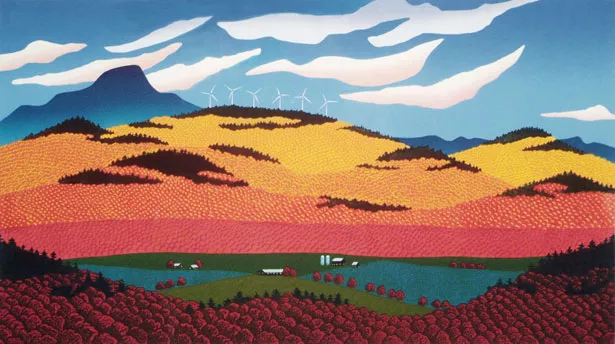 In his day job, Marshfield-based Andrew Perchlik is the executive director of Renewable Energy Vermont (see story this issue, "Green Miles," as well as www.revermont.org). But on top of advocating all manner of alternative energy sources in the peak-oil era, he "moonlights" as a gallery owner, too. A virtual gallery, that is - see www.REimaginations.com. On it viewers will find artwork of a highly specialized sort: Every image features a wind turbine. That's right, the outsized pinwheels that could be providing the State of Vermont with clean, sustainable energy right now, if only . . .
Well, we won't get into the politics of power here. Suffice it to say that wind energy - particularly the idea of turbines topping a Green Mountain ridgeline - is controversial. But many advocates find the tall, graceful structures aesthetically pleasing. And if you're one of those people, REimaginations has an image in your price range - from $2 postcard versions of Mark Beesley's stunning oils to $3600 for Anne Subercaseaux's minimalist painting of, yes, turbines on a green ridgeline.
Perchlik isn't just blowing hot air. He reports that sales are growing - especially so at, say, a national energy conference attended by bigwigs with expense accounts. "They have money for art in their corporate headquarters," Perchlik explains. "I just sold a painting to a Shell wind-energy subsidiary in Houston." He organized an exhibit at the 2006 American Wind Energy Association conference, and hopes to do so again this year. In addition, Perchlik says, he can showcase the artworks at REV's annual conference in Burlington, and is seeking a local venue for a public exhibit as well.
But Perchlik still isn't satisfied. "I'm trying to get more artists to do wind turbines," he says. "If they have wind art already or if they're interested in doing so, they should contact me." Note to artists: Perchlik takes a 35 percent commission - less than many a bricks-and-mortar gallery.
Got turbines? Email perchlik@REimaginations.com.