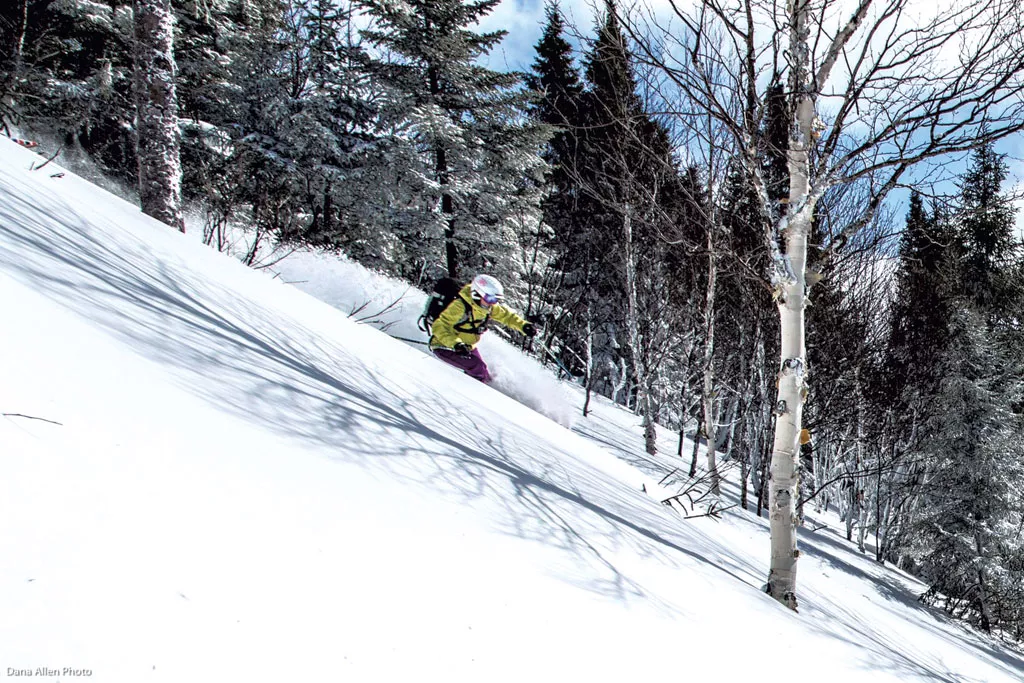 Louise Lintilhac deep in the backcountry of the Chic-Choc Mountains in Québec's Gaspé Peninsula
When a cartoon unicorn trots across the screen and farts a rainbow and a sprinkle of stars in the first few seconds of Pretty Faces: The Story of a Skier Girl, you know this isn't going to be your typical ski porn. Then there's the softly falling snow, and the sweet voiceover spoken by a woman in her thirties. "Pretty faces are everywhere," she says, "luring us in, telling us who to be, how to act and what to aspire to."
Pause. Rewind. Where are the cliff-stomping, adrenaline-rushed athletes climbing into helicopters to seek fresh powder? The Ski-Dooing crazies and stunt junkies who thrive on freezing cold, howling winds and hurled snowballs?
Oh, they're here, all right. It's just that they all happen to be women. Produced by Lynsey Dyer, an Idaho-based freeskier and cofounder of SheJumps.org, Pretty Faces is, like many ski movies, meant to get winter athletes stoked for the season. But it's also about empowering women to get outside their comfort zones by getting outside — the mission of the nationwide SheJumps organization.
That organization now has a foothold in the Green Mountains, with SheJumps-sponsored events happening from Manchester to Montpelier. And one of the "skier girls" featured in Pretty Faces is Vermont's own Louise Lintilhac, a former competitive freeskier who immediately jumped on board when she heard about the project.
"Less than two minutes of footage in the film, that's a solid two years' worth of my time," says Lintilhac with a laugh on a recent morning at Burlington's South End Kitchen, where she's sipping a hot cocoa that has somehow materialized, gratis, from behind the bar. (The barista must have known about this babe's penchant for winter beverages.)
Lintilhac hadn't personally met Dyer before participating in Pretty Faces; her husband, a sports photographer, facilitated her appearance in the movie by contributing footage. But the 30-year-old Waterbury resident — who has also appeared in ski movies from Williston-based Meathead Films — has been rehearsing for this role her entire life. Lintilhac was raised skiing at Stowe Mountain Resort, raced for Mt. Mansfield Winter Academy and attended Middlebury College. She skied in the Italian and French Alps for a season, then hightailed it to Crested Butte, Colo., where she discovered the big-mountain competition circuit — and stomped it.
But the thrill of scaring the bejesus out of herself at the top of a near-vertical wall of snow soon settled into a deeper appreciation for the backcountry experience.
"Growing up here, it was just out-of-bounds terrain; there was no 'backcountry,'" says Lintilhac. She adds that, while she watched Warren Miller films with her parents at the Flynn Center for the Performing Arts every winter, she didn't know women could star in ski movies. "It wasn't until I moved out west that I understood it was something I could work toward."
The Rockies had plenty of their own pretty faces, luring Lintilhac into wide-open bowls of powder and steep, sinewy chutes. But when she moved back to Vermont to pursue graduate studies in environmental thought and culture, she says, she rediscovered the allure of the Green Mountains and Québec's Gaspé Peninsula.
"There's something magical about the eastern woods," says Lintilhac, whose sequences in the film were primarily shot in Stowe and the Chic-Choc Mountains.
"You see it during the fall right now, but, during the wintertime, skiing through old-growth forest, it's gorgeous, and it's definitely what people talk about when they have those spiritual outdoor experiences."
Pretty Faces isn't exclusively about women's issues for Lintilhac. Her family runs a foundation dedicated to sustainability in Vermont, and she saw the film as a way to spread the gospel of getting outside and protecting the wild world. "I really care about what our access looks like," she says. "How do we provide more access to the out-of-doors for people in Vermont? Because we have such an incredible natural resource surrounding us, and yet it can still be very difficult for people."
Organizations such as Ski the East and the Vermont Backcountry Alliance (an outgrowth of the Catamount Trail Association) are raising awareness about backcountry access, says Lintilhac, as are New England-based ski videographers such as Richmond's T-Bar Films. But Pretty Faces takes a new tack, focusing on women. "The film is an extension of the SheJumps philosophy of getting women active in the outdoors," Lintilhac says. "It's scary, because in the past we've been taught to share indoor experiences with other women, but this creates a new paradigm."
Backcountry skiing may even be inherently feminine, she suggests. "If done correctly and safely, it's very communal, and women are communal beings," Lintilhac says. "So there's a really big opportunity for women in backcountry skiing to set the standard for safety, because we do talk and discuss things, and somebody's less afraid to say, 'Well, I'm not sure how I feel about that line.'"
Lintilhac hopes to launch a SheJumps series of workshops to help women choose safe and comfortable backcountry equipment at Burlington's Outdoor Gear Exchange, which will show Pretty Faces later this month. The film's teaser is tantalizing, if more for the sights and sounds of women celebrating winter than for the quirky first few seconds. Who needs unicorns and rainbows when you have a film that shows off Green Mountain and Gaspé environs — for the good of girls and women, and protecting New England nature?
Though Pretty Faces also features the landscapes of Alaska, British Columbia and Jackson Hole, Wyo. — and female skiers from every mountainous corner of the continent — Lintilhac is particularly proud of how it showcases her home ground. "The snow falling off the trees, that silence that you can only get in the wintertime in the woods — you don't really get that out west," she says. "It's so open and expansive, so you're hearing the wind, feeling like you're exposed, but in the east, you always feel a little contained. Everything is comforting."
The original print version of this article was headlined "Chick Flick"