File: Oliver Parini
Becca Brown McKnight
For a few years now, I've forced friends to answer my favorite thought experiment: If you were stranded on a desert island, what three foods would you choose to have with you? There's plenty to eat on the island, but only these three things will remain in steady supply. My answer? Beets, butter and bacon. My colleague Sally Pollak chose eggs, cheddar cheese and spinach — adding that she'd find a way to get her hands on apples.
The Pros
In the first few days of mandated sheltering in place, I realized that cooking in quarantine isn't so far off from that theoretical desert island scenario. Yes, my cupboards might be stocked, the freezer full. But I wondered: What do chefs, market managers, homesteaders, restaurant owners and avid home cooks make absolute sure they have on hand?
So we decided to ask, reframing the question: What three ingredients are essential to your quarantine cooking?
When times are tough, chefs stretch things. So we're allowing a little stretching of the three-food rule — whether it's opting for a "whole animal," which can become many meals, or picking foods to sustain body and psyche. Whatever it is, make it at home.
— J.B.

Pandemic Superpowers
Becca Brown McKnight is the CEO of Uppercase Industries, a Burlington-based brand and marketing consultancy that counts King Arthur Flour and Farmers to You among its clients. She's also the cochair of Slow Food Vermont and an avid home cook.
"I have a weekly meal-planning routine that I do, where I go through the pantry and the freezer," McKnight told Seven Days over the phone. That well-established process usually yields a week's worth of dinners.
"Now, something that has always felt like one of my special skills feels like a superpower," she said. "I'm embracing that and feeling thankful that I've been nurturing a pandemic-friendly skill for a long time without knowing it."
McKnight has a deep freezer, which she called her "one true love," with apologies to her husband. This winter, the couple bought a whole goat from Flatlander Farm in Starksboro and a whole pig from Snug Valley Farm in East Hardwick. The pig arrived the morning of our call, delivered to her front porch and headed to that freezer.
"Local protein" was McNight's first essential ingredient, and she said getting a whole animal gives her the flexibility to make a variety of dishes, including homemade stock.
"I think the farmers all stayed up all night last Wednesday and built websites," McKnight said, referring to farmers adapting to the loss of business as a result of mandatory restaurant closures. "It's so emblematic of the genius and entrepreneurialism of farmers," she said.
Keeping flexibility in mind, McKnight named mirepoix ingredients — carrot, onion, celery — as her next quarantine must-have. "If you have stock and a little bit of meat and mirepoix, you can make so many things," McKnight said.
Finally, to keep things quick and easy, McKnight makes sure to have a giant bag of frozen peas on hand. "I have two little kids who love peas," she said. "It takes two minutes to microwave them and add butter, and I have a healthy side dish that I know the kids are going to eat and get a good dose of veggies."
— J.B.
Oh, Honey!
Courtesy Photo
Marnie Long (right) with her children, Louden and Louisa Pace
Marnie Long is general manager of the Great Northern, a Burlington restaurant she owns with her husband, chef Frank Pace. The couple lives in Burlington with their two school-age children, Louden and Louisa.
Long's three essential ingredients are rice, eggs and honey. "Rice, because everyone in my family will eat it and it can accompany so many items," she wrote in an email. "Rice and beans, or top rice with any combo of vegetables and meat if you want. Or just some rice with butter and salt is delicious, too!"
Eggs are multipurpose, Long continued. "They are so versatile, store for long periods, and they can provide a good source of protein."
And what is life without something sweet? "Honey (or maple syrup), well, because it is so darn good," Long wrote. "[It's] good for a relaxing tea, or with your morning oats. Also, [it] may help if you have a cold or sore throat." Delicious and practical.
— S.P.
Currying Favor
Courtesy Photo
Jeetan Khadka
Jeetan Khadka is the owner of Nepali Kitchen in Essex Junction, which he opened in 2016. He and his family live in Essex, where they enjoy sharing Nepalese meals together.
Khadka agreed with Long about rice, calling it "the must-have, most essential, long-lasting and easily digestible food."
"No Asian household is complete without rice," Khadka wrote in an email. "When people were stocking up [on] toilet paper, we were emptying every grain of rice from the store. You will never get bored eating rice; you can mix rice into anything."
His next ingredient is actually a compilation of ingredients: curry (tarkari). "In my house, we curry up everything. No meal is complete without having curry on the side," Khadka wrote. "If you love curry, you know what I am talking about."
To keep the curry coming, he stocked up on meat, vegetables and spices.
Khadka is thinking between meals, too, listing chatpate (a Nepali snack) as a must-have. "Chatpate is not something I would eat every day, but you must have all the ingredients at all [times]," he wrote. "When you are home and there is nothing else to do, then you know it's chatpate time." If you weren't already convinced, Khadka described the popular snack as spicy, crispy, limey and "very tasty."
— S.P.
Local Larder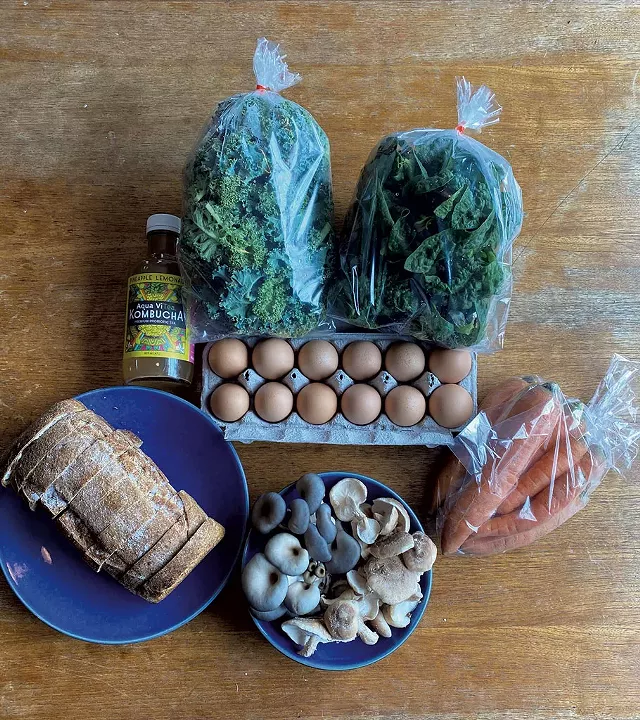 Courtesy Photo
Bread, vegetables and other local groceries from Mieko Ozeki's pantry
Mieko Ozeki is the market director of the Burlington Farmers Market and founder of Vermont Womenpreneurs. The farmers market had to cancel its remaining winter markets due to the shutdown of the University of Vermont campus, so it's no surprise that Ozeki is stocking up on ingredients from local producers.
Loaves of bread are at the top of her shopping list. "It's the thing that fills us," she said by phone. She's been buying from O Bread Bakery and Miss Weinerz, slicing any leftovers and putting them in the freezer to keep a constant supply.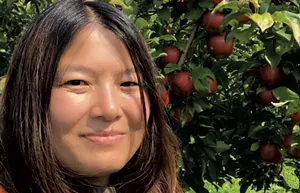 Courtesy Photo
Mieko Ozeki
Bagels are also in the mix, she said. "My kid eats bagels every day, so if I run out, I'm screwed." Ozeki grew up on bagels, too, as a native of New York City's Lower East Side; she said she misses a good bialy here in Vermont, and not just during quarantine.
Fresh vegetables are hugely important in Ozeki's work at the market, as well as in her cooking. "Vegetables just make you feel human again," she said. She has been stocking up at the co-op and directly from farmers. Several of the regular Burlington Farmers Market vendors are selling produce through the Intervale Food Hub right now, she pointed out.
Ozeki couldn't resist suggesting purchasing gift certificates from farmers to help them through the coronavirus crisis.
"This is a big moment for us to think about our food system," she said. "These small businesses and farmers are providing essential services, and they're the backbone of our economy — and perhaps our answer about how to restart it."
— J.B.
An Apple a Day (and Chocolate)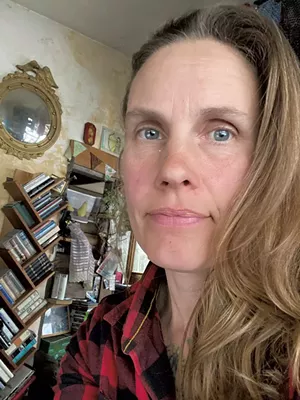 Courtesy Photo
Ariel Zevon
Ariel Zevon lives with her 15-year-old twin sons at their off-the-grid homestead in Peacham. She's a musician and a chef with a long commitment to food justice.
Zevon runs a seasonal food truck in the Northeast Kingdom, Chez Mami, at which the food is "always accessible to any and all, no matter the means," Zevon wrote in an email.
At her farm, she raises goats, emu, Mangalitsa pigs, donkeys, turkeys and other animals. Her approach to choosing essential ingredients varies depending on the main objective: "...stay alive/survive; as opposed to requirements to keep me from tearing the heads off of anyone unlucky enough to wind up stranded with me in the post apocalypse," she wrote in an email.
Zevon listed eggs, "for the well-being of the physical body," noting that optimally they should be good and fresh.
Rice made her list, too; she specified brown.
Finally, Zevon wrote: "a fruit, of which there are so many to crave ... but the good old apple a day would probably save the day."
For maintaining her sanity, Zevon chose "dark chocolate (duh), a good aged cheese like cantal or manchego, or good sharp cheddar ... and a hardy leafy green such as kale/collards/mustards."
— S.P.
Take the Thinking Out of Drinking
Courtesy Photo
Sas Stewart's daily "tiny drawings" of quarantine meals
Sas Stewart is an entrepreneur, known for cofounding Stonecutter Spirits and the cocktail bar Highball Social, as well as creating the pop-up Adventure Dinner series. She's currently consulting on brand and business strategy in the food and beverage field via Zoom calls, while social distancing from her apartment in Vergennes.
Catching up over the phone this week, Stewart mentioned comfort foods, including frozen cookie dough from Haymaker Bun — for snacking — and organic gummy bears, available at City Market, Onion River Co-op.
Courtesy Photo
Sas Stewart
But the multipurpose lemon topped Stewart's list. "Zest your lemons!" she said. "The outside is great on top of salads, and it can transform steamed broccoli into something delicious.
"I like that it transitions — one lemon — from using the outside for dinner, and then using the inside for a drink," Stewart continued. "I even use the leftover to wipe down my sink and make it smell nice. I'm a devotee of the everlasting ingredient."
Speaking of drinks, Stewart thinks vermouth is great for quarantine — both sweet and dry. "My bar always has a bunch of base spirits, like gin and whiskey," she said. "If you add vermouth, you can make equal part cocktails at home all day ... It takes the thinking out of drinking."
For responsible quarantine day drinking, Stewart makes a low-ABV sipper with the vermouth (stored in the fridge after opening). "Crack open that can of sparkling water, take a couple big chugs, then pour in the vermouth and add a peel of that lemon you've been using for cooking, and go for it," she said.
Finally, Stewart stressed the importance of giving ourselves a little break during the stress of a worldwide pandemic. "I live by myself, and no one knows my cooking plan but me," she said. "I always make sure to have frozen burritos, and they're huge on the mornings when I sleep in. I still need to eat breakfast, but I'm not about to cook an egg. I'll throw a burrito in the microwave and make something that's better for dinner, but it's cool. No one is watching."
— J.B.
Eggs on Everything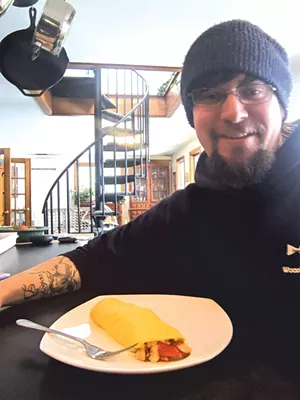 Courtesy Photo
Neil Solis
Neil Solis is chef/co-owner of the Daily Planet, which he purchased in January. After making renovations at the restaurant, he recently launched a new menu, including lunch service and late-night dining. Solis and his wife and business partner, Rachel, have a 6-month-old son, Lyle. "I can't wait to actually cook for him," Solis wrote in an email.
The key to his food picks is "versatility," and eggs top the menu. "I eat them every day, one way or another. Breakfast, lunch or dinner, fried, boiled or poached, I'll add an egg on just about anything savory."
They're key for recycling leftovers and great for drinking, too; Solis is a big fan of cocktails with a shaken egg white for texture.
He said he tries to purchase whole animals — organs and bones included — whenever possible. "I've been lucky to usually get a deer in my freezer, but even when it comes to farm-raised meat, poultry and fish, I prefer to get everything," he wrote. "Having bones for stock blows the door wide open on what I can prepare with other foods in the house, and [they're] a huge part of my home and professional cooking."
Canned tomatoes find their way into a lot of Solis' food, as well. He described the pantry staple as "a perfect medium for braises, essential for chili and great for a simple soup if you're not looking to cook all day."
Solis cans his own tomatoes whenever possible and wrote that adding those garden gems elevates dishes "big time."
"I bet we're all looking forward to sun and fresh summer air," he wrote. "For now, I'm just staying positive and staying the fuck home!"
— S.P.