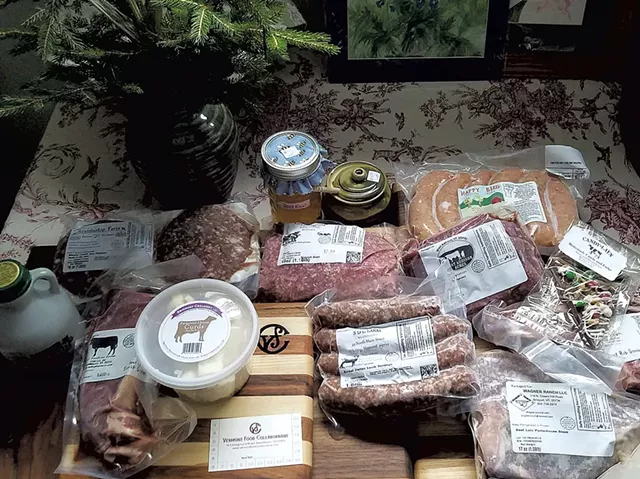 Courtesy Of The Vermont Food Collaborative
Products available at the Vermont Food Collaborative
Vermont's newest food hub is women-powered, and it's filling gaps in the market for local farmers.
The Vermont Food Collaborative opened November 30 on the corner of Route 7 and Campground Road in New Haven, in the building that formerly housed Green Pasture Meats. Founded by farmers AnnaJo Smith and Jennifer Kennett, the collaborative connects local farmers and producers with restaurants, wholesalers, distributors and individual customers through its wholesale and retail arms.
"We started planning this business a year ago when we noticed a decrease in retail options for the beef we'd farmed," Kennett said. Both founders are beef farmers: Kennett owns and operates Tail Feather Farm with her husband, Thomas; Smith is the co-owner and operator of Smith Family Farm.
"I struggled selling my beef to restaurants because I didn't have enough supply as a single farmer," Kennett said. "So I thought, Why can't I get a group of farmers together?"
The retail space, open Wednesday through Sunday, offers a growing selection of products from 14 area farms, including beef, chicken, honey, maple syrup, dairy, vegetables and more. Prepared foods made by Elissa Klingensmith are soon to come. Approval for processing inside the facility is in the works.
"We really want to provide a convenience for people," Kennett said. "We're banding together to make the village stronger. We're doing something totally nontraditional — and proving that girls can do anything."