The Vikings fermented honey into mead. Ancient Babylonians and Egyptians were avid brewers of beer. The Incas turned maize and cassava into the powerful drink known as chicha. Apparently human beings everywhere have a strong desire to ferment and drink what's around them.
Vermonters are no exception. Old-timers long ago found a clever way to make use of locally abundant resources to produce an alcoholic beverage. That beverage, called sap beer, is brewed with fresh, late-season maple sap in place of water, and it's particular to the sugaring region that includes Vermont and Québec.
Fiddlehead Brewing of Shelburne will produce a limited run of sap beer and sell it at The Third Annual Frog Run Sap Beer Festival, a June 21 benefit for the Vermont Folklife Center (VFC). For local beer enthusiasts, it's a chance to quaff an unusual beverage that fairly bursts with terroir. But for the nonprofit VFC, which turns 30 this year and is cosponsoring and supporting the event, the production of this draught is much more significant: It brings the past alive.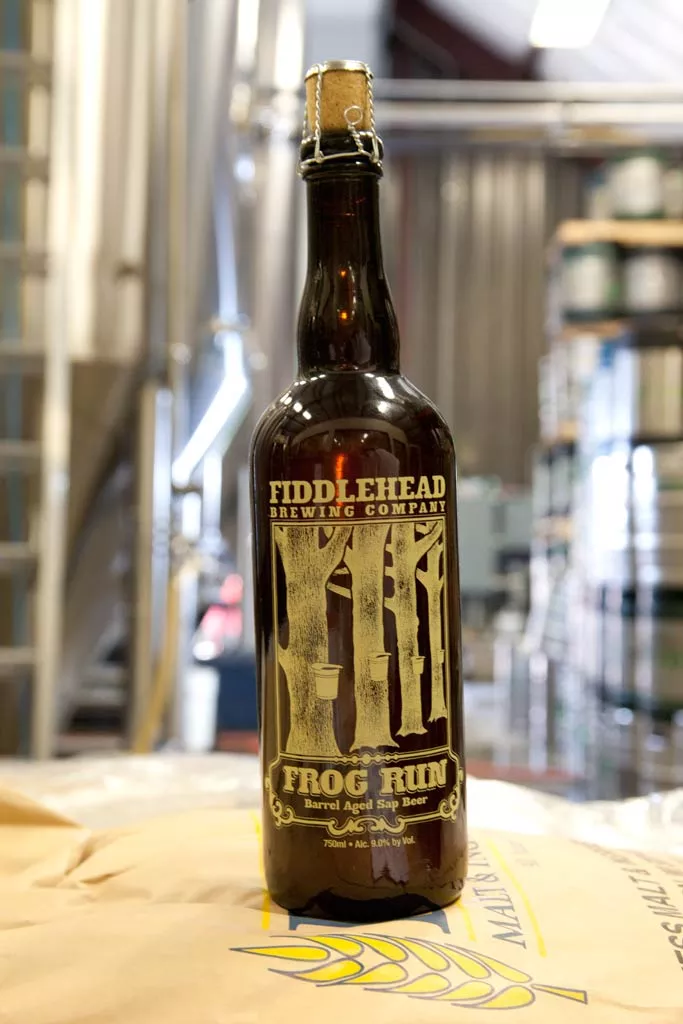 Courtesy Of Vermont Folklife Center
Andy Kolovos
In conversation with Seven Days over tea and scones in the kitchen of their Middlebury headquarters, VFC codirectors Andy Kolovos and Gregory Sharrow often return to that idea. The center, says Sharrow, "is not about 'old stuff.' Or it's about old stuff in that there's much in old stuff that's relevant as information, models and provocations for challenges in the present, and for reaching into the future."
The VFC website offers a perfect illustration of that unofficial mission statement. On the page devoted to the sap beer fest, visitors can click to hear an audio recording of the late Edgar Dodge discussing the production of this regional drink. Dodge was in his seventies when the VFC recorded him discussing the none-too-scientific process of sap-beer brewing. "It was common to put in anything you'd think might add something to it," he says.
Relayed through a heavy Vermont accent, Dodge's detailed descriptions serve as the foundation for a new sap beer recipe. Fiddlehead's owner and head brewer, Matt Cohen, learned from Dodge's recording that sap beer is by nature inconsistent, so he felt no obligation to adhere slavishly to a single recipe.
"It varied from year to year," Cohen says. "In that spirit, we're always tweaking the recipe a little bit."
Though it's the third time the VFC and Fiddlehead have collaborated on the fest, sap beer's ever-changing recipe keeps things fresh.
Like its historical predecessors, Cohen's brew will have a high alcohol content: about 9 percent. But the brewer also took liberties, this time aging the beer for three months in bourbon barrels. "It starts with a real nice bourbon note, and finishes with a maple note," he says. "There are lots of unique flavors going on."
Those barrels may have come from a distillery down south, but the sap is strictly a Vermont product. "Any time you can use any type of local ingredient, you feel much more tied to the land and agriculture, and to the rich history of the people of Vermont," Cohen says, confirming brewing's status as a genuine folk tradition.
The revival of an unusual alcoholic drink may seem an unlikely project for a folklife center — one that serves, as Seven Days observed in a 2007 cover story, as "the state's de facto oral archive, a repository of more than 4,000 hours of interviews and other audio material." (That number has since risen to 4,500 hours of electronically indexed material, according to the organization's website.)
But the VFC is ecumenical in its celebration of "old ways." Indeed, the rosters of past and upcoming VFC events speak to just how inclusive this organization is. In addition to supporting performances of traditional music and recording oral histories, this year the VFC has held an exhibit about one-room schools and an event that featured photographs of and a performance by the drag-queen troupe Ladies of the Rainbow Cattle Co.
The Sap Beer Festival will be of interest not only to imbibers but to lovers of regional folk music. The event's entertainment lineup includes Vermont old-time fiddler Pete Sutherland, accordionist Nicholas Williams and Québécois violinist Stéphanie Lépine. This pairing of beer and music has been designed, Sharrow notes, to introduce attendees to a range of intersecting folk traditions.
Sharrow and Kolovos, who both hold PhDs in folklore, say they have seen their field change dramatically over the last several decades. Once primarily concerned with identifying and maintaining the cultural practices that ostensibly constitute a "national identity," they explain, folklore is now generally more concerned with the expression of shared identity that has its roots in human interactions.
Kolovos and Sharrow are steering the VFC in a direction that reflects this fundamental shift. "Our primary interest is how the people in this state live in the present day," says Kolovos. "We're essentially doing a kind of cultural anthropology of Vermont in the present, and the past is inevitably a factor in that."
To that end, the nonprofit recently received a $33,000 grant from the Library of Congress to study the current practice of Vermont agriculture. Why agriculture? Because, starting in the mid-20th century, mechanization and federal regulations (among other factors) changed the nature of farming forever — and once farming changed, the lives and customs of Vermont farmers changed, too.
More than anything, the VFC is busy. Events and exhibits run concurrently, and the organization sponsors everything from films to educational programs. "It's not part of any coordinated plan to stay super-active and make a lot of noise," Kolovos says.
Still, he acknowledges that the VFC, which currently employs four full-time staff members and two part-timers, is in the midst of a major fundraising initiative, and is looking to grow. "We want to do more exhibits about our own work, and to create more content," says Kolovos, whose ambitious plans include focusing on podcasts, traditional printing and electronic publishing. Upcoming projects run the gamut from audio recordings of New American musicians to a video about backyard wrestling in St. Albans.
While perhaps not every action a Vermonter undertakes represents an efflorescence of folk culture, it's nonetheless refreshing that drinking a sap beer can connect us with the state's heritage. VFC's goal is to encourage us to consider, as we quaff, not just the beer but the practices and traditions that delivered it from tree to barrel to glass.
Third Annual Frog Run Sap Beer Festival. Saturday, June 21, noon to 6 p.m., at Fiddlehead Brewing in Shelburne. $20 ticket includes one bottle of sap beer. Kids free. fiddleheadbrewing.com, vermontfolklifecenter.org