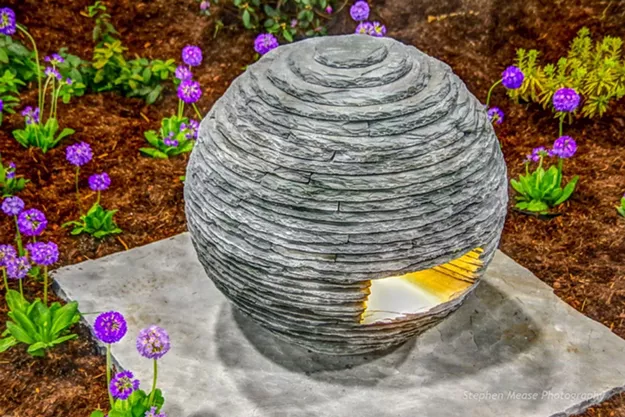 Stephen Mease
A slate globe lights the way near the stone meditation bench at the Vermont Flower Show.
Stephen Mease
Michael Lizotte of American Meadows Seeds was selling his new book "Mini Meadows" at the Flower Show.
Stephen Mease
VJ Comai, arborist for the City of Burlington, gives a tree pruning basics workshop.
Stephen Mease
A custom-made beehive stands tall in a field of tulips and daffodils near the Lost Lake at the Grand Garden Design.
Stephen Mease
New this year was an exhibit featuring the art of flowers.
Stephen Mease
Mr. Chris and Friends played to full-house audiences in the kids activity room on Saturday.
Stephen Mease
As volunteers pull out the potted bulbs and shrubs from the Grand Garden Display, the plant sale gets underway.
Stephen Mease
Volunteers form a line to remove the cobblestones surrounding the tulip mandala display.
Stephen Mease
The end-of-show plant sale had enthusiastic shoppers looking to take a little spring home with them.
Stephen Mease
Plant- and bargain-lovers check out with their bulbs and shrubs at the post-show plant sale.
Stephen Mease
It only took four hours to dismantle the 2019 Vermont Flower Show in a frenzy of activity in Expo North on Sunday evening.