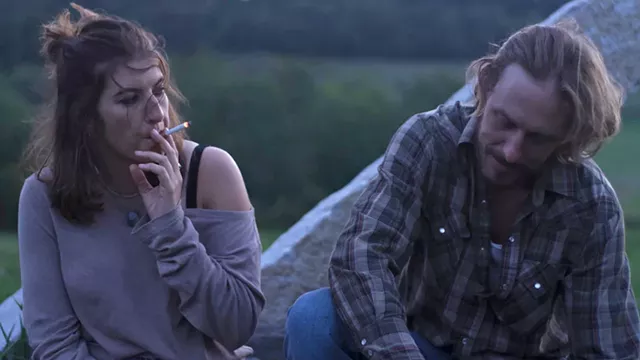 Courtesy Of Good Deed Entertainment

LUCK OF THE DRAW Rekindling a romance proves challenging for a man trying to rebuild his life in Melrod's Vermont-made film.
Our streaming entertainment options are overwhelming — and not always easy to sort through. This week, I preview a Vermont-made film from Barnard director Josh Melrod. Major Arcana will be screened at Montpelier's Savoy Theater on Thursday, October 8, 7 p.m., followed by a Q&A with Melrod and stars Ujon Tokarski (also of Barnard) and Tara Summers. Reserve tickets for the limited-attendance event at savoytheater.com.
After that, the movie will be streamable from the Savoy's virtual cinema through October, one of a slew of such engagements around the country.
The deal
After years on the road, a carpenter named Dink (Tokarski) returns to his Vermont hometown. His father has recently died, leaving him 54 acres, a decent wad of cash, and a trailer crammed with overflowing ashtrays and junk.
One of the first things Dink does is remove his dad's six-pack of beer from the fridge and pour it down the drain. That accomplished, he leaves the trailer, pitches a tent in the woods and starts felling trees to build a cabin of his own.
Dink's long days of labor get less solitary and more complicated when he reconnects with an old flame, Sierra (Tara Summers), who works at the general store and reads tarot on the side. While he's serious about his sobriety, she drinks — a lot. And she's not happy with the abrupt way he left her last time. Is romance in the cards, or just more heartbreak?
Will you like it?
Want to watch a guy hang out in the woods and build a cabin from scratch? What if it's more interesting than I just made it sound? Major Arcana is basically a two-character drama and for long stretches a solo one, with leisurely scenes of Dink turning tree trunks into beams or raising the cabin's frame. And it's oddly mesmerizing, whether you're into carpentry or not.
While the movie is, to a degree, about a man struggling with the demons of his past, it's more about the joy and restorative power of working to create something from nothing. Tokarski, an actual carpenter who had never acted before Major Arcana, has a natural, unforced presence. While Dink is moody and sometimes despairing, we get the sense that he always feels better when he's working with his hands.
The movie views Dink head-on, without romanticizing his status as a lone woodsman, and it treats his relationship with Sierra the same way. A TV veteran with a résumé that includes "Boston Legal" and "Damages," Summers somehow looks perfectly at home working the counter of a small-town general store. Sierra's sly wit and grounded presence seem like exactly what Dink needs — until we learn that "getting hammered" is a way of life for her.
While Sierra is still angry at the drunk Dink used to be, the sober Dink unsettles her on a deeper level. In its quiet way, the movie hints at the difficulty of breaking intergenerational cycles of poverty and addiction. Dink's strung-out mom (Lane Bradbury) wants to get her hands on his inheritance so she can gamble it away, but even she isn't a villain so much as a cautionary reminder of who he used to be.
This is the first narrative feature for Melrod, who codirected the 2012 documentary Cartoon College (about the Center for Cartoon Studies in White River Junction), and his extensive editing background serves him well. Slow and contemplative as it is, Major Arcana never gets bogged down. Melrod makes spare, lyrical use of the Vermont landscape — neon-green maples, mist rising from a lake — without hiding the darker side of rural living. If you care about homegrown cinema, check out this promising debut.
If you like this, try...
Build the Wall (2020; Vimeo): I reviewed this no-budget drama from "mumblecore" pioneer Joe Swanberg in August. Shot in Hardwick, Vt., it also features a guy hanging out in the woods and painstakingly building something — in this case, a traditional stone wall.
Her Smell (2019; HBO Max, rentable): Here's a movie about the struggle to stay sober in a whole different milieu. Elisabeth Moss won critical acclaim as a '90s punk queen in a movie that Recovery Unplugged calls "a very real depiction of the hardships with which many active and recovering addicts are faced."
"Rectify" (2013-16; Netflix, rentable): In this quietly powerful SundanceTV series, Aden Young plays a man trying to rebuild his life after 20 years on death row. I can't recommend it highly enough to anyone who likes thoughtful, slow-burn dramas like Major Arcana.