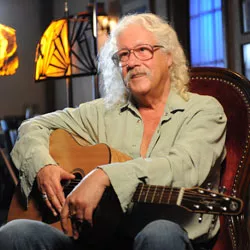 On a chilly day last month, Arlo Guthrie stopped in at the 1785 Inn & Restaurant in North Conway, N.H.
The folk legend hadn't come to ski the slopes or play a show, but to talk about another musician: Chile's Victor Jara, the subject of a song on Guthrie's 1976 album Amigo. Guthrie was giving an hourlong interview for a forthcoming documentary called The Resurrection of Victor Jara, written and produced by John Summa of Burlington.
A leader in Latin America's revolutionary New Song movement, Jara was tortured and executed during Chile's military coup of 1973. After his death, the new regime destroyed most of his master recordings, but his widow, Joan Jara, managed to smuggle some out of the country. As his songs and story spread, Jara's name became a touchstone for other activist musicians: He's mentioned in songs by the Clash, U2, Holly Near, Jackson Browne and Calexico, to name a few. Guthrie's "Victor Jara," with lyrics by Adrian Mitchell, celebrates him as a fighter who listened to the common people's "grief and joy/ And turned them into songs."
This "afterlife" of Jara's is the focus of Summa's documentary, which he hopes to release next June. Summa and L.A.-based director John Travers have already interviewed Pete Seeger and Near. Next up is Judy Collins, and Summa is "hoping" for Bono and Browne, he says. Actress Emma Thompson, another Jara admirer who once hoped to dramatize his life on film (with Antonio Banderas as the singer), has expressed interest in narrating the English-language version of Resurrection. Summa would like to enlist Benicio Del Toro for the Spanish narration.
So far, patience has paid off for Summa: The interview with Guthrie took three years to obtain, he says. Getting the film into its present shape — and funded — took longer.
Summa, 53, is an economist by training; he's published books on options trading and teaches at the University of Vermont. But New Song is his passion. Since the early 1980s, when he first attended Nueva Canción festivals as a Solidarity activist in Nicaragua, he's been fascinated by what he calls "just amazingly beautiful music."
Visiting Uruguay in the mid-'90s, Summa found that the venerable New Song movement was "still really alive and transgenerational," he says. He remembers thinking, "Wouldn't it be great to make a documentary about some of these artists?"
In 2004, Summa put together a proposal for a film called The Power of Their Song. But he gradually realized that documenting the whole movement would be "too unwieldy," making it harder to attract investors. So he and Travers decided to "turn this thing inside out," he says. "We pulled Victor Jara to the forefront and made him the focus." They conceived Resurrection as the first film in a projected series called The New Song Film Project, with each film centered on a different artist.
Focusing on a compelling individual makes the film an easier sell, says Summa, especially to North American distributors and viewers: "A common character in exceptional circumstances tends to draw an audience." With their new concept, Summa and Travers received funding from the Quitiplas Foundation to make Resurrection, which has a budget of "over $130,000," Summa says. "We have complete creative control."
The project is transcontinental: In July, Summa conducted interviews in Chile with "all sorts of people in the arts," he says. (Jara also made his mark on the theater as a director.) A Chilean team is still conducting interviews, and Summa says he expects to talk with former Chilean president Michelle Bachelet in January.
"Very little" film footage of Jara himself exists, says Summa. "But we've located a really interesting archive. We're in negotiations to use it."
Summa and Travers also have access to the archives of Joan Jara, who runs the Victor Jara Foundation. "She understood what we were doing," says Summa. "Telling the story of the resurrection of Victor Jara, not his death."
One aspect of that "resurrection" is the transmission of Jara's name and legend by musicians with no direct connection to New Song. When they're asked to comment on the New Song movement, North American artists can feel "insecure," Summa notes. "But when you ask, 'Why did you write this song?' they're much more comfortable."
Jara's legacy elicits strong emotions, Summa adds: "Almost everybody we've interviewed has broken down at some point. Arlo said ['Victor Jara'] was the best song on his best album."
Summa has a long list of interviewees, including younger icons such as Spain's Manu Chao. But "when do we say, 'Enough is enough?'" he says of the film. "We have to start cutting this thing."
Summa and Travers plan to submit Resurrection to Sundance next year and "see what happens from there." The recession has made it tougher than ever for indie filmmakers to get distribution deals, but Summa says he has a commitment from the Egyptian Theater in Los Angeles to screen Resurrection, an engagement that would qualify it for Oscar consideration.
Summa also hopes to find a "ready-made market" for the film in Latin America. Posters of Del Toro playing the title role in Steven Soderbergh's film Che are fixtures in many Chilean cafés, Summa notes, suggesting that "the younger generations are hungry for this history." Young artists are covering Jara's songs, too, he says: "In Chile today, that's the zeitgeist. It's not the past and dead."
What about here? Summa hasn't noticed his UVM students gravitating toward protest music, he says. But he hopes to make Jara's Resurrection relevant to them by "avoiding that 'preaching to the converted' syndrome" that afflicts some documentaries.
With any luck, Resurrection will make American viewers understand the emotions that brought thousands of Chileans to the ceremonial reburial of Jara's remains in December 2009. (He'd been exhumed for a better-late-than-never criminal investigation of his death.)
"We want to make sure young people learn about this film," says Summa, "not just boomer Americans who watch PBS."