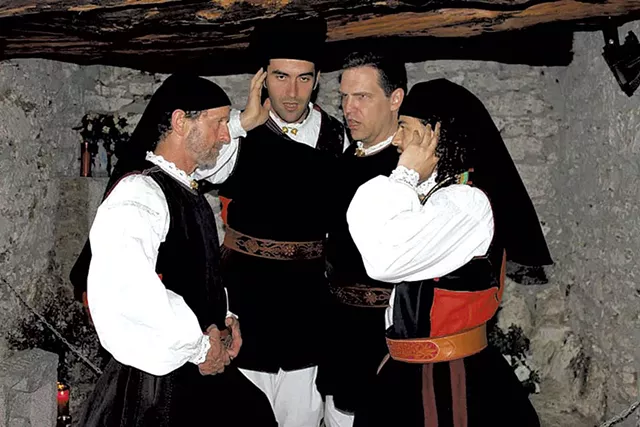 Courtesy Of Douglas Paisley
Tenores de Aterúe singing in a cave in Sardinia
From the rocky Mediterranean coast of Sardinia to arid Arabian deserts to desolate Tibetan mountain ranges, local moviegoers will be issued a cinematic passport to distant lands past and present over the next two weekends.
On Sunday, May 27, Main Street Landing in Burlington will host the Vermont premiere of Aterúe: The Singers From Elsewhere, a work-in-progress documentary about Tenores de Aterúe. The vocal quartet from New England and New York traveled to Sardinia in 2013, becoming the first nonnative singers to perform cantu a tenòre, an ancient polyphonic folk music featuring intricate four-part harmonies. The film combines interviews with the group members and footage shot during that trip.
As Plainfield resident Avery Book, the group's guttural bassu throat-singer, explains, cantu a tenòre is traditionally performed in a tight square, with the singers' arms wrapped around each other so that they can feel each other's vibrations.
"There's something very physical about it that feels different from regular singing," Book says.
The Tenores de Aterúe quartet, which bonded over a mutual love of Georgian polyphonic music, discovered cantu a tenòre through YouTube. In a twist of fate, videos of their early attempts at the complicated polyphonies went viral among native singers, leading to their subsequent pilgrimage to Sardinia.
Book says the group learned more about cantu a tenòre in the three weeks they were abroad than during the previous five years they spent practicing the music. He adds that a particularly insightful element of the trip was experiencing the nuances and subtle permutations of the vocal tradition in different parts of the island.
"We can get away with something that most of the Sardinians can't, because there's sort of this unwritten rule that nobody sings music from somebody else's village, even if you're a big fan," Book says. "But we can, because we're not from anywhere in particular. We're from elsewhere."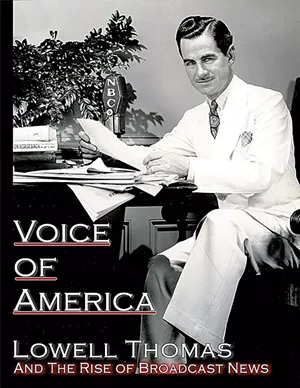 Courtesy Of Rick Moulton
Voice of America movie poster
One of the 20th century's foremost globe-trotters is the subject of the opening matinée of the White River Indie Festival on Friday, June 1. Also a Vermont premiere, Voice of America: Lowell Thomas and the Rise of Broadcast News, directed by Huntington resident Rick Moulton, documents the life and career of the filmmaker, radio host and author. Thomas' dispatches from exotic lands brought the wonders of the world to everyday Americans. As longtime NBC anchor Tom Brokaw states in the film, "I wanted to have an adventurous life, and he was the model for that."
Thomas famously helped to create the legend of T.E. Lawrence — aka Lawrence of Arabia — during the Arab Revolt. In 1949, Thomas and his son, Lowell Thomas Jr., finagled their way into Tibet shortly before the Chinese invasion and introduced the 14-year-old Dalai Lama to the Western world. But the roving journalist's star arguably peaked in the 1930s, when he hosted America's most popular radio news program and narrated the influential Fox Movietone newsreels shown at theaters.
Moulton met Thomas just prior to his death in 1981. An avid skier and tireless ambassador of the sport, Thomas was one of the subjects of Moulton's documentary Legends of American Skiing. Then, however, Moulton knew little of the 89-year-old's exploits off the slopes.
"I wish I knew a tenth of what I know now when I was standing around with him," he says.
When he started researching his latest documentary, Moulton says, he assumed Thomas' dominant legacy would be his fact-bending elevation of Lawrence to international celebrity in the World War I era. But he ultimately concluded that Thomas' lasting contribution to broadcast journalism was the no-nonsense style of his mature years in radio. It later served as a template for the "big three" TV anchors — Brokaw, Dan Rather and Peter Jennings.
"The down-the-middle, straightforward, traditional journalism that he created ... that really is, I think, his legacy," Moulton says.
On opening night, WRIF premieres Thrasher Road, a road movie about a pregnant woman (played by Vermont native Allison Fay Brown) who is forced to reconnect with her estranged father (Christian Kohn of Lyme, N.H.) when her car breaks down en route from Los Angeles to Vermont. Shooting it on 16mm film during the summer of 2016, writer-director Samantha Davidson Green calls the movie a "father-daughter love story" that's about "making sense of a brokenhearted past."
Green, from Plainfield, N.H., notes that she met Brown in 2014, when she directed her at the Parish Players' Ten-Minute Play Festival in Thetford. The staged reading of an early treatment of Thrasher Road helped her flesh out the characters and story line, Green says.
A play Nora Jacobson directed at last year's Ten-Minute Play Festival served as the basis for her short film "Raghead," screening June 2 as part of a spotlight on Vermont-made shorts. The Norwich filmmaker's adaptation of Tom Coash's play, shot in one day at Skunk Hollow Tavern in Hartland Four Corners, is about a blind date between an actress and a firefighter and examines the timely issue of Islamophobia.
A cofounder of the film fest, Jacobson is vice president of the WRIF board and serves on the film selection committee. She observes that, while the program contains films from such varied countries as Vietnam (the family drama Father and Son), Norway (the thriller Thelma) and Cuba (the coming-of-age comedy El Techo), it was an easy decision to kick off the three-day event with locally made movies.
"We show tons of international films," she says, "but it's very, very important for us to showcase local filmmakers' work."