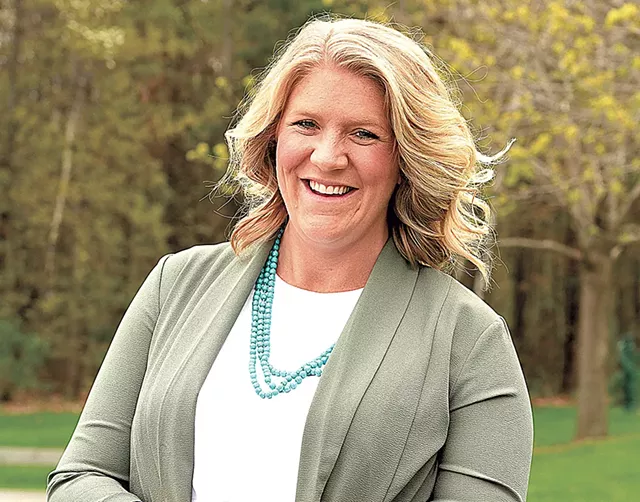 Lee krohn
Lauryn Crutchfield
Colchester native Lauryn Crutchfield said it started with a few prescription pills at a party before she left home for college. As a first-year student at the University of New Hampshire in 2006, she was soon abusing heroin. She stole from the campus bookstore to support her habit, got thrown out of school and spent one cold winter living in her car.
By 2011, Crutchfield's addiction had led her to several treatment centers in Vermont and neighboring states. They put her on a popular opiate-addiction treatment medication, Suboxone, to try to wean her off heroin. Every time, she returned to the stronger street drug. Crutchfield said the Suboxone just felt like a different — less satisfying — dependency.
It took a yearlong stay at a residential treatment program in Texas, which prescribes abstinence, for Crutchfield to get clean. Drug-free for more than two years, Crutchfield said, she has returned home and become a vocal critic of the state's preferred method of treating opiate addiction: prescribing other opiates such as Suboxone and methadone, a strategy known as "medication-assisted therapy."
Why, she and others ask, is the state trying to solve the opiate crisis by giving addicts another opiate?
"A lot of times Vermonters are pushed toward medication-assisted therapy because there isn't any other option," Crutchfield said. "In Texas, I was taught I could get off and be OK. I was able to change my life because I wasn't handcuffed by an opiate."
Medical authorities in Vermont and elsewhere oppose this approach. The World Health Organization, the United Nations, and the U.S. Department of Health & Human Services all favor medication-assisted therapy over abstinence programs. Former U.S. surgeon general Vivek Murthy released a report in 2016 saying that research "clearly demonstrates that medication-assisted therapy leads to better treatment outcomes compared to behavioral treatments alone."
In his final months in office, president Barack Obama secured $500 million through the 21st Century Cures Act to help states fight the opiate epidemic using mostly medication-assisted therapy.
Experts say methadone and Suboxone help addicts manage a disease, much as insulin does for diabetics. The drugs are less potent than heroin and enable addicts to wean themselves off it without excruciating withdrawal symptoms. When the substitute drugs are effective, users can theoretically hold jobs, attend school and drive safely.
"It's gotten to the point where you really have become a member of the flat-Earth club if you can't recognize the value of these medications," said University of Vermont research professor Richard Rawson, whose expertise in the field led him to advise the WHO-UN on addiction issues.
"No one is saying they are perfect, and they don't work well for everybody. But when you're looking at this from a population point of view, medication-assisted therapy is the very clear answer. The evidence we have in treating opioid dependence strongly suggests the use of those medications saves many lives ... and allows people to function better."
Rawson should know. He began his career as a psychologist in California devoted to treating addicts through behavioral therapy instead of "substituting one drug for another," as he put it. But he gradually came to believe that medication was the best way to treat opiate addicts.
Most persuasive, Rawson said, was his experience losing patients to fatal overdoses after they tried to quit without medication. Many addicts relapse after leaving treatment or prison. Their tolerance is low, and when they use their customary amount of heroin, their bodies can no longer handle it.
"We heard all the time of people coming out of abstinence rehab and overdosing the first week they were out," Rawson said. "Is keeping people alive the only consideration? Of course not. But it's a good starting point, and the data are overwhelming: When medication is provided to opioid users and they stay on it, they are at much less risk of death."
Vermont has gone all-in on medication-assisted therapy. It is the backbone of the state's "hub and spoke" treatment plan. The neediest addicts are treated in one of eight hubs, including the Howard Center in Chittenden County, which assesses and draws up treatment plans. Patients move from there to a "spoke," which can be a primary care physician or other outpatient provider, to continue treatment. The system currently serves 6,500 patients — roughly one in every 100 Vermonters.
The goal is to stabilize addicts, counsel them and give them time to get their lives on track. Instead of hunting for their next fix of street drugs, they head to clinics for treatment meds. For many, it's a daily ritual.
The primary controversy around Vermont's opiate-treatment scheme is that there haven't been enough slots for medication-assisted treatment, leading to long wait lists.
But some frustrated addicts and their families have begun to question whether that's the only way. And Crutchfield and others point out this cruel irony: The same pharmaceutical companies that fueled the opiate crisis by manufacturing and increasing access to drugs such as OxyContin and Percocet are profiting from "medical" solutions to treat the problem.
Fletcher resident Jennifer Cary said her family's experience has been a "living hell" for the past four years. She said her 21-year-old daughter, Lindsay, struggled to kick a heroin problem that began after she started abusing prescription drugs at 17, following the birth of her first child.
Lindsay did stints at Vermont's two residential treatment facilities for opiate addicts — Valley Vista in Bradford and the Serenity House in Wallingford — and was enrolled in the outpatient "spoke" program in Morrisville, according to her mother. Jennifer would drop her daughter off every day at 8 a.m. and pick her up at the clinic around noon after she had attended counseling and received a dose of Suboxone.
"It was financially and emotionally a huge burden, but what else can we do? We're trying to keep our kid alive," Jennifer said. Her daughter started using heroin again, failed the clinic's urine screening and was booted from treatment.
Desperate, Jennifer enrolled her daughter in the type of long-term abstinence center that Crutchfield advocates, even though her insurance plan covers only a fraction of the cost. Lindsay told Seven Days that without Suboxone, she has been able to focus more intently on evaluating her life and learning why she was vulnerable to addiction.
Her mom has become far too wary of relapses to declare victory. But after more than five months in the Green Mountain Treatment Center in Effingham, N.H., Lindsay said she is clean and making plans to stay that way after she is discharged later this year.
Abstinence supporters say their programs aren't better solely because they don't involve drugs. They also generally provide longer inpatient stays — anywhere from three months to a year. Patients in the traditional programs at Valley Vista and the Serenity House typically stay for less than one month.
Lindsay said the longer stay in New Hampshire made a big difference.
"It's the only thing that's worked for me," she said. "When I've gone to other places, you do 30 days and it's, 'OK, you're good.' How can you cure an addiction that's lasted five years in 30 days?"
Eric Spofford owns the Green Mountain Treatment Center and six other treatment centers in New Hampshire that promote abstinence. He said many Vermonters come to his clinics, and he recently explored opening up a long-term treatment center in Manchester, Vt., that would have been the first of its kind in the state. He backed off after concluding that it would take him two years to get through the process of petitioning the Green Mountain Care Board and obtaining the required "certificate of need."
Spofford, who is a recovering heroin addict himself, acknowledged the heightened risks of overdose by abstinence patients but said it is important to give addicts and their families choices. Reliance on Suboxone or methadone is suboptimal, he said, because addicts have to spend so much of their energy going to clinics for the drugs.
"Given my own personal experience on methadone, and being involved in some capacity with thousands of [addicts], I've rarely ever seen anyone be successful with a quality of life that is attractive while on Suboxone," said Spofford. "They use it as a crutch to their opiate addiction. We want to get people to a place of freedom, where you don't have to wake up in fear. It's about living a life of purpose."
There are no prohibitions on abstinence treatment centers in Vermont, but no such facility has ever applied for permits, according to Vermont Department of Health deputy commissioner Barbara Cimaglio.
Cimaglio said the Department of Health would not oppose it but does not support abstinence as a broad public-health policy. She did acknowledge that it works for some.
Crutchfield appears to be one of them. Now 29, married and expecting her first child, she is back in Colchester, handling alumni relations for BRC Recovery, the Texas clinic that she credits for saving her life. She's participating in local panel discussions and meeting Vermont addicts whose lives do not seem to be improving on medication-assisted treatment.
"I can't tell you the end-all, be-all solution to this," Crutchfield said. "But we have to create something different."