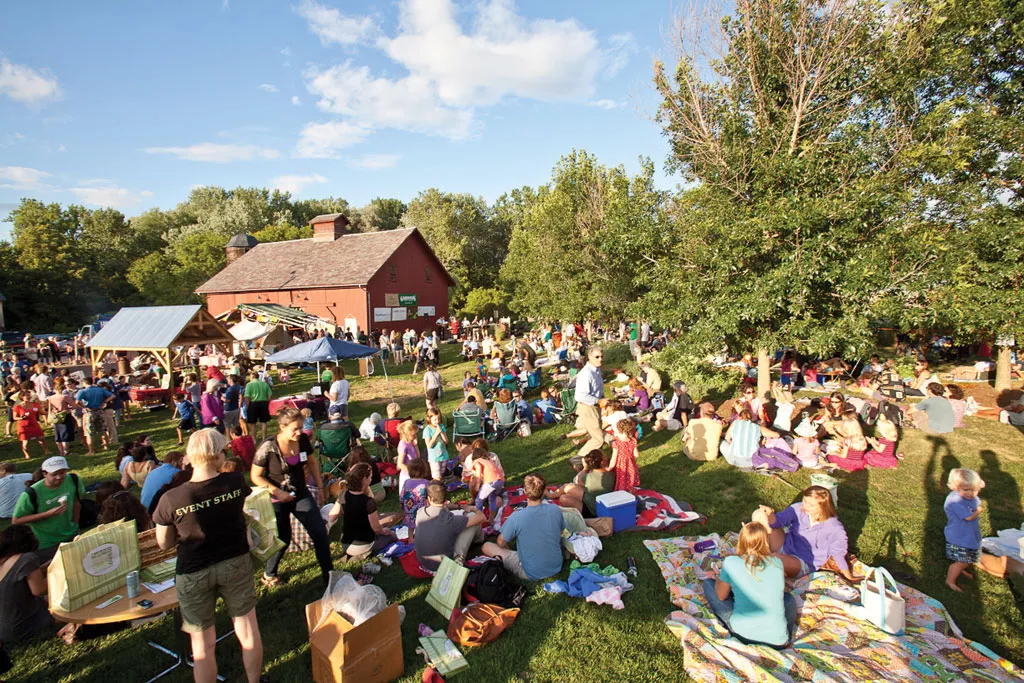 courtesy of The Intervale Center
Summervale at the Intervale Center
Vermont farmers pick up their pace in the summer. There are cows to milk and fields to hay. Yet many also make time to welcome visitors who want to pick strawberries, bite into a sweet baby carrot and see firsthand how food winds up on plates.
Some 150 Vermont farms open the gates to agritourism. The rural character of the state means that, even in Burlington, the most populous city in Vermont, farms are close by. How close? The pungent smell of manure occasionally wafts downtown from the University of Vermont farm just outside city limits. And right inside the city, small operations grow vegetables, flowers and berries in the fertile river valley fields known as the Intervale.
So whether you're looking to milk a cow or sip wine among grapevines, plenty of easy rural destinations are just a stone's throw from urban Burlington. Read on for a taste of Vermont's visitor-friendly farms; visit diginvt.com for more.
A Sunset Feast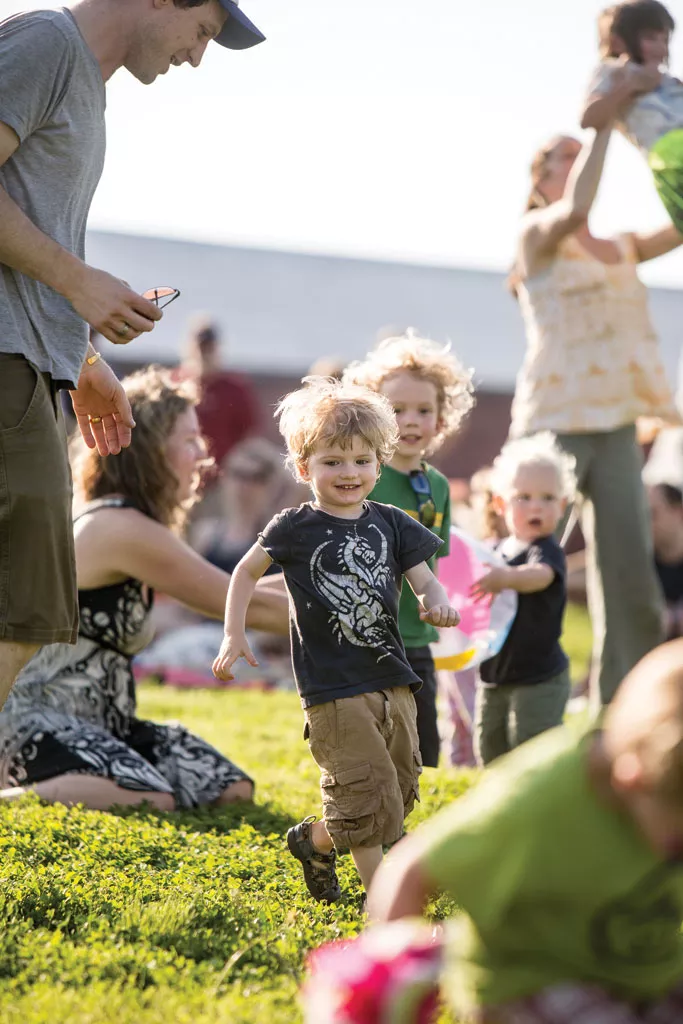 Oliver Parini
Bread and Butter Farm
Just a half-hour drive from downtown Burlington, in Shelburne, Bread and Butter Farm draws crowds by the hundreds for burger nights, held Fridays from mid-May to September. Families and friends gather to eat food raised, grown and baked on the premises. That includes grass-fed organic beef and buttery buns for the burgers, and fresh kale, lettuce, scallions and herbs in the side salads. Each plate comes with maple-syrup-sweetened lemonade and cookies. The view of the sun sinking behind the Adirondack Mountains is free, as is the live music provided by local and regional musicians.
Farm co-owners Corie Pierce and Adam Wilson started burger nights in 2011 for customers who were picking up produce and meat for the weekend. "We had 150 people show up, and the next week 200, and the next 250," Pierce says. "It started building without any effort."
Part of the allure is the opportunity "to be up close and personal" with food sources, she says. As for the other part: "My theory is that people don't [otherwise] get to enjoy the magical hour outside."
Also try: Summervale at the Intervale Center in Burlington. Held every Thursday in July and August, this family-friendly outdoor gathering blends live music with local food, cider and beer.
Ripe for the Picking
The Last Resort Farm, 35 minutes from Burlington, in Bristol, sits on 285 acres of rolling land. Woods fringe the hay fields, and Hogback Mountain rises behind the pick-your-own organic strawberry patch. A huge elm tree that has withstood Dutch elm disease stands behind the old farmhouse, creating a sculptural landmark.
Husband-and-wife farmers Eugenie Doyle and Sam Burr grow and sell ginger, garlic and other vegetables, as well eggs laid by hens on the farm. Their son, Silas Doyle-Burr, raises aquaculture trout, sold at the family farm store.
As the summer progresses, farm visitors shift from picking strawberries to gathering pints of blueberries, currants and raspberries. Bringing your own pint-size child? The farm cultivates a special "toddler row" so berry-picking youngsters needn't worry about where they step.
In the winter, chores slow down and Doyle writes books. The latest, a children's story, is due out this year. "Farming is inspiring," she says. "There are lots of farmers who either write or play music or do something related. There's a lot of drama and beauty and difficulty. All of those things make for good art, I think."
Also try: Owl's Head Blueberry Farm in Richmond. This pick-your-own spot welcomes picnickers; bring your own blanket. Eat or pick to live music most Tuesday and Thursday evenings.
Barnyard Bounty
Formerly the Gilded Age estate of descendants of America's prominent Vanderbilt family, Shelburne Farms is now a nonprofit 1,400-acre model farm. Open daily from early May to mid-October, the farm invites visitors to milk a cow in the farmyard and taste the difference between the young and aged cheddars made from the raw milk of its brown Swiss herd.
courtesy of Hubert Schriebl
Shelburne Farms
While there, walk trails crisscrossing grounds designed by Frederick Law Olmsted, landscaper of New York City's Central Park. The farm store sells bread, cheese and local food products perfect for a picnic lunch. Or go early for breakfast on the covered porch at the elegant Inn at Shelburne Farms, overlooking the lake and formal gardens. The peonies put on quite a show,
Every Wednesday evening through July and August, folks lay out blankets by the majestic Farm Barn for free concerts by local musicians.
Also try: Billings Farm & Museum in Woodstock. Folks willing to drive will find farmyard chores, horse-drawn wagon rides and hand-churned ice cream waiting at this working dairy farm an hour and a half from Burlington
Summer in a Glass
In the Champlain Islands, Snow Farm Vineyard makes award-winning cold-climate wines. Sample the red, white and ice varietals in the tasting room, or take a glass outside to wander the neat rows of grapevines.
The vineyard offers morning yoga and art classes and Thursday night concerts; pack a picnic, or try the flatbreads from a mobile pizza oven. Located near the shores of Lake Champlain, the winery is a favorite stop for bicycle tours coming through the quiet lanes of South Hero.
Want to stay overnight? Try Crescent Bay Farm Bed & Breakfast, just a half mile down the road. The Lane family that owns the vineyard also operates this red-clapboard B&B.
Also try: Shelburne Vineyard in Shelburne. This picturesque winery along Route 7 offers live music the first Thursday of every summer month, as well as Bluegrass & BBQ concerts on third Fridays.
Les fermes du Vermont vous souhaitent la bienvenue
L'été, les agriculteurs du Vermont ont du travail à revendre. Ils ont des vaches à traire et du foin à ramasser. Pourtant, beaucoup prennent également le temps d'accueillir les visiteurs désireux de cueillir des fraises, de mordre dans une mini-carotte douce et de voir d'où viennent les aliments qui se retrouvent dans leur assiette.
Quelque 150 fermes du Vermont s'ouvrent à l'agrotourisme. Vu le caractère rural de l'État, même à Burlington, ville la plus peuplée du Vermont, les fermes ne sont jamais bien loin, comme en témoigne l'odeur tenace de fumier qui se répand parfois jusqu'au centre-ville en provenance de la ferme de l'Université du Vermont, en périphérie. À l'intérieur même de la ville, de petites exploitations font pousser légumes, fleurs et petits fruits dans les champs fertiles de la vallée fluviale, l'Intervale.
Que vous ayez envie de traire une vache ou de déguster un verre de vin au milieu des vignes, une foule de destinations rurales se trouvent à un jet de pierre de Burlington. Le texte qui suit vous en fera découvrir quelques-unes. Allez à diginvt.com pour en savoir plus.
Un festin au coucher du soleil
À une demi-heure en voiture du centre-ville de Burlington, à Shelburne, la ferme Bread and Butter attire des centaines de visiteurs lors de ses soirées burgers du vendredi, de la mi-mai à septembre. Familles et amis se réunissent alors le temps d'un festin dont tous les ingrédients proviennent de l'élevage et des cultures de la ferme, et sont cuits sur place : la viande biologique de bœuf engraissé à l'herbe, les petits pains au beurre ainsi que le chou frisé, la laitue, les oignons verts et les herbes dans les salades d'accompagnement. Chaque plat vient avec une limonade parfumée à l'érable et des biscuits. En prime : une vue spectaculaire sur les Adirondacks au coucher du soleil et des prestations de musiciens locaux et régionaux.
Corie Pierce et Adam Wilson, copropriétaires de la ferme, ont lancé les soirées burgers en 2011 pour les clients qui venaient s'approvisionner en viandes et en légumes pour le weekend. « De 150 personnes au départ, dit Corie, nous sommes passés à 200, puis à 250. Cela s'est fait naturellement. »
Selon Corie, l'attrait réside en partie dans la possibilité de « se rapprocher » des sources alimentaires. « Mais il y aussi le fait qu'autrement, les clients n'auraient pas l'occasion de profiter de cette heure magique de la journée dehors. »
À essayer aussi : Summervale, à l'Intervale Center de Burlington. Tous les jeudis en juillet et en août, cette activité familiale en plein air combine concerts et produits, cidres et bières du coin.
La saison de la cueillette
La ferme Last Resort, à 35 minutes de Burlington, à Bristol, est située sur un terrain vallonné de 285 acres. Les champs de foin sont bordés par un boisé et le mont Hogback culmine derrière le jardin de fraises biologiques en autocueillette. Un orme imposant ayant survécu à la maladie hollandaise de l'orme se dresse derrière la vieille maison de ferme, tel une sculpture.
Le couple de fermiers, Eugenie Doyle et Sam Burr, vend du gingembre, de l'ail et d'autres légumes, ainsi que les œufs de leurs poules. Leur fils, Silas Doyle-Burr, élève des truites en aquaculture, qu'on peut se procurer au magasin de la ferme familiale.
À mesure que l'été avance, les fraises font place aux bleuets, puis aux groseilles et aux framboises. Vous avez des tout-petits? La ferme met à leur disposition une allée de cueillette spéciale pour qu'ils n'aient pas à se soucier de l'endroit où ils mettent les pieds.
L'hiver, le rythme du travail ralentit et Eugenie se met à l'écriture. Son dernier livre, une histoire pour enfants, est attendu cette année. « La vie à la ferme n'a de cesse de m'inspirer, dit-elle. Il y a beaucoup de fermiers qui écrivent ou font de la musique ou qui pratiquent une autre forme d'art. L'aspect à la fois beau, dramatique et difficile de cette vie se traduit très bien dans l'art. »
À essayer aussi : La ferme Owl's Head Blueberry, à Richmond, un excellent endroit pour l'autocueillette. Pique-niqueurs, vous êtes les bienvenus! Apportez votre couverture. Mangez ou faites le plein de petits fruits en écoutant les musiciens sur place (la plupart des mardi et jeudi soirs).
Une escapade bucolique
Ancienne propriété des descendants de la célèbre famille Vanderbilt à la Belle Époque, Shelburne Farms est une ferme modèle sans but lucratif de 1 400 acres. Tous les jours du début de mai à la mi-octobre, vous pouvez y traire une vache et goûter la différence entre des cheddars jeunes et vieillis, fabriqués à partir du lait cru du troupeau de Brunes des Alpes de la ferme.
Pendant que vous y êtes, parcourez les sentiers qui sillonnent les jardins dessinés par Frederick Law Olmsted, architecte-paysagiste réputé pour avoir conçu Central Park, à New York, et le Parc du Mont-Royal, à Montréal. Au magasin de la ferme, vous trouverez du pain, du fromage et des produits locaux : idéal pour un pique-nique du midi. Si vous êtes lève-tôt, rendez-vous pour le déjeuner sur la terrasse couverte de l'élégante auberge de Shelburne Farms, qui surplombe les jardins à la française — les pivoines sont superbes — et le lac.
Le mercredi soir, en juillet et en août, installez-vous sur une couverture près de la majestueuse grange pour assister aux concerts gratuits de musiciens locaux.
À essayer aussi : Billings Farm & Museum, à Woodstock. Si vous êtes prêt à faire un peu de route, ne manquez pas de visiter cette ferme laitière située à une heure et demie de Burlington. Vous pourrez participer aux corvées, faire un tour de calèche et déguster une crème glacée barattée à la main.
L'été dans un verre
Dans les îles du lac Champlain, le vignoble Snow Farm produit des vins primés issus de la viticulture en climat froid. Rouge, blanc, de glace : goûtez les différents vins de cépage dans la salle de dégustation, ou prenez un verre à l'extérieur en déambulant parmi les vignes parfaitement soignées.
Le vignoble offre des cours de yoga et d'art le matin et présente des concerts en soirée le jeudi. Apportez de quoi pique-niquer, ou essayez les pains plats cuits dans un four à pizza mobile. Situé près des rives du lac Champlain, le vignoble constitue une halte appréciée des cyclistes arrivés par les routes tranquilles de South Hero.
Vous souhaitez passer la nuit dans le coin? Essayez le Crescent Bay Farm Bed & Breakfast, à moins d'un kilomètre plus bas. La famille Lane, propriétaire du vignoble, exploite également ce gîte touristique en bois rouge.
À essayer aussi : Shelburne Vineyard, à Shelburne. Ce vignoble pittoresque sur la route 7 présente des concerts le premier jeudi de chaque mois d'été. Le troisième vendredi du mois, musique bluegrass et barbecue sont au programme.