courtesy of Vermont Seaberry Company
Seaberries
When David Fried started Elmore Roots Nursery in 1981, he contacted a local extension agent to find out what fruit he could grow. The agent said his land, located in one of Vermont's coldest climates, could only support apples — and just two varieties at that.
Fried knew the man was wrong.
Jim Deshler
Aronia at Farm Between
"I had hiked the Long Trail in Vermont and lived on fruit along the way," he recalls. He saw blackberries and pears growing wild in the unforgiving north and figured he could diversify his farm. He started by planting gooseberries and currants. Kiwis came a few years later when "an itinerant kiwi peddler" stopped by the farm. "Everyone says there's no way you can grow kiwis here," he says. "But we've had kiwis for about 30 years."
Though Fried proved long ago that practically anything can grow in the state's most inhospitable environments, only recently have some growers ventured beyond the standard apples, strawberries and blueberries. Greater awareness of permaculture and its need for biodiversity has inspired farmers to steadily introduce unexpected fruits — with big health benefits — into the local food system.
Few have won over customers with such ease as John and Nancy Hayden of Jeffersonville's Farm Between. Their secret? Bubbles and ice.
The Burlington Farmers Market regulars turn their organic fruit into syrups that flavor sodas and snow cones. Recent varieties have included pink Champagne currant, maple-wild cherry and elderberry-ginger. These fruits are just a small selection of the plants grown at the demonstration farm and nursery on Route 15.
Both Haydens are ecologists by training. John was an extension agent himself before becoming an on-the-farm dad in 1992. The pair enjoys developing new systems to allow for growing uncommon fruits. In fact, the Haydens replaced their livestock and veggies with fruit exclusively 12 years ago.
They get help, too, by choosing plants that appeal to bees as much as humans. The reasons are ethical, as well as practical. "We need the bees. No bees, no fruit, no snow cones, no pies," John Hayden says.
In August, strawberries are long gone and blueberries are on the wane, but bushes are heavy with black aronia berries. "We're really bullish on aronia and elderberry," John says, looking out over the recently harvested elderberry bushes. He farmed about 300 pounds of the berries this season. What doesn't go into his syrups is sold to herbalists and food producers. Citizen Cider wants some elderberry syrup to experiment with, he says. It may produce a sequel to the cidery's Currant Affair, which used Farm Between black currants.
Jim Deshler
John Hayden
With workshops and tours open to the public, the Haydens invite visitors to see their pollinator gardens and whatever fruits and berries are in season. Some are experiments that still don't yield enough berries for the public to consume. But curiosities such as thimbleberries and nannyberries could appear in snow cones someday.
Courtesy of Elmore Roots Nursery
Black ice plums at Elmore Roots Nursery
Right now, John Hayden is especially interested in bush cherries such as the ultra-sweet Nanking cherry — which grow better in Vermont than cherry trees, such as the common Prunus avium, or sweet cherry — as well as nuts and pears. Hazelberts could one day make hazelnut-flavored syrups, while a revival of Vermont-grown pears could stir up the cider world with an opportunity for companies to make local perry, the pear equivalent of hard cider.
What else would Hayden like to grow? "I really wish I could grow peaches," he says wistfully.
It's not impossible, says Fried, and we don't have to wait for greenhouse gasses to get us there. He just picked his first peach, grown in the protection of a high tunnel greenhouse. And climate change has nothing to do with his ability to grow peaches and apricots, Fried says. It's just a matter of finding cold-hardy varieties, as he did with his kiwis so long ago. Soon, he'll even have pawpaws, also known as soursop or cherimoya. In Elmore, a cover of sugar maple protects the plant's big tropical leaves in the cold months.
Meghan Giroux of Vermont Edible Landcapes in Richmond has seen pawpaws and even goji berries grow in the Green Mountains. For the latter, all you need is sandy soil, she says.
If it's just a matter of finding the right breed for the right patch of land, why don't more Vermonters grow "exotic" fruit? As a nursery owner and agro-ecosystem land planner, Giroux has observed locals' reticence to try new fruits. "The American palate is really unrefined," she suggests. When jonesing for a berry fix, most of us reach for sweet blueberries, strawberries and raspberries. "What [people] don't know is that, in this climate, we can grow quite a lot of different fruits," Giroux says. "They just don't necessarily fit into that palate."
courtesy of Vermont Seaberry Company
Seaberry tree
Often, though, a lack of sugar comes with some sweet nutritional benefits. That's why Melissa Hoffman started Vermont Seaberry Company at Teal Farm in Huntington. Her nonprofit organization, Living Future Foundation, is dedicated to creating a demonstration project to figure out how humans can better connect to their environment through food. More than a decade ago, she and a farm consultant discovered the health advantages of seaberry, also known as sea buckthorn, a plant native to northern European seacoasts (see sidebar).
Courtesy of Vermont Edible Landscapes
Nanking cherries at Vermont Edible Landscapes
"She couldn't believe someone else hadn't brought it to Vermont," says Hoffman's wife and partner, Shawn Smith Hoffman. Two years ago, the couple incorporated as Vermont Seaberry. At this year's Sweet Start Smackdown, part of Vermont Restaurant Week, the berry made a splash as the center of a chocolate cupcake created by Erica Anderson of New Moon Café.
Smith Hoffman drinks some unsweetened nectar every day but admits that seaberries are "definitely an acquired taste." Hoffman has experimented in her food lab with adding Concord grapes grown on-site, and they might eventually sweeten the nectar, but for now their company sells it unsweetened. The astringent taste doesn't stop nationwide customers with cancer and heart disease from ordering it as a possible treatment for their conditions. Still, the women prefer to sell the product on the farm to preserve optimal freshness and connect with their customers.
Of course, not all fruits new to Vermont are medicinal. Some just taste good. Local figs grown at Charlotte's Paradiso Farm appear on the menu at the Inn at Shelburne Farms. And many a restaurant cheese plate these days features quince paste from the hardy Russian cultivars of Vermont Quince in Newfane.
Diversity isn't just the spice of life; it's the best way to keep a farm going all year long. By growing everything from plums to tasty crab apples to medlars, Fried says he always has a new favorite fruit and something special to put in the jams that he sells at co-ops around the state.
By growing and eating new fruits, Vermonters can also get a taste of the wider world. "You just have to be an adventurer," explains Fried. "Not everyone wants to travel across Africa or the Far East these days, but you can have quite an adventure growing fruits and nuts that we've gathered from around the world." Call it a sweet staycation.
Meet Your New Favorite Fruit
Hardy kiwi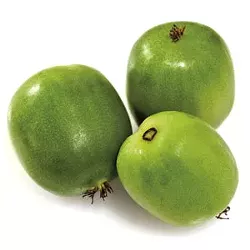 • What does it taste like? This plant, also known as Arctic kiwi and kiwi berry, is much smaller than the fuzzy tropical kiwifruit but it tastes similar, if a bit sweeter. And forget peeling off that scratchy jacket — these little guys can be eaten whole.
• Is it good for you? It's high in vitamins C and K, and its phytonutrients protect cells from damage.
Haskap
• What does it taste like? John Hayden says it's like a "strawberry-blueberry cross." David Fried refuses to call it by its alternate name, honeyberry, because he says these blue honeysuckle relatives taste better than honey.
• Is it good for you? Yep. It has three times the antioxidants of a regular blueberry and is particularly high in potassium, calcium and vitamin A.
Aronia
• What does it taste like? Aronias are often called chokeberries (not to be confused with chokecherries), but they're not as pungent as the name suggests. Though slightly astringent, the ripe berries have a green, grassy taste with a hint of sweetness.
• Is it good for you? "Aronia has the highest antioxidants of anything we grow," says Hayden. Recent studies have noted the berry's ability to inhibit artificially induced cancer in rats. It's also a flavonoid superstar.
Seaberry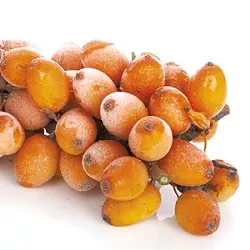 • What does it taste like? Tart. For some, the fruit's low sugar content is refreshing, but most people prefer it with sweeteners.
• Is it good for you? Heck, yeah. "It's really food medicine," says Shawn Smith Hoffman. The berry is commonly used in Europe in both cosmetics and nutritional supplements because of its collection of essential fatty acids, high carotenoids and unexpected wealth of protein.
Quince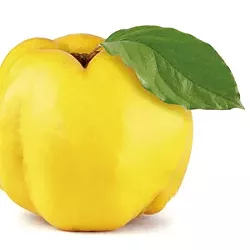 • What does it taste like? Acidic. Unless they're bletted (overripened off the branch), quince is too hard to eat.They should be processed before consumption.
• Is it good for you? Quince is not one of the best, especially since you'll probably have to mix it with sugar, but the fruit is exceptionally high in phytonutrients and has been used to fight cancer and speed metabolism.