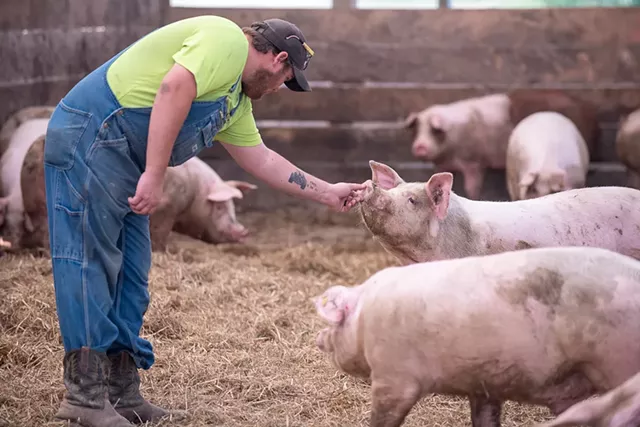 Caleb Kenna
Pig farmer Ethan Gevry in Addison
The old dairy barn at Champlain Valley Farm in Addison looks like many others along Route 22A, but the pickup truck with "HOGFRMR" on its license plate indicated it was the right place. Confirmation came from the words "Hog Wild" emblazoned on several demolition derby cars scattered about.
"Me and my wife do demolition derby," Ethan Gevry explained after he zoomed over in his Gator. "I won the Vermont state championship two years ago."
The championship takes place at the Vermont State Fair in Rutland; like most such events, it was canceled this year due to the coronavirus. The farmer has kept busy, though, managing his hog business through the ups and downs of a year like no other.
Gevry has been farming pigs since he was 18. Now 24, he's raising about 2,000 animals a year in five large, airy hoop barns bedded with straw.
So far, 2020 has brought a rush of what Gevry calls "COVID cowboys" buying their first piglets to raise for themselves, as well as more people looking to do their own pig roasts. "I think people are a little antsy to get outside and do something," he hypothesized.
The young farmer also spent weeks trying to find slaughter slots and a market for more than 100 pigs he had been raising for Jasper Hill Farm, whose salami business was torpedoed by the pandemic.
Gevry thinks he could have found someone to buy the pork, but all the slaughterhouses in the area were booked solid. He ended up selling the animals at a live auction in Pennsylvania for a $40,000 loss.
The pandemic has brought new challenges and opportunities to Vermont meat farmers. Wholesale customers such as restaurants and schools closed with little warning, then consumer demand leapt when several large national meat processors shut down due to COVID-19 outbreaks among employees. Wendy's fast-food chain took burgers off the menu at more than 1,000 locations, and people hoarded ground beef and bacon like toilet paper. Vermonters stocked up, too, and many turned to local farmers to buy direct; some bought piglets and even beef cows for self-sufficiency.
While many of the state's farmers have been able to take advantage of the increased demand, the pandemic has underscored and exacerbated what is evident every fall at peak slaughter season: Vermont's processing infrastructure lacks the elasticity to fully respond to sudden spikes in demand.
This hurts farmers, but whose problem is it to solve?
Endless Fall
The state's 39 inspected slaughterhouses and meat processors have chugged steadily and safely through the pandemic, but they are running full throttle and stretched to capacity.
"It's kind of like fall's been eight months long," said Julie Boisvert, the meat program section chief at the Vermont Agency of Agriculture, Food and Markets.
The meat program is part of the system that ensures the safety of red meat and poultry processed or sold in the state. Its responsibilities include licensing and inspecting facilities in Vermont that slaughter animals and process meat, as well as licensing retail establishments that sell meat.
Data show that both supply and demand are up. The number of animals slaughtered under inspection is up 33 percent so far in 2020, Boisvert said. Requests for licenses to sell prepackaged meat have also increased, from 930 in 2019 to 1,290 this year; she attributes this largely to farmstands newly offering local meat.
Her department has also received its share of phone calls from farmers and homesteaders desperately seeking processing options.
"A bunch of farmers are poised to grow but don't dare because of processing," said Jenn Colby, who raises sheep and pigs at Howling Wolf Farm in Randolph. She also works with about 400 livestock producers each year as the pasture program coordinator at University of Vermont Extension's Center for Sustainable Agriculture.
At a recent meeting organized by the agriculture agency and the state's Farm to Plate initiative, a group of beef farmers concluded that the potential existed to grow sales by about 70 percent — to close to $30 million over the next decade.
"But they quickly realized they can't get there with existing infrastructure," said Ellen Kahler, executive director of the Vermont Sustainable Jobs Fund, which administers Farm to Plate.
Boom and Bust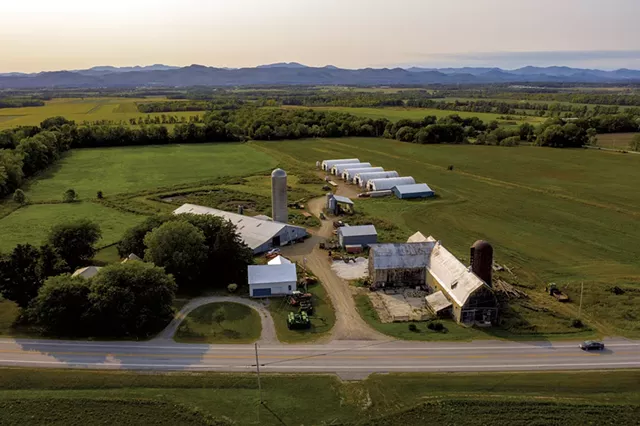 Caleb Kenna
Ethan Gevry's pig farm in Addison
Slaughter and processing limitations are sometimes treated as a single issue, but Kahler and Boisvert believe the more significant bottleneck is the time-consuming process of butchering slaughtered animals into retail cuts. However, not everyone agrees with that conclusion.
Mateo Kehler, cofounder of and head cheesemaker at Jasper Hill Farm in Greensboro, said the nationally known cheese company was about to dive deeply into the salami business when sales plummeted in March due to COVID-19.
Jasper Hill hit the brakes, shipping off all 55 cows in its dairy herd, scaling back at the creamery and pausing production at its new $350,000 salami plant. And the company told Gevry, Jasper Hill's pork supplier, that it would have to put a hold on buying pigs.
"The twisted part of it all is that our mail-order business boomed in late April and May," Kehler said, "and we had no meat and no way of filling the pipeline."
Jasper Hill had lost its kill slots. "All we needed was slaughter capacity," he said emphatically.
Kehler is unsure about the future of the salami line. What he does know is that a projected $1 million annual business requires processing that he can count on.
"If we're going to get back into the meat business," Kehler said, "we're going to have to build a slaughterhouse."
Farming Futures
Caleb Kenna
Ethan Gevry
Gevry, a fourth-generation farmer, knew he wanted to farm but didn't know how to make a living at it. One thing was certain: It wouldn't be in dairy.
The family sold its herd in 2002. "I watched my grandparents and uncle struggle, and that was nothing I wanted a part of," Gevry said.
During high school, he milked for neighbors, raised a few pigs for friends and family, and studied agricultural business at the Hannaford Career Center in Middlebury.
One day the program director came to him and said, "I've got a guy who wants a young guy to start raising pigs for him," Gevry recalled.
Mark Curran of Black River Produce in North Springfield was working with business partners to build a regional meat brand, Black River Meats. A primary goal was to get young people involved in farming and take over old dairy farms.
Curran, a local foods distribution pioneer, cofounded Black River Produce in 1978. He had come to believe that livestock was a solid, year-round business opportunity that takes advantage of Vermont's strength in growing grass for grazing and hay.
When Curran, 66, first met Gevry, "I said, 'Let's go grab a beer,' and he said, 'I'm not old enough,'" Curran recalled with a chuckle.
Ninety percent of Gevry's 2,000 pigs go to Black River Meats and a newer brand, Vermont Family Farms, launched by Curran and Bill Kuhnert in 2019. All Black River operations were sold to Reinhart Foodservice in 2016, but Curran's team continues to source and process meat for both brands.
Control of animal processing was critical to Black River Meats' original success, which is why Curran invested $10 million in converting the former Ben & Jerry's Peace Pops plant in North Springfield into a meat-processing plant and continually upgrading it.
Curran still owns the building, but Minnesota-based Lorentz Meats took over the operation in 2014 and named it Vermont Packinghouse. It has grown to provide services to many Vermont livestock farmers, which eased capacity issues for several years.
In early 2020, Walden Local Meat Co. in Billerica, Mass. — which aggregates sustainably raised northeastern meat to sell direct to consumers — became a minority owner of the plant, Curran said. He believes Walden did so to help ensure that its farmers have processing access.
Similarly, Curran's team handles all processing and sales for Gevry, which has enabled Gevry to focus on farming. "I couldn't market that many pigs myself," Gevry acknowledged.
The business, along with his haying operation, enabled the young farmer to buy the 380-acre family farm in 2018. It had been conserved by his grandparents through the Vermont Land Trust and has an agricultural value of more than $1 million, he said.
"Pigs are what I got the opportunity to do, and it stuck," he said. "I'm really good at finishing hogs."
Tricky Business
Demand for local meat had been growing steadily, even at mainstream supermarkets, Curran said: "Eight years ago, they'd say, 'No, we don't buy local meat.'"
Then the pandemic kicked off what he described as a disorienting "three-month seesaw pattern."
"First, colleges shut down; that was 30 percent of our business. The next week, restaurants shut down; that was another 50 percent," Curran said. "Then, when Tyson and Conagra [processing plants] started closing, the phone began to ring off the hook, and demand for local [meat] took off. Now, food service is coming back, and retail is still growing. We're maxed out, and the [processing] bottleneck is back."
Curran believes another facility the size of Vermont Packinghouse would help grow the opportunity for Vermont agriculture. "The demand is there. Farmers have capacity to raise more," he said. "The roadblock is in the processing."
But he won't be leading the charge this time. "It's a really difficult business," Curran said, listing skilled labor, waste management, permitting and community relations among the challenges.
Bruce Hennessey of Maple Wind Farm in Richmond concurred. The diversified, pasture-based livestock operation processes its own poultry, as well as birds for more than a dozen other farmers.
During the early months of the pandemic, when sales tripled, "controlling our own processing for poultry made all the difference," Hennessey said. But the continued relentless pace on top of pandemic-induced stress has put a lot of pressure on his team. Absenteeism and payroll costs rose.
"If there was somebody who was doing quality [poultry] processing, I would close our shop and take it to them in a heartbeat," Hennessey said.
"If you're strictly interested in return on investment, it's probably not the best business," Curran conceded. "But if we want to keep our working lands viable, meat production makes perfect sense for Vermont."
Doing It for Themselves
During April and May, the phone rang so incessantly at the Royal Butcher in Braintree that the slaughter and processing facility's new owner, Justin Sauerwein, put a message on the voicemail and turned the ringer off.
"It was probably 50 calls a day, up to maybe a peak of 75," Sauerwein said. "I had to say no a lot."
The 36-year-old farmer understands the anxiety of having animals ready for market but no way to process them under inspection so that the meat can be sold to customers.
At Almanack Farm in Chelsea, Sauerwein grew his own herd of Wagyu-Angus crosses to 150. He sells them in partnership with another local beef farmer to accounts such as the Worthy Vermont restaurant group and regional co-op grocers.
Sauerwein, who grew up in Kansas, moved to Vermont because of its reputation for supporting small farms. His uncle back home farmed 4,000 acres, mostly of wheat. "That was not enough to make a living," Sauerwein observed dryly.
Ensuring that he and other livestock farmers have processing access motivated Sauerwein to purchase Royal Butcher in January for less than $1 million. The relatively small operation processes 10 animals, mostly beef, per day. Throughout the year, the facility works with about 200 farms, but the bulk of its business comes from a dozen of them.
Sauerwein said it's been stressful to be so busy, but he feels lucky that the rush started during what is normally a slow season.
The business bump enabled Sauerwein to grow from five to 13 employees with better starting wages. The spring hires now average $18 an hour. He's pleased that the group is diverse. "We've got one just out of high school, a 50-year-old ex-military guy, and two African Americans," Sauerwein said. "Two guys applied because they heard me on [Vermont Public Radio]," he said.
Referring to the national meat shortages, Sauerwein added, "I do think it's driven more awareness of the importance of meat processors."
A Cut Above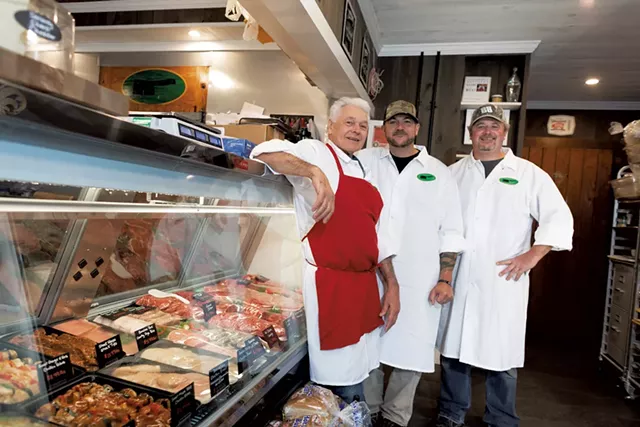 Stina Booth
From left: Cole Ward, Travis Ryan and Matt Ryan at the Enosburg Meat Market
Everyone agrees that a couple more good-size slaughter and processing facilities would help Vermont farmers, but creating them is going to take some time. Meanwhile, the state hopes to increase access by working with some of the 30 custom processing facilities that are not currently inspected.
Many custom processors are skilled meat cutters, or butchers, who could help alleviate the bottleneck during that portion of animal processing.
According to federal regulations, any meat sold to the public must be slaughtered and processed under direct supervision of a state or U.S. Department of Agriculture meat inspector. Custom operations can only process meat for use by the person who raised the animal (or their employees, family or nonpaying guests) or by someone who bought it or a share of the live animal directly from a farmer. Generally, these animals have been slaughtered on-farm by an itinerant slaughterer and an inspector need not be present.
Everything custom processors cut must be stamped "Not for sale." With some extra paperwork, however, they can apply to process meat under the supervision of an inspector. As long as the animals have been slaughtered under inspection, that meat can then be sold.
"If we could get some of these people to do one or two days under inspection," Boisvert said, "I think it would make a huge difference."
The question is, how many are interested in jumping through additional hoops when they are already experiencing high demand for uninspected services?
Travis Ryan, 43, and his brother, Matt, 44, co-own the Enosburg Meat Market, which opened in 2019. Travis told Seven Days that the shop's pre-pandemic plan was to do some inspected meat cutting during the slower season. But this year hasn't had a slow season.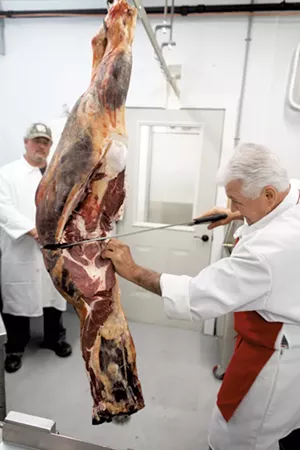 Stina Booth
Cole Ward breaking down a hindquarter of beef raised by local families for their own use
Longtime Vermont butcher Cole Ward, 70, is in charge of the meat market's meat counter and custom cutting operation. He likes to share that he's missing a lung and has 14 stents in his heart. But he deftly demonstrated that he can still catch a 30-pound loin while expertly breaking down a locally raised beef hindquarter hung from the ceiling.
The market's retail case doesn't usually contain Vermont meat, but the walk-in is hung with quarters of beef raised by area families for their own use, all slaughtered on-farm.
"It's been wild this year. The cooler's been full every month," Ward said.
Travis said that the custom business was up probably fourfold this year. "COVID's been very good for us," his brother added.
In South Royalton, Elizabeth Roma, 36, is about to launch her own custom cutting business in the unused kitchen at the Fox & Harrow Restaurant, a pandemic casualty. She has worked at the Royal Butcher, as well as at another local slaughterhouse and a Maine butcher shop. From the kill floor to sausage making, "I can do the full process," she said.
Roma's husband co-owns Putting Down Roots Farm, which raises chickens for eggs, as well as meat birds and pigs, so she is well aware of the challenges facing small farms. This spring Putting Down Roots lost a major restaurant account and scrambled to source piglets when a prearranged deal vanished due to heightened market demand.
Prior to the pandemic, Roma was renovating a different space to open a butcher shop in South Royalton. Her plan was to take animals slaughtered at the Royal Butcher and bring them to her shop to cut under inspection. The coronavirus postponed that project.
For now, the custom cutting operation "will help get us all through the hump, get through fall," she said, by enabling her to cut the meat of animals sold to customers under Vermont's on-farm slaughter regulation (see sidebar). For that, she does not need to be inspected, though she still plans to work toward inspection.
"My focus has been on butchery and bringing local meat to local people," Roma said. "I want to use my skills to help the community and small farmers."
We Were There
No one can predict whether the pandemic-prompted shift to local meat will stick, but processing capacity issues persist regardless.
Earlier this month, Maple Wind Farm had to take 20 pigs on a four-hour journey to a slaughterhouse in New York. Yet Hennessey said the farm's August sales have settled down from pandemic highs to only slightly above last year's. "I hope people will remember we were the ones that were there when the big supply chains were disrupted," he said.
Colby of Howling Wolf Farm said she continues to see strong demand and has already taken several deposits for her next batch of pigs. Ideally, those would have been slaughtered this fall, but she couldn't book slots until January. By then, "Those are going to be big pigs," she said ruefully.
But Colby is optimistic that the pandemic disruption of the national meat supply has shone a spotlight on local processing needs. "As a farmer and extension agent," she said, "I see an amazing opportunity to grow a bigger, better system that is more stable."
On-Farm Slaughter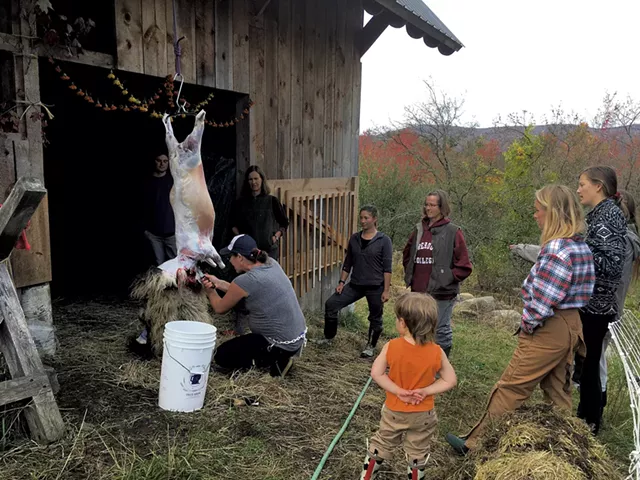 Melissa Pasanen ©️ Seven Days
Slaughterer Mary Lake working on a farm in Lincoln in 2018
Since 2014, Vermont has had an on-farm slaughter regulation, which essentially allows farmers to sell a limited number of whole live cows, pigs, sheep and goats direct to consumers, who are then responsible for the slaughter and processing of the animal. It was later amended to allow farmers to sell a whole live animal to multiple people, effectively permitting consumers to buy portions. (Poultry is covered in a different regulation.)
Advocates for the regulation have argued that it should help relieve the bottleneck at inspected slaughter and processing facilities by providing an alternative for direct sale between small-scale farmers and local customers.
However, the program appears to be currently underutilized: Only 10 farmers have filed the required paperwork to perform on-farm slaughter this year, down from 13 last year. In the face of increased demand for local meat, this baffles Julie Boisvert, meat program section chief at the Vermont Agency of Agriculture, Food and Markets.
Caroline Gordon, legislative director for Rural Vermont, believes that the regulation is confusing for farmers and consumers; she has requested more active guidance and education from the agriculture agency.
A key sticking point is how people interpret the requirement that farmers not "assist" with the slaughter. The regulation specifies that farmers can provide a site, implements of slaughter and waste-disposal services. Rural Vermont believes that the farmer can also help customers organize the slaughter, as long as "the farmer keeps hands off" of the actual slaughter, Gordon said.
This detail is important because itinerant slaughterers can be difficult to find: There is no public listing, and they are not regulated.
The on-farm slaughter regulation is due to sunset in 2023. At a recent House Agriculture and Forestry Committee meeting, Gordon made a case, unsuccessfully, for increasing the number of animals farmers are allowed to sell under the regulation in an effort to respond to pandemic demand and improve farm viability.
The committee cited the lack of required paperwork that Boisvert had previously noted and discussed possible roadblocks to registering and reporting. Without documentation from farmers demonstrating utilization of the current limits, several committee members said it was hard to justify increasing them.
"Until we can get these people reporting, I'm kind of unsympathetic," said Rep. John Bartholomew (D-Hartland).
Committee chair Rep. Carolyn Partridge (D-Windham) asked the agency and Rural Vermont to work together to educate farmers and increase registrations. She concluded by saying the committee would revisit the issue in January after the fall slaughter season.