During Tropical Storm Irene in August 2011, the main road to Green Mountain Girls Farm in Northfield was completely washed out. Although crop loss was minimal, "It was sobering to watch that much water move across the landscape," said farm co-owner Mari Omland.
While Irene was dramatic and destructive for many of the state's farmers, Omland noted that the ongoing challenge is the increasing frequency of less historic but potentially damaging "massive rain events."
These are among the changing and unpredictable weather patterns that have both obliged and inspired Omland and her wife, Laura Olsen, to continually adapt the way they farm their 40-acre vegetable, fruit and livestock operation.
Omland, 52, was among attendees at a February 17 workshop session during the annual Northeast Organic Farming Association of Vermont winter conference held at the University of Vermont. Close to two dozen people, including many farmers, had gathered to hear UVM researcher Alissa White and organic vegetable farmer Justin Rich, of Burnt Rock Farm in Huntington, share how farmers are adapting to increasing extreme weather events and the shifting seasonal calendar.
"I'm always trying to find more people in the tribe," Omland said, "to lift my gaze a bit and learn from others."
Vulnerability and Adaptation
Courtesy Of Green Mountain Girls Farm
Mulching at Green Mountain Girls Farm in Northfield
White, who is completing her PhD in UVM's Department of Plant and Soil Science, studies climate resilience in agriculture. She is more than halfway through a two-year project called the New England Adaptation Survey, funded by the U.S. Department of Agriculture's Sustainable Agriculture Research and Education program and supported by UVM and the USDA Northeast Climate Hub. It's among several UVM research projects investigating the impacts of climate change on agriculture and the most effective ways to support farmers.
At the workshop, White was careful to note up front that when doing research with farmers on climate adaptation, it's generally more productive to focus on context-specific adaptation needs and strategies.
"We try to talk about the impacts, not the bigger issue," she said. "It's more useful to farmers and less politically charged."
That said, she shared a summary of scientific research demonstrating the increase in extreme weather in the Northeast. A slide of the United States, colored by region in deepening shades of blue, showed that the Northeast has seen a 71 percent jump in heavy precipitation events since 1958 — almost double the increase of any other region.
On the flip side, too little water has also become a more common challenge. A pie chart White showed illustrated the results of another study, which detailed weather-related crop loss in the Northeast from 2013 to 2016. It indicated that drought accounted for 38 percent of losses, while excessive moisture accounted for about 34 percent.
White and her research team conducted a survey of close to 200 vegetable and berry farmers, mostly in the northeastern U.S., to learn how they are addressing weather threats and how they feel equipped to respond.
Survey participants shared adaptive management strategies ranging from installing drip irrigation systems for watering crops through extended dry periods, to diverting excess rainfall into storage ponds to minimize flooding during intense precipitation and, later, to provide a watering source during drought.
The farmers also talked about using cultivation practices that help build soil integrity and boost its water absorption and retention capacity, such as planting cover crops and minimizing tillage and soil compaction.
Every tactic helps "increase the coping range" of farmers to bounce back from adverse weather, White said. Some farmers indicated that personal experience with weather-related crop loss had driven adaptations, while others were making proactive changes based on anticipated threats.
"Farmers understand their vulnerability," White said.
A New Normal
Rich, 37, who grows a variety of vegetables on his 90-acre Huntington farm, spoke after White at the NOFA-VT workshop. He outlined his own context-specific approach to safeguarding his crops but started with some general words of advice to fellow farmers in the room: "Getting the right farmland might seem really expensive on the front end," Rich cautioned, "but it can be worth it 40 or 50 years in, [to avoid] living with erosive soils or bad drainage."
He started farming in the early 2000s and established his own farm in 2010. For farmers of his generation, the current weather situation is what they know. "Dealing with extreme rainfall is just kind of a baseline condition now," Rich said.
Among the farmers at the workshop was Julian Post, 29, partner and farm manager at Champlain Valley Hops in Starksboro. Before that business was launched in 2017, he worked on a number of farms growing organic vegetables and pastured meats. He also did hop production research at UVM.
Post planned and constructed the operation with extreme weather in mind from the outset, drawing on resources from UVM Extension, the Intervale Center, the Farm & Forest Viability Program, and the Lewis Creek Association.
"In selecting a location to farm hops, a well-drained soil type was my number one priority. Second was access to water," Post detailed in an email after the workshop. Champlain Valley Hops laid an irrigation system throughout the 26 acres of hop trellis erected last spring.
"I heard from my neighbors that this past season was one of the driest summers that they could remember," Post wrote.
Firsthand Experience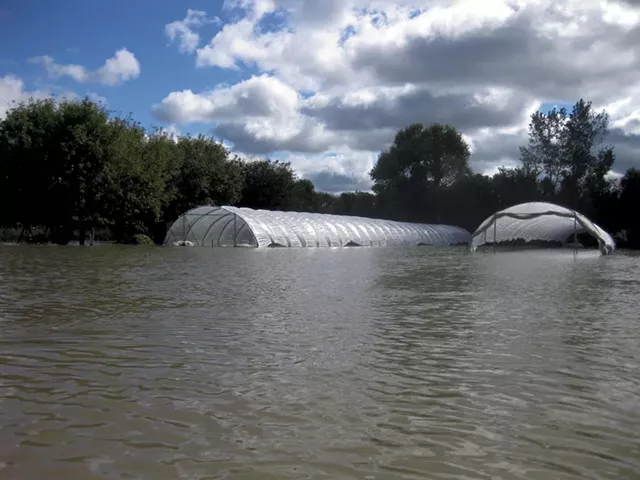 Courtesy Of Adam's Berry Farm
Adam's Berry Farm flooded in the Intervale, October 2010
Other longtime Vermont farmers have witnessed the changes in weather and seasonal shifts over the last several decades.
Bob and Jane Pomykala started farming in Grand Isle in 1977. Ben Pomykala, 41, joined his parents on Pomykala Farm in 2011; together they cultivate 35 acres of mixed vegetables, berries, herbs and cutting flowers.
"From what my father tells me and what I've seen growing up here," Ben said in a phone interview, "we're seeing much bigger swings — rainy or dry — for much longer periods of time."
Pomykala Farm's fairly heavy clay soil holds water, Ben said, which can be good in a dry spell but not in a wet stretch. The family has invested about $50,000 in a drainage tile system, digging four feet deep under fields and lining trenches with clay tiles that provide "artificial paths for the water to drain out," he explained. "If it's going to be wet for a month, you can't stop farming. It's a huge help."
In a potential upside, the Pomykalas have also taken advantage of a longer growing season to plant additional and different crops. Fall is extending about two weeks later than it used to, Ben said, which enables them to plant another round of cool-weather crops such as broccoli. It's not an unqualified gain, however, since temperature shifts have also brought new pests, including the swede midge, which fancies broccoli.
The Pomykalas have also planted some peach trees. With earlier, warmer springs, the trees have a longer season in which to produce fruit than in the past, although late spring frosts still often kill tender buds. "A peach harvest used to be impossible," Ben said. "Now it's marginal."
Adam Hausmann of Adam's Berry Farm in East Charlotte has found both seasonal shifts and extreme weather taxing for his perennial fruit business. Six years ago, Hausmann, 45, moved his farm from the Intervale in Burlington. His new hilltop spot was, in part, "a reactionary selection" to years of coping with lowland flooding, he said in a phone interview.
While spring floods from snowmelt were to be expected in the Winooski River floodplain, they were happening more often, and once-rare summer and fall floods were increasing. After 11 years of more frequent and severe flooding, Hausmann was worn down. "I remember I was paddling through raspberries in October," he said.
He selected the East Charlotte property due to its adequate water and drainage, as well as good air flow to help dry moisture from rainfall, which can increase disease and pest pressure.
But 2018 presented a different kind of weather-related stress with serious financial impact. "Because of lack of rain, by early July we had drained our irrigation ponds and wells and were faced with a withering crop of blueberries," Hausmann said. And the berry farmer is still dealing with unseasonable temperatures and a changed seasonal calendar.
"As a perennial grower, it feels like a greater challenge," he said. "We're having more erratic winters that are not cold enough or long enough to keep plants dormant." Abnormally warm periods during the winter and early spring can "trigger plants to wake up," Hausmann said. Then, when the temperature dips again, bud and branch damage can reduce and sometimes devastate future fruit harvests.
Strawberry season used to reliably start in mid-June, he continued, but now can come as early as the end of May or the first week of June. "For the consumer it might seem wonderful, but for the farmer, it's more risk," Hausmann said, explaining that earlier budding can be threatened by late spring frost.
"We're protecting plants and doing everything we can," he added, noting that the farm's acre of raspberries is grown in high tunnel hoop houses, "but we can't put nine acres of blueberries under cover."
'Carbon Farmers'
Chatting briefly after the NOFA-VT conference workshop concluded, Omland of Green Mountain Girls Farm explained that she and Olsen were motivated by climate change to leave careers in conservation in Washington, D.C., return to Omland's home state in 2008 and start a farm.
"We were really preoccupied with climate change and food being part of the answer," she said. "Witnessing people feel helpless and hopeless, we believe we can all make change with every meal we eat."
Omland and Olsen sometimes describe themselves as "carbon farmers," she said. They specifically practice agriculture in a way that will "deepen the topsoil and sink carbon" through such strategies as minimal tillage of vegetable fields, building organic matter and preserving permanent sod through rotational grazing of animals, and planting perennials.
It's no coincidence that many of these tactics also help farmland and crops develop more resilience to adverse weather; by working to mitigate climate change, farmers can simultaneously build adaptive capacity.
The couple is fully aware that their few acres will make no significant dent in global carbon emissions. "We knew it would be a drop in the bucket from our one tiny hillside farm, but there are smallholder farms all over the world," Omland said. "If every smallholder farm did this, we could overcome the problem."
They also recognize that not every farmer has the resources to invest in practices that are often more labor-intensive and have a longer payback time frame. "It's possible to raise food well in this way, but it is very difficult," Omland acknowledged. "We're not profitable yet. It takes a longer investment up front, but we do believe it will pay off in the long run."