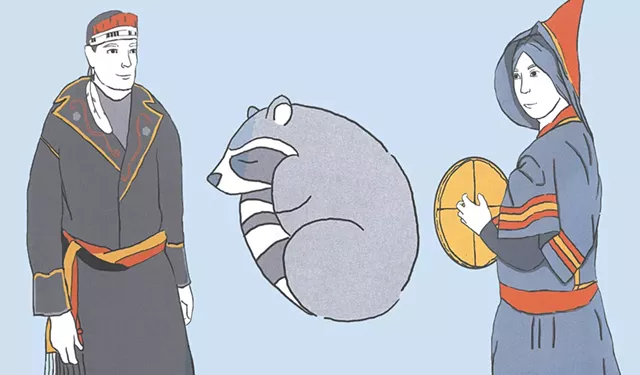 Illustrations By Kelsi Brett
S8GM8 - Cheif
SAN8BA - Man
AZBAN - Racoon
PHANEM - Woman
PAKHOLIGAN - Drum
When technology has vastly expanded the platforms for receiving and sending information, it's a cruel irony that some populations are watching their very languages disappear. The loss of indigenous languages was the impetus for the Endangered Alphabets Project, which Burlington resident Tim Brookes, former director of the Champlain College professional writing program, launched about a decade ago. "Of the world's 6,000 to 7,000 languages, half will be extinct by the end of this century," his website declares.
Now, with a cultural heritage grant from the Lake Champlain Basin Program, Brookes has helped create a language-promotion project very close to home.
N'Dakinna: An Illustrated Abenaki Dictionary for Schools, 32 pages. $15
N'Dakinna: An Illustrated Abenaki Dictionary for Schools is the colorful and pictorial result of a collaboration of the Endangered Alphabets Project and the Abenaki Circle of Courage. The latter is a lauded afterschool program within the Abenaki Nation of Missisquoi in Swanton and Highgate. Based on the writings of Native author Larry Brendtro, it promotes generosity, belonging, independence and mastery while teaching participants about Abenaki culture and heritage.
The program also includes short Abenaki language classes taught by director Brenda Gagne. About 50 kids in first through sixth grades attend Circle of Courage, she said; older kids can volunteer with the program once they've completed it.
It was the students who came up with the words — roughly 100 — in the dictionary. "The words the kids picked are the ones they know," Gagne said. Thirty-two students are acknowledged in the book by their first names.
"I thought the content should arise from the constituency," Brookes said. "If you have a small number of words, that selection becomes, in a way, representative of the people. How are the Abenaki wanting to represent themselves?"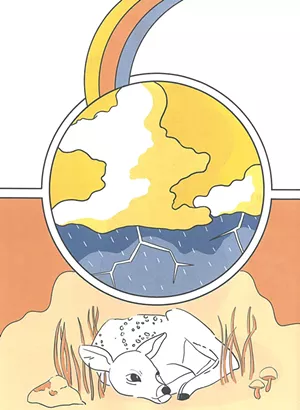 Illustrations By Kelsi Brett
MANAGW8NL - Rainbow
SIGWAN It is spring
ASOKW - Cloud
PAD8GI - Thunder
SOGL8N - It is raining
NOLKA - Deer
He enlisted Gagne for the project because of her leadership in the Missisquoi community and Circle of Courage. "The youth groups had great discussions about what words should represent the Abenaki," Brookes recalled.
"When I met with Brenda," he continued, "the dictionary started to become less and less like a dictionary. The kids wanted to include creation stories. It started to take on a narrative quality."
Brookes noted that words in different languages might not have conceptual equivalency. For example, drums have different uses and significance in Native and non-Native cultures, and the connotation of the word shifts accordingly.
N'Dakinna — which loosely translates to "our place" or "our home" — includes an introduction that explains how, some 30 years ago, the Sovereign Abenaki Nation of Missisquoi (St. Francis/Sokoki Band) was in danger of losing its language. Teachers worked to revitalize and preserve the Native tongue, which originally had no written representation. Eventually, a young Goddard College senior named Jesse Bruchac conducted an independent study at the Odanak reservation in Québec, where a revered Elder by the name of Cécile Wawanolet spoke and taught conversational Abenaki.
Bruchac, who served as the language consultant for N'Dakinna, is based in Greenfield Center, N.Y. He has continued to teach there and in Vermont, and he is the webmaster of the online language-learning portal westernabenaki.com. He will direct a recently announced pilot course in Abenaki at the Middlebury College language school this summer.
Illustrations By Kelsi Brett
MIGWEN - Feather
MGESO - Eagle
AWAN - Air
NEBI - Water
NEBESIS - Pond
TMAKWA - Beaver
MOSKWAS - Muskrat
Burlington graphic artist and font designer Alec Julien handled the book's layout and design. He had already created a specific font for Abenaki, though it appears in this dictionary only in a word-search puzzle at the back. "We needed something bolder for the [text]," Julien explained. He credited illustrator Kelsi Brett and Brookes with the lion's share of the effort behind N'Dakinna. "I was just the assembly-line worker," he said.
The book is presented in a clear, dramatic and accessible way. While intended for use in schools, it's a helpful primer for students of any age. After all, when taking on a new language, we are all as children.
Brett, who herself has Abenaki (Missisquoi) heritage through her mother, said she has been taking language classes about once a month with Bruchac, so she knew some of the words for the concepts she illustrated. Many of the words are nature-based, but the dictionary includes universally useful expressions such as Michida! (Let's eat!) and Ida kagwi? (Say what?).
"Kelsi did wonderful work on so many levels," Brookes said. "As soon as you draw a word, it takes on a context ... What the dictionary began to do is provide these glimpses into Abenaki life."
Around the world, the No. 1 challenge in trying to save indigenous languages, according to Brookes, is the lack of teachers. N'Dakinna — which Gagne said is available to anyone who requests it — supplies the teachers of today and tomorrow with another tool for cultural preservation.