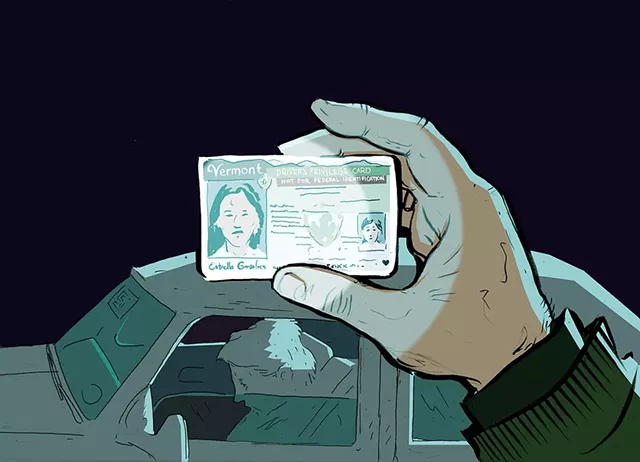 A tri-partisan group of lawmakers joined Gov. Phil Scott in his ceremonial Statehouse office last week to witness Vermont's first act of resistance against President Donald Trump's immigration crackdown.
With the stroke of a pen, Scott signed into law widely lauded legislation requiring gubernatorial approval of certain immigration-enforcement agreements between the federal government and state and local agencies. Scott hailed the bill, S.79, as a response to what he called an unconstitutional "federal overreach to commandeer state resources for federal purposes."
But the new law does little to limit ongoing communication and collaboration between state agencies and U.S. Immigration and Customs Enforcement, which last month arrested three undocumented Vermonters affiliated with the activist group Migrant Justice.
According to public records obtained by the American Civil Liberties Union of Vermont, such collaboration routinely occurred last year at the Vermont Department of Motor Vehicles and, in at least one incident, at the Vermont State Police.
The records show that DMV employees regularly provided unsolicited notice to ICE agents when they suspected noncitizens of submitting fraudulent documents to the department. ICE officials also occasionally pumped their DMV contacts for information about noncitizens applying for driver's privilege cards, which are available to Vermont residents who are not authorized to live in the U.S.
"Going to be out and about, down there tomorrow," ICE deportation officer Steven Day emailed DMV Det. Jonathan Purdy last May, indicating he would be in Rutland and Middlebury. "Any locations you have seen activity with the applicants I can drive by?"
The relationship between the agencies appears to have persisted even after the DMV settled a discrimination complaint last August with the Vermont Human Rights Commission. As part of the settlement, the DMV agreed to pay $40,000 to a Jordanian citizen who faced deportation proceedings after the state agency shared his driver's privilege card application with ICE. The settlement, signed by DMV Commissioner Rob Ide on August 10, made clear that "contacts with ICE or [U.S. Customs and Border Protection] are not permitted."
But just a month and a half later, Det. Jeremy DesJardins, who was involved in the Jordanian man's case, alerted U.S. Border Patrol agent John Letourneau that another suspect would be taking a driver's test in early October at the DMV's Springfield branch. It was the perfect opportunity for both state and federal authorities to nab him.
"It is my intent to charge (cite) this individual at his test date and I would like to know what information you have on file for him and if you are interested in sending someone?" DesJardins wrote, providing the time of the appointment and address of the office. The suspect's identity was redacted in the documents.
Letourneau forwarded the email to ICE officials, who declined the offer, but DesJardins persisted.
"He is being lodged with bail of [$]1000 he is trying to get paid," the DMV detective wrote ICE deportation officer John Trantum following the suspect's arrest. "He is supposed to be in court tomorrow at 12:30 at WRJ."
Trantum asked DesJardins where the suspect was being lodged, but he intimated that he already knew the answer: Springfield's Southern State Correctional Facility. In a separate email to his supervisors at the DMV, DesJardins explained that a computer program had automatically flagged ICE when the suspect was booked.
"Due to this fingerprint alert process, ICE called the correctional facility within hours of my processing time and arranged for a 'Federal Detainer' to be placed on [redacted] in the event he made bail and would otherwise be released," DesJardins informed his colleagues.
Jay Diaz, a staff attorney for ACLU of Vermont, called the communications between DMV and ICE "a travesty of justice [that] needs to be addressed."
"DMV seems to be bending over backwards to give ICE all the information they can in order to facilitate an arrest," he said.
Col. Jake Elovirta, the DMV's director of enforcement and safety, declined to discuss individual emails obtained from his department. He argued that while the DMV had signed the Human Rights Commission settlement last August, the department continued to revise its procedures and train its staff through January 2017.
"Those emails are from before this policy was fully adopted," he said
But according to HRC executive director Karen Richards, the settlement took effect last summer.
"If they are taking affirmative actions to turn folks over to ICE, that would violate it," she said.
ICE regional spokesman Shawn Neudauer would not directly address the emails but said in a statement that, "Access to relevant data is a critical tool used by all law enforcement agencies for the common goal of public safety."
The DMV was not the only state agency to proactively contact federal immigration officials last year.
Records obtained from the Vermont State Police describe a highway incident last September that prompted state troopers to transfer a Honduran national to ICE custody within six hours of his arrest on a drunken-driving charge.
According to an affidavit signed by Trooper Joseph Pregent, he confronted the Honduran man next to a silver Honda Civic parked at a rest area on Interstate 91 after hearing reports of such a car "weaving all over the road." After a Spanish-speaking trooper was summoned to help translate, the suspect provided a preliminary breath sample that showed his blood alcohol concentration to be 0.236 — nearly three times the legal limit.
"During the investigation it was found that the defendant's passport was fraudulently obtained and that he was illegally in the Country," Pregent wrote in the affidavit. "At 11:14PM the defendant was released to [ICE] Deportation Officer Robert Berger. Officer Berger told me that the defendant was slated to be deported for the third time."
A Fair and Impartial Policing policy adopted by the agency makes clear that federal immigration cases are "not a law enforcement priority for the Vermont State Police." It prohibits troopers from investigating or detaining individuals "solely" to determine their immigration status and prevents them from asking suspects in civil matters about their status.
But according to Capt. Ingrid Jonas, troopers are less constrained in criminal matters.
"Once we have arrested somebody, the policy is clear that we can call federal authorities," she said. "I think that would be on a case-by-case basis of whether it would be pertinent to do so."
Whether it was pertinent in this case — and the nature of the "investigation" into the passport's authenticity — is not clear. The VSP declined to make the troopers involved available to Seven Days for an interview.
According to Jonas, the troopers decided to phone the feds when "questions about his name started to arise." She said she did not know whether they exhausted other means of investigation first.
"The resolution was to call Immigration [and] Customs Enforcement back at the office," she said. "They did. They gave the passport number that this gentleman had given to them. At that time, according to ICE, the passport was deemed fraudulent."
According to an audiotape obtained through a public records request, one of the troopers told a dispatcher, "I've gotta go through Border Patrol at some point." Later, he told the dispatcher, "Set me up with Border Patrol please."
According to Migrant Justice spokesman Will Lambek, the state should not be in the business of assisting federal immigration enforcement authorities. He believes that the VSP's Fair and Impartial Policing policy insufficiently protects noncitizens, such as Vermont's migrant dairy workers.
"Here's an instance where it's clear that troopers in the field need additional guidance," he said.
Last June, the Vermont Criminal Justice Training Council created a model FIP policy strictly limiting interactions with federal authorities, but neither the VSP nor the DMV has adopted it in full. Lambek, Diaz and Richards argue that the legislature should require all state law enforcement agencies to do so.
"It's been my position that everyone should be following the same policy, because if you are an immigrant in this state, you shouldn't have to worry that if you move from one jurisdiction to another that you're suddenly under a different policy," Richards said.
The Vermont House Judiciary Committee is currently debating whether to mandate a uniform policy, but Gov. Scott and law enforcement leaders oppose the move.
"We don't feel it needs to be uniformly the same across each jurisdiction," Scott spokeswoman Rebecca Kelley said in a written statement.
According to Lambek, a patchwork of insufficient guidelines has allowed DMV officials "to play ICE agents."
The feds sometimes see it that way, too. As VTDigger.org reported in October 2016, ICE deportation officer Brady Goff thanked Purdy, the DMV detective, in an October 2014 email for referring so many cases his way.
"We're going to have to make you an honorary ICE officer," Goff wrote at the time.
The newly obtained emails show that Purdy continued to contact ICE officials last year to request information from federal databases. He also provided, unsolicited, copies of driver privilege card applications — sometimes even when he didn't have a case.
"We don't have a violation, but wanted to check on her anyway. I've attached her application," Purdy wrote to Day, the ICE deportation officer, last July. "Would you please check for warrants, deport orders?"
In one email later that month, Purdy complained about his own department when Day asked whether applicants were required to provide a physical address.
"Yes, they are supposed to. Our employees at the branch offices are told not to question an applicant," he wrote Day. "DMV is apparently more worried about customer service than the safety of our nation."
In a brief and combative phone interview Monday, Purdy bemoaned "the climate of the United States," referring to what he called unfair suspicion of law enforcement.
"I'm kind of curious why you're beating this dead horse," he said.
Purdy defended his practice of seeking information from federal immigration agents and argued that his department's FIP policy "doesn't make any difference."
"I don't care about whether someone's foreign or not. I don't care! I don't care anything about that!" he said. "I have a job to do to investigate people. So how does Fair and Impartial Policing play into it? What does that have anything to do with it?"
Purdy similarly claimed ignorance about the DMV's settlement last summer with the HRC — and the policy changes it mandated.
"I'm not familiar with the case because it wasn't my case, and I'm not familiar with the settlement because, really, I don't have any interest with the settlement," he said. "What you're asking me or what you're insinuating is that no law enforcement agency should ever contact ICE because it's none of their business."
Diaz, the ACLU of Vermont attorney, doesn't think much of Purdy, whose emails he has examined.
"It certainly seems that Det. Purdy is the Joe Arpaio of the DMV enforcement unit," Diaz said, referring to the former Arizona sheriff whose outspoken views on illegal immigration made him a household name. But, he added, "There's something much broader than a few bad apples here ... It does seem that there's a culture around this issue that needs to be addressed."
According to Diaz, S.79 came nowhere close to doing that. All it does is prevent certain future federal-local agreements without gubernatorial approval — and prohibit Vermont officials from sharing demographic information with the feds for use in discriminatory registries.
"What it doesn't do is offer strong, substantive protections for people from what we see in the DMV emails," he said.
Kelley, the governor's spokeswoman, defended the new law — and said it was never intended to handcuff cops.
"The law was carefully crafted with law enforcement and the legal community — among other stakeholders — to ensure that it does not limit local and state law enforcement's cooperation and communication with federal law enforcement, or their ability to do their jobs," she said.
Lambek, of Migrant Justice, sees it differently.
"If the Scott administration and Vermont's political leaders are serious about resisting the Trump administration's policy of mass deportation," he said, "before passing bills focusing on theoretical future collaboration, they should be focused on preventing the actual harmful collusion that's occurring every day."