Sean Markey
Liam Markey with dad Sean
School's out, and "Day-cations" are in. Every summer, Kids VT seeks out family-friendly destinations where you and your kids can experience the natural beauty and unique culture of our region. They're all places you can visit in a day.
Each of our three summer issues features two recommended trips, complete with tips on nearby dining and attractions. This month, Sean Markey and his family explored Montréal by bike, and Jessica Lara Ticktin took her girl-power posse up Elmore Mountain, followed by a dip in Lake Elmore.
Lachine Canal National Historic Site, Montréal, Canada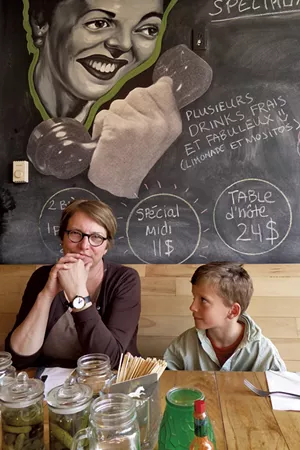 Sean Markey
Judith Markey wth son, Liam, at F+F Pizza
My wife, Judith, 8-year-old son, Liam, and I parked our bicycles and collapsed on a broad patch of grass overlooking Montréal's Lachine Canal. It was a bright Sunday afternoon and the locals were hard at play.
We watched a tattooed, French-speaking foursome play a game of pétanque — similar to bocce — urging each other on with shouts and howls. On the bike path beside them, a cross-section of Montréal wheeled past: families, couples, slowpokes, artsy types, Lycra-clad racers, out-of-shape mountain bikers and Rollerbladers. Walkers puffed past on two legs; dogs padded by on four.
My family had driven from our tiny Vermont hamlet of Peacham (pop. 732) to the world's second largest French-speaking city, armed with bicycle helmets and a plan for a day jam-packed with urban delights.
Our goal was to explore the city of 1.7 million the way many residents do: on two wheels. Montréal offers miles of dedicated bike paths and bike lanes. We planned to take the mostly flat, mostly traffic-free Lachine Canal path because of its proximity to food, water, pit stops and city fun.
Our day began when we parked our car at Sir George-Étienne Cartier Square, a modest three-block oasis of flowers, fountains and trees near Atwater Market. Liam had brought his new bike; Judith and I rented two of the city's 5,000 BIXI bikes — the name is a hybrid of the words "bike" and "taxi" — which we found nearby, at one of the city's 460 self-serve kiosks. A swipe of our credit card bought us access to two of the chunky and indestructible three-speeds (see sidebar for rates).
In short order, our peloton was saddled up and pedaling two blocks to the canal. To our right, the bike path wended southwest for five-plus miles to Musée de Lachine, an art and history museum.
We turned left, following the well-marked, paved pathway toward the Vieux Port in downtown Montréal. The trail twisted over bridges and under roads, detoured around construction and passed new condos and graffiti-clad warehouses. Liam, riding ahead of us, cranked his bike as fast as it would go. As we pedaled, we shouted the same three phrases — Judith: "This is great!" Me: "Hey Liam, wait up!" Liam: "Dad, can we go now?"
The balmy weekend weather meant the path was heaving with bike and pedestrian traffic, yet no one we saw crashed or clipped a handlebar. I couldn't help note the irony: We were probably safer cycling here than we were at home, where there are no sidewalks or shoulders and most of the roads pitch straight up or down. Best of all, we were having a blast navigating the city.
After about three miles, we reached the Vieux Port and locked our bikes outside the Montréal Science Centre. It was Museums Day, an annual event during which the city's 30-plus museums open their doors for free.
We ducked inside the science museum. The hands-on experiments and tables of DIY projects and gizmos looked excellent. But the lines were staggering.
Liam begged to queue up. Judith and I recited the catechism of parents trying to deflect disappointment. "Um, how about we come back another day when it's not so crowded? Like, on a Monday? That way we can really enjoy it and spend the whole day here."
We managed to exit before morale sank any further. We were hungry, so we used our smartphones — equipped with a pre-purchased international data plan — to track down one of the city's celebrated food trucks: a Polish seller of gourmet pierogies and sausage sandwiches. The food was good. But the hike there, through the crowded tourist core of Old Montréal, was a killer.
That's when I realized we'd tried to squeeze too much into one day, especially with an 8-year-old on a hot day after a long drive. So we decided to slow down and ditched the rest of our urban superhero itinerary. No public pool. No metro ride. No Jean-Talon Market. Our goal shifted to simply enjoying the day.
After our snack, we reclaimed our bikes and retraced our route. We stopped for ice cream and lingered a while, watching pétanque players, kayakers and dog walkers along the canal. Then we hopped back on the path and headed past Atwater Market back to Sir George-Étienne Cartier Square, where we returned our rented bikes to the kiosks in the park.
Liam played with maple-seed helicopters and "adopted" an ant, which he named Travaux. Judith and I took in the neighborhood of three-story stone townhouses, with wrought-iron staircases and pocket-size balconies dressed like tiny theater sets. At dinnertime, we walked two blocks to F+F Pizza, an amiable spot with a façade open to rue Notre Dame.
We ordered salads and a pie. I sipped a St-Ambroise beer, which is brewed just down the street next to the canal and bike path. (There's even a canal-side beer garden with bike racks. Did I mention what a civilized country Canada is?) Our Francophone waitress delivered our greens in large bowls of baked pizza dough. Liam set a record for the most spinach eaten in one sitting and fed leftovers to Travaux, now marooned on a bamboo skewer.
From our table, we watched the neighborhood pass by. A woman in a teal dress carried the day's groceries in white plastic bags. Some goth-looking teenagers strutted down the opposite sidewalk. A Sikh in a burgundy turban stepped from his storefront.
We talked, enjoyed our dinner out and then drove home, smuggling Travaux and two slices of pizza across the border.
Know before you go:
Built nearly 30 years ago, Montréal's Lachine Canal multiuse trail often ranks among the world's best urban pathways. Surrounded by green space, the trail and canal belong to a Parks Canada national park. Check the website to plan your trip and learn more about where to find free Wi-Fi hot spots, open-air chess games and summer food trucks.
Don't want to lug your bikes across the border? Enter BIXI. The Montréal bike-rental service charges $7 (Canadian) for a 24-hour pass, which gives you access to the bikes. You pay additional surcharges based on how long you use each bike. Rides longer than 90 minutes get pricey, so the service is best for short, point-to-point rides. Longer day trippers might rent bikes from My Bicyclette in Old Montréal, which also offers kids' bikes and tag-along trailers. If you choose to bring your own bike, don't forget a good lock.
Hit up Montréal Blog for insider city tips. Amid posts on the best places to get day drunk, or where to speed date, this hipster site dishes family-friendly insights on Montréal's best public swimming pools, food trucks and festivals. Oh, and the upcoming 1,000-foot Slip'N Slide on August 15.
Don't forget your passport! Children ages 15 and under can cross the border with a certified birth certificate.
Where to eat:
Montreal food trucks are back for a second year The city has licensed 30 of them to serve sublime gourmet grub through the summer. Click here to find the closest truck or, better yet, plot your course.
Atwater Market, adjacent to the Lachine Canal, is a multi-vendor food mall and Montréal institution. It's a bit touristy, but the location is perfect, and there's a playground. If you're looking for something a little more off the beaten path, hop on the Metro at the nearby Lionel-Groulx station and take the orange line to Jean-Talon Market in Little Italy.
Elmore State Park
856 Vt. Route 12, Lake Elmore, 888-2982
Vermont State Parks/William Murphy
When a close friend of mine from Montréal decided to bring her two tween girls to visit us in Vermont one lovely July weekend, I knew exactly where to take them.
Elmore State Park is one of my family's favorite places in any season, but it's especially fun in summer because of Lake Elmore beach. When I mentioned it to my girls — ages 11, 9, and 5 (the 5-month-old baby didn't weigh in on this one) — 9-year-old Lola excitedly suggested, "How about after we hike, we order pizza from the Elmore general store and then eat it at the beach after our swim?!"
What a fine idea!
We agreed on a plan: Begin hiking up Elmore Mountain at 2 p.m., hike down just in time to catch the golden afternoon sun on the beach, swim, then fill our hungry bellies with gourmet pizza.
Elmore Mountain, one of the peaks in the Worcester range, rises gracefully from the western edge of the lake. My kids love hiking there because there's so much to see: babbling brooks and streams, thick forests and rocky ledges, and one of Vermont's few remaining fire towers. They couldn't wait to show their friends.
At the state park's entrance, we paid for a day pass. At this late hour, the parking lot was quite full, but we found a spot. We pulled on backpacks full of water, apples and cookies; I strapped baby Mabel to my back. Then our pack of females — two women and six girls, ranging in age from 5 months to almost 13 years — set off.
Recent heavy rain made the trail muddier than I remembered it. I picked my way carefully around the puddles and muck, while my 5-year old, Kaya, plunged into the mud with unabashed glee. While the older girls raced ahead, my friend and I enjoyed the birdsong, the sound of trickling water and the dappled sunlight peeking through the shade canopy.
Vermont State Parks/William Murphy
Lake Elmore beach
After about an hour, we reached the lookout, a rocky ledge overlooking the lake. I learned later that a fire watcher manned the Elmore Mountain tower from 1938 to 1974. An earlier tower was destroyed in the hurricane of 1938. The fire watcher lived in a small cabin on the ledge — its ruins are still visible — and would make the steep, quarter-mile climb to the tower each summer day to look for forest fires.
We sat down at the lookout to eat our apples and cookies. The view from the top, of the valley and the rolling green hills beyond, was fantastic. The lake, fully visible below us, beckoned.
"I can't wait to go swimming!" Dahlia shouted.
The girls were eager to make the final quarter-mile ascent to the top and climb the fire tower.
This part required hands and feet, and the rocks were somewhat slippery. With Mabel strapped to me, I took care not to slip and fall. Scampering up the boulders was my older two girls' favorite part — they're regular rock climbers at Petra Cliffs in Burlington.
I was the only one who didn't climb the fire tower — I'm afraid of heights. I've done it once before just to show my daughters that it's important to face your fears. This time, though, I nursed the baby while my friend and her daughters marveled at the tower's height and open stairs. Then they all went up.
To tease me, my friend's 12-year-old, Eva, leaned out the top window and pretended to fall. I managed a small laugh, but my heart raced.
Instead of returning the way we came up, a 1.2-mile hike, we took the 2.2-mile Ridge Trail down. It's a beautiful, wilder trail along the ridge of the mountain, dipping down little by little into ferns, mosses and mushrooms amid a dense forest. The girls enjoyed passing by Balancing Rock, a giant boulder perched precipitously on the edge of the mountain. Mabel fussed and whimpered for a bit until she fell asleep on my back.
Three hours had passed by the time we reached the car. (If we had taken the fire tower trail down, it would have taken less than two hours.)
Jessica Lara Ticktin
Elmore Mountain Fire Tower The all-female crew at the Lake Elmore overlook.
The beach, which is a short walk from the parking lot, has changing rooms, but our girls wore their bathing suits under their clothes. They stripped off their shorts and T-shirts and raced into Lake Elmore. A shallow sandbar allows even the youngest or most timid swimmers access to the lake; the wide beach is a blank slate for imaginative sand sculptures.
The girls dunked and splashed around, cooling themselves and washing off their muddy feet, the fire tower now 2,600 feet above them. My friend and I sat on the beach with the baby, tired and happy, watching our crew frolic in the sun.
I called the Elmore Store on my cellphone and ordered two large pizzas, one with cheese and one Jupiter Farm Special, which features whatever local produce the nearby farm has on hand. That day, it was fresh tomato sauce, garlic, basil, mozzarella cheese and purple potatoes — yum!
The store, which is about a quarter mile from the beach, had just opened a brand new deck facing the lake. We decided to eat there, surrounded by several other families. The pizza was delicious; even baby Mabel enjoyed gumming a piece of crust.
The girls were all smiles. And then came the question of the summer: "Can we have creemees now?"
They were in luck; the store serves the classic Vermont dessert, and I couldn't think of a better way to end our adventure.
Know Before You Go:
Daily entrance fees to Elmore State Park are $4 per adult, $2 per child ages 4-13, free for children under 4. Pets aren't permitted on the beach but are allowed on trails and in other parts of the park. Camp sites are available.
The family-friendly beach has a pavilion with restrooms, a concession stand and boat rentals.
Where to Eat:
Fire Tower Pizza, located at the Elmore Store (1208 Route 12, Lake Elmore) serves stone-cooked, thin-crust pizza made with Elmore Mountain Bread dough. Other prepared foods and creemees are also available. It's open Thursdays through Sundays, 4-8 p.m. Info, 888-2296.
Try the Bees Knees (82 Lower Main Street, Morrisville) for home-cooked meals emphasizing locally grown and organic ingredients. The place has a casual coffeehouse atmosphere and serves local beer and organic wine. Info, 888-7889.
The recently opened Rogue Artisans Café (74 Portland Street, Morrisville) offers breakfast, baked goods, paninis, Italian-style sodas and iced lattes seven days a week in an art gallery setting.
Also Nearby:
If you're in the mood for another short, scenic hike in the area, head to Moss Glen Falls (Moss Glen Falls Road, Stowe). There's a place to swim above the falls.
Looking for more day-trip ideas? Read the rest of our award-winning "Day-cation" series at kidsvt.com.