School's out, and "Day-cations" are in. Every summer, Kids VT seeks out family-friendly destinations where you and your kids can experience the natural beauty and unique culture of the Green Mountain State. They're all places you can visit for a day, though some merit a longer stay.
Each of our three summer issues features two recommended stops, complete with tips on nearby dining, lodging and attractions. In this midsummer issue, our writers and their families explore ships and shore.
Looking for more day trip ideas? Read the rest of our award-winning Day-cations series here.
Courtesy of Lake Champlain Maritime Museum
Aboard the Philadelphia II at Lake Champlain Maritime Museum
Ship Ahoy: Lake Champlain Maritime Museum
4472 Basin Harbor Rd., Vergennes, 475-2022, lcmm.org
My family's trip to Lake Champlain Maritime Museum was almost a shipwreck.
First, Vergennes Laundry — a café with strong, delicious coffee at which we had planned to stop en route — was unexpectedly closed. It was a crushing blow that only the sleep-deprived parents of young children could fully understand.
Courtesy of Alison Novak
Mira Novak in a 1935 dive helmet
Second, about half an hour into our 40-minute drive from Shelburne, it began to rain. Not a great turn of events when your destination is an open-air museum.
As the rain grew heavier and the kids tried to convince us to go bowling instead, my husband, Jeff, and I debated turning back. But we soldiered on and, thankfully, the sun broke through right after we paid our museum admission and left the visitor's center. We abandoned our raincoats and set out to explore.
The Maritime Museum aims to preserve and share the history of Lake Champlain, a mission it carries out in 17 separate buildings on the museum grounds. Impressive, but way too many stops to visit with Theo, 3, and Mira, 6. A helpful woman in the visitor's center gave us a map and suggested we stick to the first seven sites, as they were the most kid-friendly. Finding the big numbers that marked each building became a scavenger hunt for the kids.
In the Schoolhouse Gallery and Hazelett Watercraft Center, they enjoyed guessing what materials the various canoes, rowing skiffs and kayaks were made from, though they moved through the exhibits too quickly to spend much time reading the detailed placards. They particularly liked the Storm King, a huge ice yacht from 1902; Theo even pretended he had fallen overboard. "I'm sinking," he called from the ground. "Help! Help!"
We found more opportunities for make-believe in two separate outdoor areas.
Courtesy of Alison Novak
The Merritime Playground
In a patch of pine trees, we discovered a veritable treasure trove for young kids: painted underwater scenes with holes cut out to stick your head through, and maneuverable cranes and pulleys, which replicated hoisting sails and lifting cargo onto ships. Sitting in an old canoe, Theo and Mira threw ropes overboard while imagining they were on an underwater diving excursion.
They really got their sea legs at the Merritime Playground, which has a two-story play space resembling a ship. It's well worn, but that didn't stop Mira and Theo from playing an in-depth game of "house" while Jeff and I relaxed on a bench.
In the Nautical Archaeology Center, Mira tried on a 1935 dive helmet. A nearby sign cautioned that wearing it may make some people feel claustrophobic, and Mira concurred. "It's pretty hard to breathe in here," she said from inside the heavy metal contraption.
After a short but scenic walk down a wooded path to the lake, we hopped aboard the Philadelphia II, a working replica of a 1776 gunboat that sank in Lake Champlain during the Revolutionary War. Jeff listened intently as the knowledgeable staffer on board talked about the history and features of the boat, but Mira and Theo were more enthralled by the elaborate spider webs on the dock.
By this point, we'd reached the two-hour mark and were ready for a lunch break. We headed to the Red Mill Restaurant, just across the street, for a tasty meal and — to my kids' delight — yet another playground. Then we set sail for home.
Courtesy of Alison Novak
Mira and Theo Novak
Know before you go:
Lake Champlain Maritime Museum is open daily, 10 a.m. to 5 p.m., from May 25 through October 13. Admission is $10 for adults, $6 for students ages 5 to 17 and free for children under 5. Visit lcmm.org for an updated calendar of events.
Where to eat:
Vergennes Laundry (247 Main St., Vergennes) is usually open Wednesday through Sunday, 7 a.m. to 6 p.m. It's the perfect spot for grabbing pastries and coffee en route.
We brought water bottles, fruit and Goldfish crackers to sustain our snack-happy kids at the museum, but you can also find an assortment of kid-friendly treats and cold drinks in the visitor's center.
Museum-goers get a 10 percent discount at the Red Mill Restaurant at the Basin Harbor Club, which opens daily at 11:30 a.m. and is located right across the street. The restaurant has an excellent children's menu and pretty good adult food. There is a large play structure right outside; my husband and I asked for seats by the window so we could sip our iced teas and watch the kids play.
Also nearby:
Courtesy of Arbortrek
Sliding down the zip line at Smuggs
Going Up: ArborTrek Treetop Obstacle Course
Smugglers' Notch Resort, 4323 Route 108, 644-9300, arbortrek.com
Both of my boys love to climb trees. They always take several dozen turns when they find mini zip lines at public playgrounds. So when my family heard about the new ArborTrek Treetop Obstacle Course opening at Smugglers' Notch Resort, we knew we had to go.
Unlike Smuggs' Zip Line Canopy Tours, which are only open to kids 8 and up, the adventure park can accommodate visitors as young as 4 — perfect for us, since my younger son, Wylie, is 7. My husband, Gabe, and I headed to Smuggs with Wylie and his older brother, Kieran, 11, on a gorgeous summer day: sunny and 75 degrees, with a light breeze.
The obstacle course is suspended in the pines, elms and maples in the property's forest. All thrill seekers who attempt it are attached to overhead ropes the entire time — to prevent a fall — so we started our family ropes adventure by weighing in. Staffers need an accurate weight for safety reasons; they don't take anybody at their word.
After signing waivers, we suited up in full-body harnesses and helmets and headed to the training area. There we learned how to clip and unclip our harnesses to the ropes at the exchange zones — wooden platforms between obstacles where two ropes meet.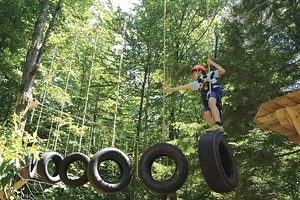 Courtesy of Becky Tharp
Kieran Tharp on the ArborTrek Treetop Obstacle Course
ArborTrek uses a "smart-belay" system involving two-sided carabiners. In order to release from one rope, you've got to hook into another using a special key; there's one stationed at each exchange zone. It's practically impossible to accidentally unclip yourself from the system while you're on the course.
After 15 minutes of safety training, we took to the treetops.
The course has three distinct levels of difficulty: green, blue and black, ranging from easy to very challenging. Green is the closest to the ground and features eight obstacles, including a rope swing and a sweet zip line ride that goes from 15 feet in the air to the forest floor.
We started at the green level.
Kieran confidently volunteered to lead the pack; Dad followed right behind. Even the experienced staffers were impressed as our older son breezed through a log crossing and walked across a series of wobbly wooden pegs hung by two ropes. The features responded differently to the weight of an adult, though — the wooden pegs swung wildly when Gabe went through. He looked far less graceful as he struggled to keep his footing.
Wylie was unsure of himself at first. "I don't think I can do this one, Mom," he said. "This is really hard for me." With my encouragement, he completed each section by taking his time and holding onto his harness lanyard for stability. By the time he got to the rope swing, he'd gotten the hang of it. "I'm Indiana Jones!" he yelled, before gripping a hanging rope and leaping from the platform.
Courtesy of Becky Tharp
Gabe Tharp helps son Wylie onto the zip line
Each of us soared to solid ground on the final zip line. Kieran and Gabe immediately started onto the more difficult blue and black courses while Wylie and I set out to conquer the green one again.
Minutes later, I heard Kieran yell, "Hey Mom, look up here!" He stood 40 feet in the air on a skinny rope net stretched between two trees about 25 feet apart. I would have been horrified if it weren't for my absolute confidence in the safety equipment — and that great big grin on his face as he walked along the net, arms out wide.
Inspired by his big brother, Wylie wanted to try the higher blue course, too. It went well until we got to a slackline strung 35 feet high with nothing underneath. Our progress slowed; staffers were quick to spot us and offer help.
There aren't many points of exit on the higher courses — you either finish or get hooked into a rappel line and lowered to the ground. Wylie wasn't thrilled with either option, but he ultimately relented and decided to bail. The staff lowered him to the ground on a rope and into Dad's arms.
By the time I made it back to the ground — via a stomach-dropping leap from a 25-foot-high platform — Wylie had regained his confidence and was heading back to the green course for another round.
We'd barely left Smuggs when the kids started to plan our next visit — to try the Zip Line Canopy Tours. Having our feet firmly on the ground made us all braver.
Know before you go:
Advance registration is recommended for the Treetop Obstacle Course. For two and a half hours of self-guided access, admission is $55 for adults and kids ages 8 and up, and $24.95 for ages 4 to 7 with a paying adult. You can try other activities, such as a tree-climbing adventure, for an additional charge.
Closed-toed shoes are required. I recommend comfortable, loose-fitting clothes, too.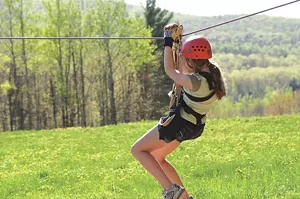 Where to eat:
We were all famished after a few hours in the trees, so we drove straight to Piecasso Pizzeria & Lounge (1899 Mountain Rd., Stowe) for pizza. We also hit I.C. Scoops (112 Main St., Stowe) for ice cream. The flavors range from maple bacon to coconut cream.
If you're headed down the Jeffersonville side of the mountain, nothing beats Joe's Snack Bar (Route 15, Jericho). It's a seasonal burger, fries and creemee joint with a local following.
Also nearby:
Smugglers' Notch (not the resort but the actual Notch) offers great hiking and bouldering in a beautiful setting. Ride the tram to the top of Mount Mansfield at Stowe Mountain Resort for breathtaking views from Vermont's highest peak.
If you want to cool off after your treetop adventure, day passes for Smugglers' Notch Resort's Mountainside Pool complex — which features slides, pools and a lagoon — are available at the resort.