COURTESY OF LAURA SORKIN
Henry, Lucy and Graden
School's almost out, and "Day-cations" are in. Every summer, Kids VT seeks out family-friendly destinations where you and your kids can experience the natural beauty and unique culture of the region. They're all places you can visit with your kids in a day.
Each of our three summer issues features two recommended trips, complete with tips on nearby dining and attractions. This month, Laura Sorkin takes her family for some cheese sampling at the Cabot Creamery Visitors Center, followed by a hike at Groton State Forest, while Angela Arsenault brings her brood to play at the Wonderfeet Kids' Museum in Rutland.
Better With Cheddar
Cabot Creamery Visitors Center, 2878 Main Street, Cabot
COURTESY OF CABOT CREAMERY
I indulge in all types of cheese, from runny Camembert to zingy chèvre. So do my husband, Eric, and 11-year-old son, Henry. But my daughter, Lucy, 8, is a pickier eater who's just beginning to consider Muenster an acceptable food. Even so, we can all agree on one variety: Cabot Seriously Sharp Cheddar. My family consumes so much of the stuff that I usually buy it by the two-pound block.
The Cabot Creamery Visitors Center and production plant are located just an hour from our home in Cambridge, but we'd never visited. The time had come to make a pilgrimage.
We set out around 10 a.m., stopping in Jeffersonville to pick up Lucy's friend, 8-year-old Graden. We were all feeling upbeat on that first truly warm spring day. The drive along Route 15 was easy, and the factory was a cinch to find, thanks to helpful signage on the road.
The creamery, established in 1919, has been updated over the years; the Visitors Center was added in 1987. When we arrived, the place looked clean, well-maintained and freshly painted.
We stepped inside to find a bounty of dairy products, Cabot merchandise and a selection of locally made items such as maple syrup and cookbooks. We gravitated to the sample table, which was loaded with about 25 cheeses to try.
Our group was not shy. We tasted the standard fare — including mild, sharp and seriously sharp cheddars — as well as more uncommon flavors such as Everything Bagel Cheddar, which had been hand-rubbed with onion, poppy seeds and garlic. It was unexpectedly delicious. Pro tip: You may want to warn your children that a few of the samples are hot-pepper varieties. Henry unwittingly tried a piece of habanero cheddar, then cleaned out the bowl of sample crackers trying to put out the fire.
We'd come for the factory tour, so we paid the small fee — $3 per adult; kids are free — and waited five minutes for the next guide, who led us, along with six other visitors, into a small theater. There we watched an interesting eight-minute video about the company's history, featuring 100-year-old photos of the creamery. Cabot is a co-op, meaning it is co-owned by the 1,200 dairies — all within a 65-mile radius of the town of Cabot — that supply the milk.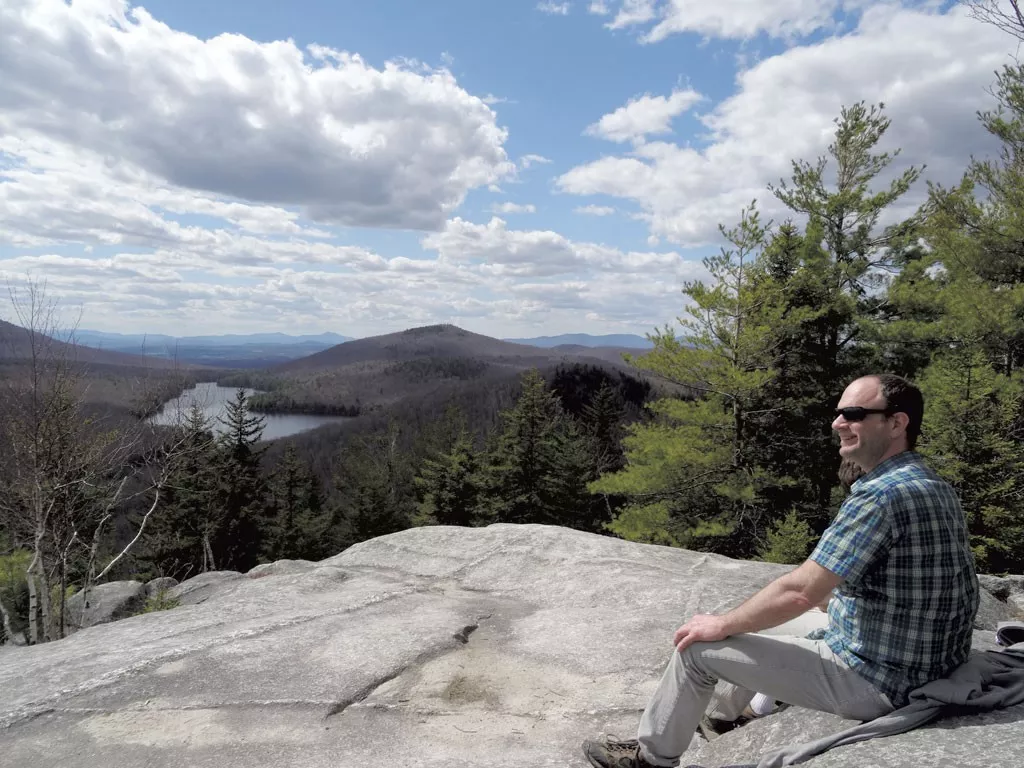 courtesy of laura sorkin
The top of Owls Head at Groton State Forest
When the video ended, our guide gave us protective foot coverings and led us to the cheesemaking facility in an adjacent building. We walked down a hallway lined with windows. Unfortunately, there wasn't much to see the morning of our visit. Workers make cheese daily at the plant, but not round the clock; we had arrived during a lull. We only got to see the final stage of the process: workers and machines packaging finished blocks of cheese in plastic.
Nevertheless, the kids enjoyed looking at the intricate machinery. And our guide was engaging, peppering the tour with trivia about the company and cheesemaking in general.
We wrapped up our hourlong visit around midday. When we asked our guide for a lunch recommendation, she explained the two options in tiny Cabot: You can pick up sandwiches at the Cabot Village Store or eat at Sarah's Country Diner, located at the back of the Cabot Hardware Store. There was no question — we were headed to the hardware store.
Sarah's is located just a few hundred yards down the road from the creamery, but we may as well have traveled back a century. We entered through the store, past walls of rakes and paintbrushes, to reach the restaurant, which is in a room of its own.
The classic American diner consists of just two tables and a small counter. Sarah, a friendly young woman, takes orders and cooks the food. We munched on BLTs and burgers while listening to the paint mixer rattle up front. It was a scene right out of a Norman Rockwell painting and one of the highlights of the day.
After lunch, we drove 20 minutes south to Groton State Forest. Since we were visiting in early May, some of the facilities and state parks were still closed, but there were many options for year-round hiking. We chose the 1.5 mile trail to Owl's Head, rated as "moderate" in the Groton State Forest Summer Trails Guide.
courtesy of laura sorkin
Lunch at an old-fashioned diner inside a hardware store
The hike began with about 45 minutes of easy uphill walking, followed by 15 minutes of a steeper ascent to reach a small lookout tower. From the top, we could see nearby Kettle Pond and Lake Groton, and all the way to Camel's Hump, 60 miles away. We stayed up there for half an hour, relaxing and draining our water bottles.
On the way down, the kids started losing steam, so we opted to walk along the traffic-free dirt road instead of on the trail. We ended the excursion with a terrific Italian meal at Sarducci's in Montpelier. A great hike, beautiful views, the first warm day of the year and the World's Best Cheddar — it was a seriously excellent day.
Know before you go:
Where to eat:
Also nearby:
Wonderfeet Kids' Museum
11 Center Street, Rutland, 282-2678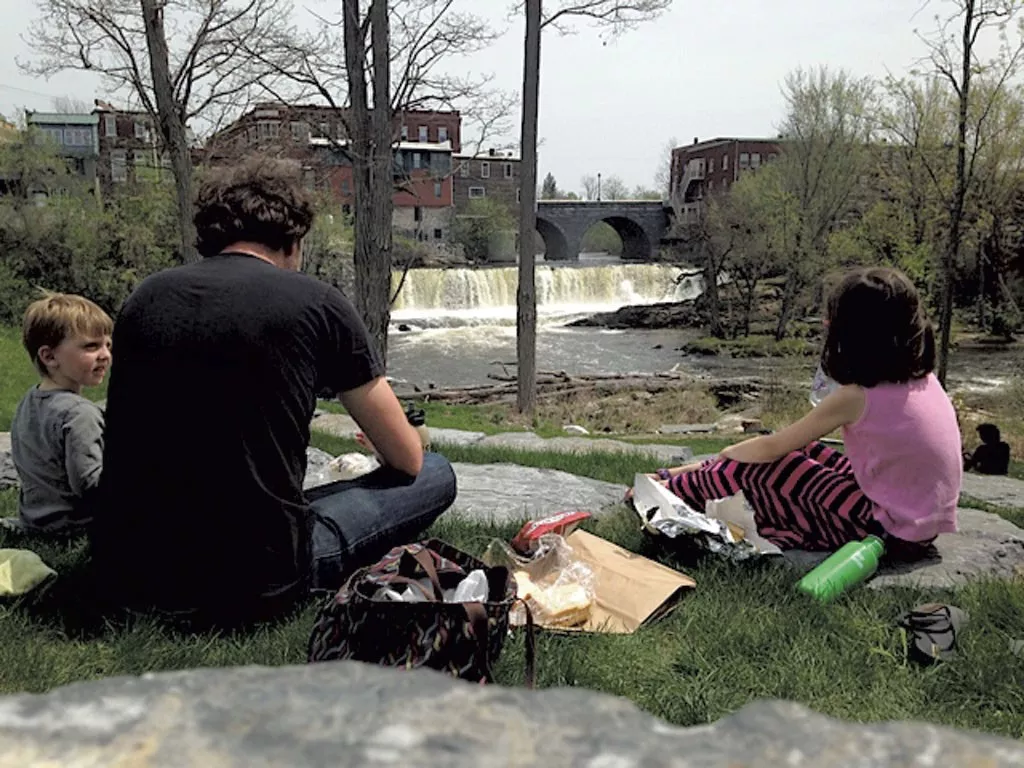 courtesy of angela arsenault
Lunch in Middlebury
We set out for the Wonderfeet Kids' Museum without much of a plan. I knew only two things: We were going to Rutland, and we needed to eat lunch before we got there. My husband, Ryan, 7-year old daughter, Lio, and 5-year-old son, Dash, had been game earlier that morning. But our moods quickly shifted once we hit the road.
We were still on I-189, between our Williston home and South Burlington, when Dash asked if we were "getting warmer," which is his version of "Are we there yet?" He asked another five times between Shelburne and Vergennes.
courtesy of angela arsenault
Lio and Dash watch a fan blow scarves out of a tube
"No, Dash. We're cold. Freezing cold," Ryan and I explained. "We'll let you know when we're getting warm."
Five minutes later, he asked again, in his whiniest voice. The force and volume of my reaction made me realize I was hangry. Lunch could not wait. Under duress, we settled on a deli in Middlebury.
Bad decision. Three out of the four of us could barely eat the sandwiches we ordered, which were either soggy, oozing or grotesquely overstuffed.
Back on the road, we were now a half-full-but-no-less-cranky bunch with seriously low expectations for the rest of the trip. I was afraid that we wouldn't be able to snap out of our collective funk and enjoy our destination.
Thankfully, the Wonderfeet Kids' Museum is so engaging that we soon forgot about our lunch experience.
The idea for the children's museum emerged from a community forum hosted by the Rutland Creative Economy in 2010. The following summer, Wonderfeet was presented as a pop-up museum at the city's summer block party series, Friday Night Live. It was so popular that it moved to a year-round location in August 2013. The museum's February expansion to a 2,400-square-foot space was powered by community and corporate donations.
courtesy of angela arsenault
Lio and Ryan
Inside the museum, Ryan purchased tickets — $5 each — from two smiling adults sitting behind a miniature train-station facade. Our kids bee-lined it to the sand table, where they got their hands on some kinetic sand, which can be shaped and molded thanks to a bit of added silicone.
From there, they took in the surroundings and planned their next move — to the light-and-shadow cave. This darkened area can be accessed through an adult-size door or a short tunnel. Inside, kids "draw" by shining little LED lights on walls covered with phosphorescent paint. The lights leave traces that linger for a few moments before slowly fading away. Lio was fascinated. "It's like these walls are specially designed, and these lights are like ink on them," she said, eyes wide.
Through the museum's partnership with General Electric, executive director Myra Peffer told me, this room will eventually include a flashing light that "captures" a child's shadow on the glowing wall, enabling the kid to examine the silhouette before it vanishes.
The affiliation with GE also helped establish Wonderfeet's fledgling robotics station. This area — the most suitable in the museum for kids older than 8 — is enclosed by a toddler-proof gate and houses a cache of Legos and a sloped drag-race track where kids can create and test Legomobiles. A pair of computer stations, where kids can program a small Lego robot to move around a raised platform, is coming soon.
courteSy of WonDerfeet KiDS' muSeum
I chatted with Peffer while my kids swirled around us, excitedly blurting out the occasional, "Mom! Did you see the ..." or "Mama, look at this!" She told me about plans to add a play train and a pretend credit union and town hall to the museum's kid village, which currently features the ticket-booth train station, a diner and a farmers market.
Though the one-room museum feels small, it wasn't crowded during our visit. My husband remarked that the team behind Wonderfeet has "done a lot with a little," referring to both the space and its annual operating budget of $223,000.
An exhibit composed of a fan and a few scarves held Lio and Dash rapt for the last 15 minutes of our roughly two-hour visit. Over and over again, they placed the scarves into a clear plastic tube held in place just above the fan. The kids squealed and danced every time the featherweight fabrics shot up and out of the tube and then floated back down to earth.
I watched, thinking, We could totally make one of those at home. And, later, we tried. But as I suspect is the case with many of the simple-seeming exhibits at Wonderfeet, it's not as easy to pull off as it looks.
On the way home, we stopped for a kid-friendly dinner of pizza and creemees in Bristol. Caught up in the meal, we accidentally neglected our evening routine of discussing the day's rose, thorn and bud (or favorite part, least favorite part and what we're most looking forward to). Just after the creemee stop, a tired Dash perked up in the backseat and said, "Mama, you know what was my rose?" I would have bet money on the ice cream, but instead he said, "Going to the kids' museum!" K
Know before you go:
Where to eat:
Also nearby: