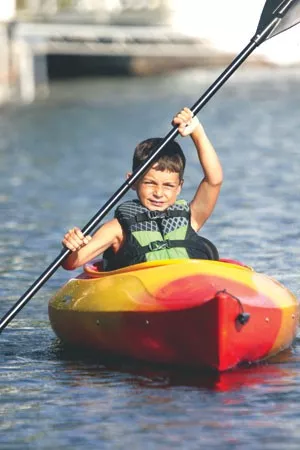 Shawn Corrow
Ben Gilchris, 9, of Barton kayaks on Lake Willoughby.
In summer, Vermonters measure their water in different ways — the number of cannonballs they make into a neighborhood pool, say, or the miles they travel to a distant campsite on a lake with loons . The yearly totals may not be as impressive, but for families, the numbers add up to lifelong bonding.
These 10 trips will help you find refreshment together at various depths. You can dip your toes into an Essex wading pool, tube down a Brattleboro river or canoe to your campsite for an overnight stay at the Green River Reservoir.
1. Lake Willoughby, Westmore
The top freshwater beach in New England? According to Yankee Magazine, it's found on the northern shore of Lake Willoughby. A melting glacier carved out this body of water, Vermont's deepest, which is sandwiched between the dramatic 1000-foot cliffs of Mounts Hor and Pisgah. It's a fjord-like slice of Norway right here in Vermont. The ice-cold, crystal-clear and sometimes Caribbean-blue waters can scare away even the doggiest of August days. Brave souls dive off Devil's Rock, on the Pisgah side, and stretches of sand are open to the public at both the north and south ends. You'll find a rope swing at the latter, but sometimes nude sunbathers, too. Distract wide eyes by hopping in a canoe or kayak and going fishing — the world's largest lake trout was caught here.
Best for: Boating, swimming, fishing
Details: Admission is free.
Nearby: The Orleans County Fair rolls into Barton on August 17 and stays until August 21; this year, it hosts an attempt to break the Guinness World Record of 102 Cadillac cars on parade. Info, orleanscountyfair.net.
Food: Find classic summer fare at the Will-o-Bee Snack Bar in Orleans. Info, 754-9967.
2. Green River Reservoir, Hyde Park
For some, camping means sitting around in nylon chairs next to an RV. For others, it means seeking a remote spot, pitching a tent and listening to the loons. The latter group should head to Green River Reservoir, where the 28 campsites are reachable only by boat. There are no ferries or rentals, either, so you'll need to bring your own. Visitors' watercraft must go no faster than 5 miles per hour and fit on the top of a car. Once you've paddled to your little piece of paradise, the payoff is 19 miles of shoreline to explore. And privacy.
Best for: Canoeing, camping
Details: Day visitors may pay up to $3 per person to access the reservoir. There is no drinkable water here. Info, 888-1349, vtstateparks.com,
Nearby: Take well-behaved children to Afternoon Tea at the Governor's House in Hyde Park on Thursdays and Sundays from 3 to 6 p.m. Info, onehundredmain.com, 888-6888.
Food: Stock up on sandwiches and sweet treats at the Edelweiss Bakery & Café in Johnson. Info, 635-7946.
3. Lake Bomoseen, Castleton
Lake Champlain may grab all the headlines, but at 2400 acres, Rutland County's Lake Bomoseen is actually the largest body of water within Vermont's borders. Members of the elite Algonquin Round Table literary set used to cavort here; today, you're more likely to see round-faced toddlers wading into the lake, which is surrounded by the Taconic Mountains. Though private residences have swallowed up much of the shoreline, visitors can find a sandy beach, cool quarry holes, a campground at Bomoseen State Park and yet more underwater opportunities at adjacent Glen Lake.
Best for: Boating, swimming, fishing
Details: Admission to Bomoseen State Park is $3 for those 14 and up, $2 for kids 4 through 14, and free for toddlers 3 and under. Hours are 10 a.m. to 9 p.m., and there's a snack bar at the park. Info, 265-4242, vtstateparks.com.
Nearby: Hike along Glen Lake and around a beaver pond to Half Moon Pond State Park, which has myriad camping options for overnight excursions. Info, 273-2848, vtstateparks.com.
Food: Wash down bacon cheeseburgers with chocolate egg creams at Castleton's Birdseye Diner, housed in a 1940s Silk City dining car. Info, 468-5817, birdseyediner.com.
4. Waterbury Reservoir, Waterbury
Vermont may have had its fill of floods this year, but fans of the 830-acre Waterbury Reservoir should be grateful for the threat of overflow, as it was a flood-control project that created this watery playground in the 1930s. A glassy surface and easy access from the Stowe area — there are two state parks here — now make it a favorite among waterskiers, wakeboarders and stand-up paddleboarders. There are also plenty of swimming beaches for wading and splashing. The place is no secret, but even in the height of summer, it's far more placid than it was when 2000 Civilian Conservation Corps workers built it.
Best for: Waterskiing, wakeboarding, stand-up paddleboarding, swimming
Details: Umiak Outdoor Outfitters rents paddleboards, kayaks, canoes and pedal boats (253-2317, umiak.com) at Waterbury Center State Park, which is open from 10 a.m. to sunset (244-1226, vtstateparks.com). Little River State Park (244-7103, vtstateparks.com) has camping.
Nearby: Brave the tourists at the Ben & Jerry's Factory Tour; the playground is open through October. Info, 882-1240, benjerry.com.
Food: Grab a table outside at Stowe's Blue Donkey, a local burger shack. Info, 253-3100, bluedonkeyvt.com.
5. Lake Paran, North Bennington
It was here that Robert Frost penned "Stopping by Woods on a Snowy Evening" in 1922. But, in our opinion, the 35-acre Lake Paran is much more pleasant on a sunny afternoon. In the spirit of the poet himself, the body of water is fiercely protected; the Fund for North Bennington has been acquiring undeveloped shoreline and creating the Robert Frost Trail from Lake Paran. But it's close enough to town that you can walk here from Main Street to swim and fish. The lake is also home to the eponymous Lake Paran Bluegrass Festival every summer. The most important thing to do here is to leap off the floating raft in the lake's center. Too tired to try? Just keep repeating, "Miles to go before I sleep, miles to go before I sleep."
Best for: Swimming, paddling, fishing
Details: Lake Paran is open from 11 a.m. to 7 p.m. through Labor Day; entrance fees are $3.50 for those 18 and older, $1 for those under $18. There is a small beach with canoe rentals ($10 per hour), lifeguards and a snack bar. Info, 688-6270.
Nearby: Older, crafty kids will enjoy the factory tour at Bennington Potters. Info, 447-7531, benningtonpotters.com.
Food: Try the Tex-Mex at Bennington's Rattlesnake Café. Info, 447-7018, rattlesnakecafe.com.
6. Lareau Swimming Hole, Waitsfield
Nearly 90 swimming holes pepper the Green Mountain State, but not all of them are kid friendly. Enter the Mad River's Lareau Swimming Hole, which has gently gurgling rapids, sandy riverbanks leading to shallow wading areas and nearby parking — no scary scrambling along the sides of cliffs. Porta-potties are a nice touch, too. Older kids and parents will find deep enough spots to jump into the teal-colored waters. Over the years, you can watch your children graduate to the large rock from which they can jump 7 feet.
Best for: Swimming
Details: You'll find this swimming hole off Route 100 south of Waitsfield, across from the Lareau Farm Inn and American Flatbread.
Nearby: Take a lift ride, play disc golf or ride the zipline at Sugarbush Resort. Info, 583-6100, sugarbush.com.
Food: Nosh on wood-fired pies at the original American Flatbread, across the road from the swimming hole at Lareau Farm, open Thursday through Sunday from 5 to 9:30 p.m. Info, 496-8856, americanflatbread.com.
7. Knight Point State Park, North Hero
For any preschooler transfixed by mechanics, the big draw of 54-acre Knight Point is the drawbridge between Grand Isle and North Hero, raised to let the sailboats through and lowered for vehicle traffic. Anyone else can pick from the park's many other attractions: a sandy beach and swimming waters; ample picnic grounds; even a performance venue where the Island Center for Arts and Recreation has hosted Lipizzan stallions and Shakespeare plays. Fireworks go off here for the Fourth of July, but for the remainder of the summer, the biggest "oohs" and "aahs" come from kids playing bean-bag toss, finding robins' eggs along the trails or building sand castles as they watch that bridge.
Best for: Swimming, paddling
Details: The park is open for day use only, for a fee of up to $3 per person, from 10 a.m. to sunset. Info, 372-8389, vtstateparks.com.
Nearby: Ambitious paddlers can make the three-mile crossing to Knight Island State Park for a night at one of the seven remote campsites. Info, 524-6353, vtstateparks.com.
Food: Hero's Welcome General Store in North Hero has all the picnic provisions you'll need, including a basket. Info, 372-4161, heroswelcome.com.
8. Lamoille River, Jeffersonville
Running 84 miles from the town of Glover to outer Malletts Bay, the Lamoille River has Class 1 to 2 white water. It's perfect for tykes ready to move beyond placid paddling into something that will give them a slight adrenaline jolt. The stretch around Jeffersonville is particularly family friendly, thanks to "Ice Cream Floats" offered by Green River Canoe & Kayak, i.e., a tour of the river followed by a tour of the Ben & Jerry's Factory. DIY types can arrange a shuttle upriver through Green River or leave a second car downriver to shuttle back to the start. Oh, and be sure to stop before Fairfax Falls. You don't need that much adrenaline.
Best for: Paddling
Details: Based in Jeffersonville, Green River Canoe & Kayak offers guided trips on the Lamoille. Info, 644-8336, sterlingridgeresort.com/canoe.
Nearby: You don't have to be an oenophile to enjoy Boyden Valley Winery; on September 18 and 19, the fourth-generation farm hosts a harvest festival with grape-stomping contests and hayrides. Info, 644-8336, boydenvalley.com.
Food: Get your creemee fix at Joe's Snack Bar in Jericho. Info, 899-3934.
9. Maple Street Park and Pool, Essex Junction
With all due respect to Vermont's natural bodies of water, there's something about a chlorinated, noisy, Windex-blue pool on a hot summer day. At Maple Street — capacity, 475 swimmers — soggy play happens around diving boards, a waterslide and a wading pool with spray features. Need to dry out? Head to the shady playground and picnic tables. Family swim, from 5 to 6 p.m., is a good time to catch a slightly calmer vibe.
Best for: Swimming
Details: The pool and park open at 11:15 a.m. on weekends and 12:30 p.m. on weekdays through August 28; public swimming ends at 8 p.m. all week. Fees are $3 to $5 per person. Info, 872-3370, ejrp.org.
Nearby: It's almost fair time at the Expo! The Champlain Valley Fair runs from August 27 though September 5. Info, 878-5545, cvexpo.org or "In Season," page 27.
Food: My Little Cupcake in Essex offers the perfect poolside snacks in flavors such as birthday cake, salted caramel and malted milk. Just be sure to gobble them up before the icing gets goopy. Info, 872-7676, mylittlecupcakevt.com.
10. West River, Brattleboro
In Texas, tubing is a way of life: floating along a river with a gaggle of pals, a cooler of suds and a cowboy hat. In southern Vermont, tubing is a tad more PG, but just as much fun. Head to the West River in the Brattleboro area and plan to launch from the West Dummerston covered bridge for a two-hour float. Kids should be old enough to navigate their own tube, and everyone should wear water shoes. Cowboy hats are optional.
Best for: Tubing
Details: Vermont Canoe Touring Center offers tube rentals. Info, 257-5008.
Nearby: The Brattleboro Farmers Market is open from 9 a.m. to 2 p.m. on Saturdays through October. Info, 254-8885, brattleborofarmersmarket.com.
Food: Head north for southern-style chicken and ribs outside a blue bus at Curtis' BBQ in Putney. Info, curtisbbqvt.com, 387-5474. KShawn CorrowBen Gilcris, 9, of Barton kayaks on Lake Willoughby.Sophia Hazard-Hayes, 6, of Burlington on the waterslide at Maple Street Pool In Essex.