Courtesy Of Kiqe Bosch Photography
Dancers in "The Story of Everything, as told by nothing" by Cyndal Ellis
Dance has been called the underdog of the arts. Music, visual art, theater and literature regularly grace media pages, and most people practice or feel able to enjoy at least one of those art forms.
But dance? Ask someone what they thought of a dance performance, or whether they dance themselves, and you might get a deer-in-the-headlights stare and a comment such as "I can't dance" or "I don't understand it."
One group of Green Mountain movers is gently but steadily inviting both the dance-timid and the dance-confident to create a more robust and participatory statewide community. The Vermont Dance Alliance is a nonprofit organization of artists, partners, sponsors and patrons working to nurture the dance arts, build new networks, educate the public, and make dance more accessible and understandable.
Among the group's annual events is the Winter Dance Gala. This year, it takes place on Saturday and Sunday, February 16 and 17, at the Highland Center for the Arts in Greensboro. Six Vermont choreographers will premiere new works curated by VDA, including Isadora Snapp of Barre, who plays with the notion of art for pure enjoyment in "Invitation"; Elizabeth Kurylo of Corinth, whose "BWV564 Dream" is an exploration of repeated baroque-style movements; and Cyndal Ellis of Brattleboro, who evokes the big bang in "The Story of Everything, as told by nothing."
On Saturday afternoon, community dancers and movers of all experience levels will be invited to participate in the Dance Sampler Workshop. Led by five of the six presenting choreographers, it will offer a window into their dance styles and ways of working.
These events are classic examples of VDA activities. The association solicited proposals for new dance works last June and, since then, has supported the winning artists by providing guidance and resources. For example, VDA is partnering with the Highland Center to help pay for housing and choreographers' stipends.
VDA has also cultivated relationships in the region where the gala will take place by hosting two work-in-progress shows near Greensboro: one in Wolcott in September and another in Morrisville in December. Through these events, choreographers and dancers have gotten to know one another and shared feedback, and audiences have learned about the works and their creators.
"VDA is looking at the whole 'ecosystem' of dance — not just choreographers and dancers, but audiences, venues and other supporting or partnering entities," writes Toby MacNutt by email. The Burlington instructor, artist and performer is a VDA member and provides consulting services to aid the nonprofit's strategic planning. "Especially in a rural state, dance makers — and audiences — can be very scattered, and the isolation is a challenge," he writes. "VDA is addressing this in [a] holistic way."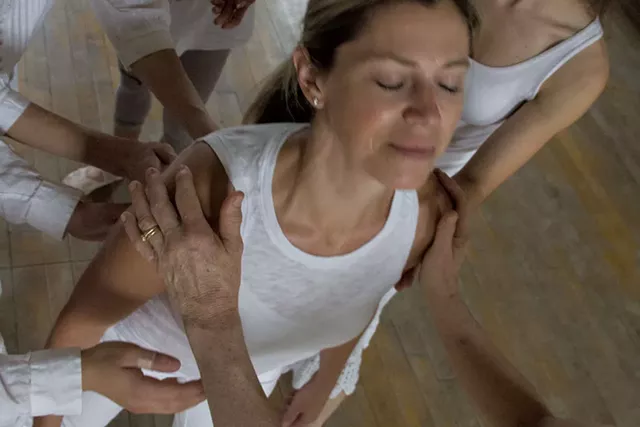 Courtesy Of Kay Mccabe
Dancers in "BWV564 Dream" by Elizabeth Kurylo
Since its official launch in June 2017, VDA has hosted more than 30 events at 21 venues around the state. From outdoor performances in Burlington to networking events in Brattleboro, the organization has celebrated and supported dance arts and connected people who might not otherwise have met. When the organization launched, writes MacNutt, "The dance community connections increased almost immediately, and I personally find it very nourishing."
Hailing from most of Vermont's counties, VDA's 101 paying members currently include 65 individual artists; 17 service partners, including musicians, studios and lighting specialists; 18 sponsors, such as restaurants and performance venues; and one patron, a self-described "lover of dance." Annual memberships range from $70 to $140.
VDA's curated website serves as an interactive dance database of artist bios, event information, classes, workshops, and the offerings of service partners and sponsors. A visitor can search the site by multiple variables, but only members may create content.
The seeds of VDA were sown in 2016 when a group of volunteers set out to discover what was happening in dance around the state.
"When I first came to Burlington, I'd find out about things too late," says Burlington's Hanna Satterlee, who was among the volunteers. "I didn't know where to look for information." A choreographer and dancer who grew up in East Montpelier, Satterlee is now VDA's director. She summarizes the association's status succinctly: "VDA is growing up."
Having established connections and spawned activities throughout much of Vermont, the nonprofit is shifting its focus from working primarily as an event producer and curator to providing facilitation and consultation services. "We really want to put the power in artists' hands to do the work they are dreaming of," says Satterlee.
Gala choreographer Ellis has already benefited from this new focus. She's the first VDA member to apply for and win a grant using the nonprofit as her fiscal agent. VDA can serve as an umbrella organization for independent artists going for grants that require 501c3 status, "as long as the mission for an event matches the mission of the alliance," says Satterlee. VDA charges a small fee for grant processing, and the artist is responsible for creating the promised product.
Ellis won a $515 grant from the Vermont Community Foundation's Crosby-Gannett Fund to cover tech costs, space rental and advertising for a show that builds on her performance character Super Bee. The "clumsy, clownish superhero teaches lessons on social and emotional literacy to young kids," explains Ellis. The grant allows her to expand the show to reach a wider audience and demonstrate the educational power of dance.
Ellis learned of the grant at a VDA gathering. "I would never have thought to apply for that grant had it not been for that meeting," she says. In addition to providing step-by-step guidance on the grant proposal, she adds, Satterlee made initial contact with the Brattleboro Museum & Art Center, which will host Ellis' show in April.
VDA will continue to host its annual signature events: the Winter Dance Gala, the Spring Dance Symposium, the summer outdoor event Traces and the Fall Members' Retreat.
Among the association's challenges is convincing social dance groups to join. Most VDA artist members are trained in contemporary, modern or ballet. Few represent local folk and social dance forms, such as swing, contra and ballroom. Satterlee believes these groups already have such well-established networks that joining VDA may seem unnecessary. But Ellis, for one, wishes they'd reconsider. "I've learned so much through studying folk dance," she says. "It has really informed what I do onstage."
Satterlee also believes that representation of more dance forms in VDA membership would lead to more opportunities for interaction, collaboration, cross-training and growth.
Perhaps such inclusion could also make dance a little less intimidating. After all, as Satterlee says, "Everyone can dance."