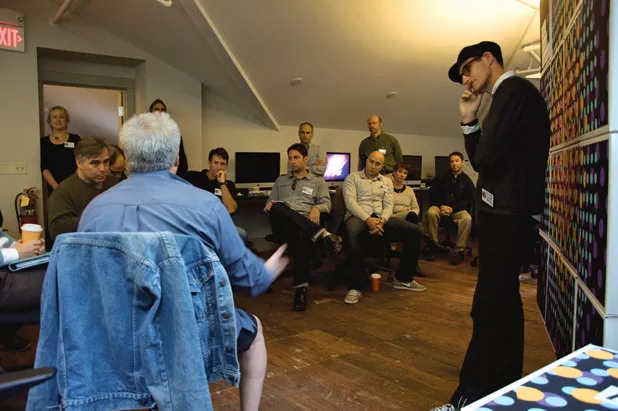 Native Creative Consortium
Imagine Vermont as a design destination, a place where creative folks churn out exciting products, brands and concepts, while linked in fruitful cooperation. The state retains its graduates and attracts top talent nationwide; local businesses and the community benefit from an aesthetic revolution. The industry takes note.
While this might sound like science fiction to some, a new group called the Native Creative Consortium aspires to make it a reality by 2020. The consortium, which came together in January, so far consists of about 35 professionals from design, advertising, architecture and marketing fields and aims to "unify the energy of Vermont's creative community" and "to create positive change and build awareness of Vermont's creative distinction," according to NCC's website.
Last Thursday, the Native Creatives held their first public event, at Champlain College, with a talk aptly titled "Amplifying Vermont's Creative Community" by Nathan Shedroff of the California College of the Arts. Addressing a mix of students and professionals, the design strategist, professor and consultant proposed that all designs are "created experiences." Designers need to go behind lines, colors and fonts to consider emotions, moods and issues of identity and values, he said.
One of those looking to amplify Vermont's design industry is Michael Jager, president and creative director of Burlington firm Jager Di Paolo Kemp Design. A cofounder of NCC, he came up with its name in a nod to Vermont's uniqueness and tradition of free thinkers. The founders also include Jeff Rutenbeck, dean of the Communication and Creative Media division at Champlain College, and Patricia Sears, then CEO of Spike Advertising. Issa Sawabini, a partner at Fuse Marketing, has joined the leadership team.
On Thursday, Sawabini and Jager lobbied to broaden the consortium's base. "What is the meaning of creativity and creative community in Vermont?" Jager asked the audience. He also questioned the Vermont brand, noting: "I dig cows, they're cool, but there are other things that belong in Vermont."
Burton snowboards and Vermont's high patent rate were also topics of conversation as the group brainstormed future activities. Some ideas for action included encouraging people to swap ideas on the group's Facebook page, inviting the local industry to take part in challenges such as how to help visitors better engage with Vermont, and setting up case studies for Champlain students.
Reception to the consortium idea ranged from gushing enthusiasm to cautious curiosity. Champlain alum and freelance designer Mollie Coons said, "It would be really great if it could stay non-ego-driven." Fellow twentysomething Champlain alum and graphic designer Joe Mester agreed: "I like the idea of it so far … I think it's well needed, especially for young designers."
The NCC makes business sense to Chris Copley of Select Design, a company with 15 Burlington-based designers and Taiwan-based production. "I think the talent pool here is really deep for such a small place," Copley said, adding, "Not everybody in Vermont understands or respects the fact that there are companies here who do world-class-level design work."
The timing may be right for cooperation with the state, as the Department of Economic, Housing & Community Development is launching an Office of Creative Economy within two months. Reps from that office, former film commission director Joe Bookchin and state marketer Kathy Murphy, give the consortium a thumbs up. "They have tremendous enthusiasm and ideas," said Bookchin. "Vermont is now … a place of innovation, whether on a farm or in technology."
On the education front, Champlain College students and grads stand to benefit, said Communication & Creative Media program faculty member Suzanne Glover. "It would be wonderful if by getting the creative energy flowing and creating a center for innovation, we could bring more jobs to Vermont, so they could stay."
Will this group be, as Spike Advertising's Ken Millman called it on Facebook, a "creative spa and gym"? Stay tuned.