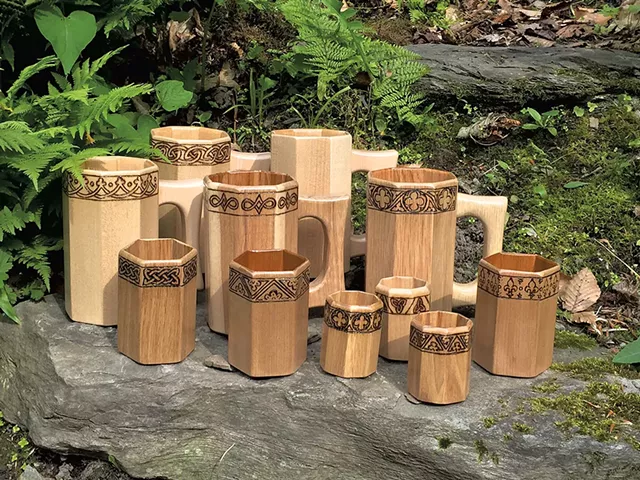 Expect to see men, women and children dressed in chain mail or flowing gowns with bodices later this month in Stowe. On June 24 and 25, they'll gather at the Mayo Events Field for the second annual Vermont Renaissance Faire. Last year, according to organizer Jeffrey Folb, more than 2,200 people visited on the first day alone. Of course, some in everyday clothing just came to look.
And what will attendees find as they stroll the grounds? Jousting, for one thing. The Brotherhood of the Arrow and Sword will be on-site demonstrating a variety of fighting techniques. If axes and swords aren't your thing, there will also be dances, music from a fellow called Rockin' Ron the Friendly Pirate, and the sheer pleasure of hanging out with thousands of enthusiasts doing their thing.
Since all the activity can make a body thirsty, Vermont's craft honey fermenters, Artesano Mead of Groton and Groennfell Meadery of Colchester, will be on hand. Go ahead and sip the golden liquid from a drinking horn — naturally, you can buy one there, made by Valhalla Horns of Pennsylvania.
A Renaissance Faire is nothing, of course, without crafty medieval merch. In advance of the big event, Seven Days spoke with three Vermont artisans about their particular wares and the strangest things they've ever been asked to make.
Andy Van Ness
SEVEN DAYS: How did you get into working with wood?
ANDY VAN NESS: I just always loved working with wood. I grew up in a rural part of Connecticut, and my father had quite a bit of land. I was in the woods all the time. I didn't have any friends, so the trees were my friends. Being a pagan, they still are.
I spent many years doing electronics and other things people told me to do, but I [eventually] went to art school. When I was at the Pratt Institute, I was focused on photography and filmmaking, but I took a class with Toshio Odate, who's a master of Japanese woodworking and an awesome dude, and I got back into woodworking.
SD: What's it like to be at Renaissance Faires?
AVN: For some reason, I've always had this affinity for medieval design. The Lord of the Rings was another thing. Early on, I had this book of the art of the LOTR by the Brothers Hildebrandt. I loved everything about it. There was the feel of another world where I wanted to be, because I didn't fit into this one.
The Ren Faire is silly in a lot of ways. You get people in LOTR costumes and "Star Trek" outfits, and people who dress as cows or pirates. It's obviously not historical, but it's fun. People are out being themselves. It attracts outsiders who don't fit in, and we fit together and have a community.
SD: What are some of the items you make regularly?
AVN: Clocks, candle-holding wall sconces, tankards and mead cups, thrones you might find in a fairy woodland. [As the throne is] seven feet tall, there aren't too many people who want [one] for their apartment. [Many items] are wood-burned with Celtic knot work and medieval designs.
SD: Do you do custom work?
AVN: I do a lot of custom work. In fact, I prefer it, because it breaks up the monotony. We've worked together to create something that didn't exist in the world.
SD: What's the strangest thing you've ever been asked to make?
AVN: Oh, boy, do I have an answer for that! A lot of people ask for wooden dildos. You just have to make sure there's a good finish on them. I have a whole line of bondage furniture that I was going to start making. High-quality, durable stuff.
SD: Can you give me a sense of what your products cost?
AVN: The smallest things I make are musical wooden shakers — those are $20. For cups, the [least expensive] are $35. Tankards are from $65 to $85. Sculpture pieces can be in the $1,000 to $2,000 range. I can build cabinets, as well.
Debi Baggish
SD: How did you get into making period garb?
DB: It was all the way back in college, when I was in archaeology school. I met a woman who used to go to the Society for Creative Anachronism [events]; everything had to be historically correct. So, I had to make my own [clothes]. You can't always find commercial patterns for things. You look at pictures, and sometimes it can be a real puzzle. I think that's what I like about it.
SD: What's it like to be at Renaissance Faires?
DB: I think cosplay brings people's bravery out. I know it did with me. In normal life, I'm very much an introvert, but when I'm at faires, I come out. People want to be these characters because there are things about [them] that they love. The faire community itself is so open.
SD: What are some of the items you make regularly?
DB: Mostly Viking garb: apron dresses, tunics, simple pants for men, skirts. I also do steampunk and modern cosplay, Star Wars, fantasy, superhero. For faires, it's the more simple stuff, because people need that the most.
SD: Do you do custom work?
DB: I prefer to do custom. It can be generalized, like, "I want to be a Viking maiden," but if you're getting into cosplay, you might want to be a specific character. I've done Bat Woman. Medieval is hot because of "Game of Thrones." I'm positive pirates will come back because of Pirates of the Caribbean.
I'm a huge Star Wars geek, and, for myself, I have a really great Sith outfit.
SD: What's the strangest thing you've ever been asked to make?
DB: I did an Ariel [The Little Mermaid] dress — her big pink ball gown — for a cosplayer. I've done caparison [cloth capes] for horses.
SD: What do your products cost?
DB: For a skirt, $35 to $45. Traditionally, you wear two skirts — an overskirt and an underskirt. A woman's shirt can be short like a regular shirt or long to the floor, and those will run between $35 and $55. My apron dresses are $85 for one already made. For custom pieces, I add a bit more.
David Stous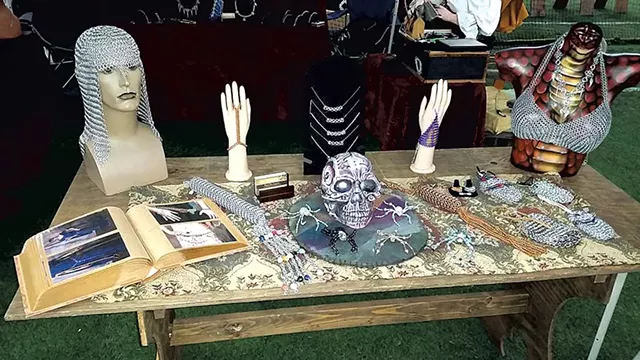 SD: How did you get into making chain mail?
DS: I've always been interested in the Middle Ages, and I thought armor was really cool. In 1995, when my oldest son was in sixth grade, they were doing a segment on the Middle Ages, and the teacher asked if the parents knew any crafts they could teach the kids. I had an old blacksmithing book that had three pages on armor. I studied that for two or three days trying to figure it out. Now I've been doing it for 22 years. Mail is all that I do.
SD: What items do you make regularly?
DS: Bracelets, necklaces, earrings. That's what I sell the most of. I've made candleholders, keychains, headpieces.
SD: Do you do custom work?
DS: Yes. There are so many different things you can do with mail. I would say I've mastered probably 50 or 60 different weaves.
I can make a small bikini top in a couple of days. For a while, I had the most referenced tutorial [on the internet] about how to make and measure them.
Because of the way the rings are woven together, it's extraordinarily comfortable; it forms to the body. I can make one out of stainless steel so it will never rust. I can make 'em out of any color of anodized aluminum.
SD: What's the strangest thing you've ever been asked to make?
DS: That's not gonna be in the article! But I've done three or four floggers. I've made sex toys. I do a cylindrical weave. I've sold a couple of them, and, for lack of a better phrase, I got good reviews.
There's more crossover [between the Ren Faire and kink communities] than people think.
SD: Can you tell me what your products cost?
DS: I can do [simple] keychains for $5. The bikini tops, the smallest one is $80, and then it goes up by cup size. With a more endowed client, I have to weave an underwire of sorts into the base, and the more endowed, the more rings it's going to take to make it. If the client wants it for belly dancing, with chain drapes, coins or crystals, it's gonna cost more.
The most expensive pieces are armor. It can take three weeks to make a shirt. A titanium hauberk [shirt of mail] would be a good $1,500, but it would only weigh five pounds.
SD: These days, it seems like our most dangerous foes aren't knights but ticks.
DS: I could possibly make a garment out of rings that are stupid small, and that could be a decent preventative against ticks. It would be an incredibly long process because of the ring size.