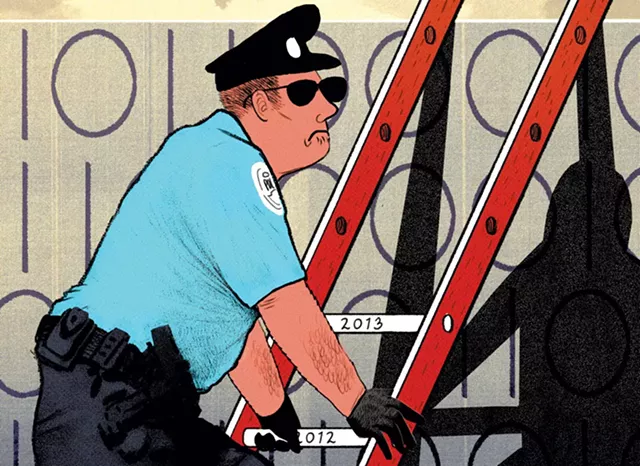 More than two years before Gov. Peter Shumlin's 2014 State of the State address acknowledged Vermont's opiate crisis, the police chief in Burlington warned a legislative committee about a spike in crime. He had helped build a records-management system that allowed Queen City cops to monitor and map all criminal incidents as soon as they happened. It was far more advanced that the state's crime-information systems.
Former Burlington police chief Michael Schirling told the Joint Legislative Corrections Oversight Committee in November 2011 that his officers were dealing with a record number of burglaries and robberies — and that opiate abuse was the likely underlying cause.
"We could see it coming," he said of the drug-related crime increase, but his early warning was largely ignored, in part because there wasn't enough statewide information to support his thesis. "I told people we had crime going up, and we weren't doing anything about it, and that heroin and opiates were the driver," Schirling said in a recent interview. "You can't make criminal justice policy without criminal justice information."
The situation has only gotten worse. The Vermont Crime Information Center, the state agency tasked with reporting crime data to the public, finally published its annual report in mid-January — for 2012.
VCIC is a full two years behind in fulfilling one of its core responsibilities and has failed to release statewide crime data during much of the opiate spike.
How many drug dealers were arrested in Windsor County in 2014? Have armed robberies and burglaries — two crimes long associated with drug addiction — jumped in Bennington? How many people were arrested with heroin in Barre last year?
VCIC can't tell you.
"Obviously, three-year-old data isn't much help to us," South Burlington Police Chief Trevor Whipple said. "It shows us where we've been. It doesn't help us with where we're going."
VCIC executive director Jeff Wallin acknowledged the backlog. "We've had a number of agencies shifting their records management systems," Wallin said. "Getting data from those agencies takes longer. The issue is, how do we get that information into the system in a way we can process? We are working on that."
Wallins said VCIC has been slowed by problems in the two records-management systems Vermont police departments use.
One system, employed by the Vermont State Police and others, has gone through a series of upgrades that have wreaked havoc with VCIC's ability to receive its data, Wallin said. The other system used by police is relatively new and has had several bugs that have made it difficult for police to send reports, according to Wallin.
"We've had staff here dedicating a lot of time to sorting through those problems," he said. Noting that his agency anticipates significant improvements in the coming months, Wallin said he expects to release the 2013 and 2014 crime reports this spring, and the 2015 report this summer.
Max Schlueter, a part-time researcher at the nonprofit Crime Research Group, ran VCIC for 20 years before retiring in 2010. In his early years, Schlueter used the center's decades-old paper system. Police departments mailed VCIC reports detailing their arrests. Secretaries collated those reports, and Schlueter assembled a final crime report that was mailed to the state library, the news media, law enforcement agencies and others.
In the early 1990s, as dispatch centers across Vermont converted to computer-based systems, the crime report went online.
Here's how crime data is reported today in Vermont: When a dispatcher receives a 911 call, the dispatcher starts an incident report, which records the date and time and basics of the call. The officer who is sent to the scene opens the report and enters more detailed information — the names of the parties, any charges filed, a more precise location, whether drugs or weapons were involved, and so on.
Matthew Thorsen
Former Burlington Police Chief, Michael Schirling
A designated auditor in each police department reviews the reports and makes sure all the required data fields are filled out accurately. Once a month, the audited reports are uploaded to VCIC. As required by federal law, VCIC forwards the information to the FBI, which is tasked with generating an annual national crime report.
The FBI report doesn't break down Vermont's information by community, county or even region. With a few exceptions, it offers statewide data, which isn't terribly useful to Vermont police agencies or policy makers.
VCIC is supposed to provide a more detailed breakdown. For years, the center released a spring report that included types of crime, location, time of day and charges filed for every single Vermont community in the prior year.
"It was a great tool for the public and cops and legislators to know about what crime was occurring and where, and who was doing it to whom, and so forth," Schlueter told Seven Days. "It was audited. It was the gold standard."
The FBI taps into the same data stream that VCIC uses, but it has not fallen behind in releasing its uniform crime report. The most recent one showed that Vermont experienced a small decline in most crimes during 2014.
Vermont has other sources of more detailed data. The Vermont Department of Corrections tracks information about inmates and what they have been sentenced for, among other information. The Court Administrator's Office keeps an eye on caseloads for various offenses.
But without VCIC's annual report, experts say, there are massive gaps in the public's understanding of current crime trends.
For example, Seven Days recently explored the criminal justice environment in Bennington County, which the DOC says generates twice as many inmates per capita as the state average. County prosecutors, who defense attorneys allege use overly aggressive tactics, said they are struggling with a crime spike. But without the annual crime report, there is no objective way to check that claim or to compare crime rates there with those in other Vermont counties.
Legislators consider the annual statewide crime report so important that they required it. A state law on the books since 1969 says that, "from time to time, but at least annually, [VCIC] shall publish information relating to criminal activity, arrests, convictions and such other information as the commissioner deems relevant."
Asked whether VCIC was violating the law — a question no one in state government appears to have posed publicly — Wallin said, "To be candid, I'm not a lawyer. I can't tell you whether we've been compliant. It's something we have been working on diligently to make available."
It is not the first time VCIC has struggled with state mandates. In 2014, State Auditor Doug Hoffer found problems with the Vermont Sex Offender Registry, which VCIC maintains. Hoffer said that the registry had failed to list many offenders and included several people who did not belong on the list. The same problems had been reported in a 2010 audit. Wallin said those problems have since been addressed.
Chief Whipple said his department has stopped waiting for the state to compile and analyze data specific to South Burlington. "We headed down our own path," Whipple said, noting the police department does its own analysis in-house.
As a result, South Burlington police have identified problem areas and launched effective crime-fighting strategies, Whipple said. They have directed more patrols to their busiest roads and, for the first time, last year positioned an officer full-time inside the University Mall during the month of December. Whipple said the result was a notable drop in retail theft and overall crime reports.
Burlington Police Chief Brandon del Pozo said he was surprised by the lack of detailed statewide crime data when he arrived last year from the New York City Police Department, which has been a leader in the national push for better crime analysis.
Del Pozo said he will soon unveil plans to increase his department's use of data and would be willing to help the state catch up. "I look forward to the opportunity to share best practices with the state if they feel it would be to everyone's benefit," del Pozo said.
Experts say that using data to guide police in doing their work would benefit the entire state.
"One of the things researchers have been trying to do for years is to get legislators not to respond to the crisis du jour, [but to] say, 'Yes, this is a tragic event, but let's take a look at how often this happens, what the trend is,'" Schlueter said. "Now there isn't any data you can point to. Fundamentally, if we want decisions based on information and not about hunches, then this is a real problem, because they don't have current data to make these sorts of decisions."