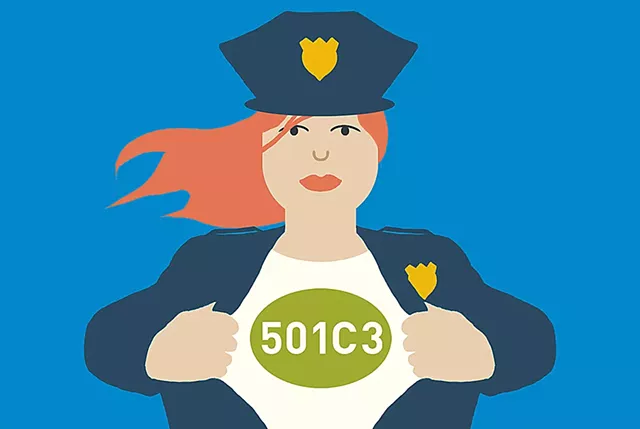 David Sleigh, a well-known defense attorney based in the Northeast Kingdom, had questions about the special investigations unit that responds to sex crimes and child abuse in Orleans County. So, on June 28, he filed a public records request for information about its governance, staff salaries and grant funding.
Six days later, Dawn Kelly, the executive director of the Orleans County Child Advocacy Center/Special Investigations Unit, denied the request. She told Sleigh that the entity was a private nonprofit, not a public agency — and didn't need to comply. Confusingly, her email came from a state-government affiliated address.
Sleigh condemned the organization, which contracts with the Newport Police Department, for its lack of transparency.
"It really does become this sort of secret police," he said.
Pioneered in Burlington in 1987, special investigations units have become an important, quasi-governmental tool for law enforcement around the state. Today, Vermont has 12 such units, which are teams that include police, Department for Children and Families social workers, prosecutors, and victims' advocates. Under state law, they're tasked with investigating sexual assault against children and adults, human trafficking, and the most serious cases of physical abuse against children.
Each unit is part of, or affiliated with, a nonprofit child advocacy center. More than 800 such centers nationwide support children who've been abused. In Vermont, some also choreograph complex criminal cases, coordinating "the dance of all of the other organizations that are bringing their resources together," said Jim Forbes, senior policy and operations manager for DCF's Family Services Division, which is charged with investigating child abuse and neglect to make sure that children are safe at home.
Most officials herald the model. But there are questions about whether the arrangement prevents public scrutiny.
The average Vermonter mostly hears about the units after an investigation ends with an arrest. The Washington County special investigations unit announced in June that police had apprehended 43-year-old Douglas Hersey, who allegedly had sex with, and tried to pimp out, a 15-year-old girl. Two days later, the Chittenden Unit for Special Investigations announced the arrest of 19-year-old Mohamed Hussein, who allegedly sexually assaulted a 12-year-old girl.
"The powerful thing about this model is that it creates working, interpersonal relationships between the parties involved," Forbes said. "Everybody kind of gets to know each other."
"We don't see cases falling through the cracks," said Capt. J.P. Sinclair, the Vermont State Police's chief criminal investigator.
The system, which has evolved over the past few decades, gained momentum in the aftermath of one of the most heinous crimes in state history.
In 2008, Michael Jacques, a convicted sex offender, kidnapped, raped and killed his 12-year-old niece, Brooke Bennett, in Randolph. State leaders responded by making swift and sweeping changes to Vermont's sex offender laws.
"Then-governor Jim Douglas and the Vermont legislature began asking some critical questions," recalled Tom Tremblay, who was Douglas' public safety commissioner and had previously led the state's first special investigations unit in Burlington. "One of the most critical questions I had was, 'Why should there be specialized units in some counties and not others?'" Tremblay said.
In 2009, state legislators devoted $1.5 million to expand special investigations units but left it up to each county to create one and apply for funding.
Child advocacy centers made obvious partners. The centers could provide kid-friendly spaces — with brightly colored furniture, cheery artwork, toys and snacks — for victims to be interviewed. And they could ensure that cops and DCF workers conducted interviews together to save a victim from having to retell his or her story.
The ultimate goal, according to Marc Metayer, the state's special investigations unit grants program manager, "is to have one central location where all of the players are co-located ... The reality is that not many of them can do that."
The relationship between the units and child advocacy centers can be complicated, and arrangements often vary by county. Officials alternately describe the advocacy centers and investigatory units as "working hand in glove," simply existing in the same building, or being one and the same.
In some cases, special investigations units predate their child advocacy center. The Chittenden Unit for Special Investigations, for instance, shares office space with the newer Chittenden Children's Advocacy Center, but each has its own director and distinct website.
The Vermont State Police also assigns a detective to each unit, free of charge. In some counties, that officer works at the child advocacy center office.
"Instead of these crimes being handled by whoever gets them by luck of the draw, we have actually dedicated law enforcement," said Rebecca Duranleau, executive director of OUR House of Central Vermont, the child advocacy center that hosts Washington County's special investigations unit. She noted that officers receive special training to interview traumatized children.
"We all are in constant communication with each other," Duranleau said.
The state awards two types of grants to the child advocacy centers to support the work of special investigations units, spending about $1.9 million annually. One grant supports administrative work and the other allows the nonprofit to contract with a local police officer or sheriff's deputy.
Some of the organizations rely almost entirely on state money; others supplement their budgets with grants and donations. OUR House raises money by hosting skeet shooting competitions and donkey basketball. The Chittenden unit bills the towns it serves.
Many of the units' administrative duties fall to staff at the centers who, in a self-perpetuating cycle, apply for the state grants that in some cases pay their salaries.
In theory, the state could cut out the middleman and coordinate the work of special investigations units itself. But officials suggest outsourcing this role to a third party prevents interagency turf wars and keeps the focus on victims.
It helps to meet in neutral territory, said Forbes, who noted, "There's strong culture in both [the division of] family services and law enforcement."
"Our mission is the criminal investigation, obviously," Sinclair said, referring to the state police. The child advocacy center, he suggested, provides "more of a broad view about what this [victim] needs."
Another advantage: The centers can access training and modest grants from their member association, the nonprofit National Children's Alliance.
"I've seen tremendous growth and maturation with each of these units," Metayer said, though he conceded, "it has not been without turmoil."
Staff turnover at the centers has been a problem, and at times it's been difficult to convince local police departments to pony up an officer for the effort. The state caps law enforcement grants at $60,000, and the actual cost of those positions is often closer to $80,000, said Metayer. "So you have to have a department and community that's willing to accept they're not going to be fully reimbursed," he said.
Addison's unit dissolved for a while, and Orange County has struggled at times to keep its operation afloat. Lawmakers studied the funding model in 2014 and concluded that units needed a more sustainable revenue stream; their report didn't result in any significant changes.
It's unclear whether the child advocacy centers — which, in their role as special investigations units, are also supposed to serve adult victims of sexual assault — are meeting the needs of their older clients. Of the 1,516 cases the units handled in fiscal year 2017, only 288 involved adult victims.
"It's still going through growing pains," said Sen. Dick Sears (D-Bennington), who suggested it was time for lawmakers to take stock of the entire system.
"One of the risks is that if there are counties that aren't performing, it's not as clear who you hold accountable for that," noted Senate President Pro Tempore Tim Ashe (D/P-Chittenden). He seemed surprised about the response to Sleigh's records request, suggesting that the system's architects didn't envision it being used to shield law enforcement from scrutiny.
On July 9, Sleigh sued the Orleans County Child Advocacy Center/Special Investigations Unit for the records he's after, arguing that it is the equivalent of a public agency. He said he's concerned that the organization could shield communications between prosecutors and law enforcement that defense attorneys can typically review during the discovery stage of a legal proceeding. Sleigh also noted that the organization's most recent Internal Revenue Service Form 990 filing suggests its entire $137,000 budget comes from state grants.
Whether he wins or loses, he hopes the lawsuit will shed more light on special investigations units and how they operate.
Disclosure: Tim Ashe is the domestic partner of Seven Days publisher and coeditor Paula Routly. Find our conflict-of-interest policy here: sevendaysvt.com/disclosure.