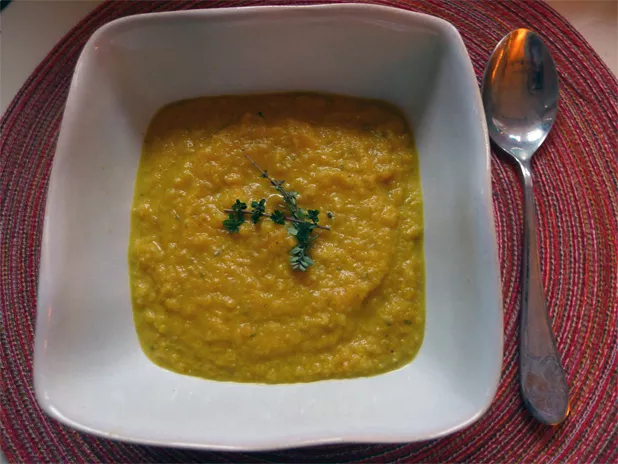 Every Thanksgiving, my father rises at dawn to smother a giant bird with ungodly amounts of butter and shove it into the oven. He bastes dutifully every half hour until it turns coppery brown, then hands me the crispiest bits of skin in a wordless exchange we repeat each holiday. Once the butter-soaked mashed potatoes, the creamed spinach, the pearl onions and the canned "cranberry sauce" (fresh cranberry sauce will be ignored) are on the table, we say grace and dig in.
Yep, Thanksgiving is as much about deeply ingrained rituals as it is about turkey and football. Yet tradition deserves to be messed with. This year, a few cookbooks published by Vermont chefs and authors could help kitchen interlopers shake it up.
Almost all this year's crop of books focus on using local produce, and they offer slightly off-the-beaten-path ideas for Turkey Day sides. Instead of wrangling your pumpkin into a pie, for instance, you could try the coconut-milk-laced pumpkin bisque from High Ridge Meadows Farm, as described in Tracey Medeiros' The Vermont Farm Table Cookbook. A kohlrabi and cherry salad from Diane Imrie and Richard Jarmusz, director of nutrition and executive chef at Fletcher Allen Health Care, respectively, brings cooling textures to the table. (It was culled from the softcover reissue of their book Cooking Close to Home.) And, if your family is fixated on creamed spinach, you might be able to trick them with the buttermilk-creamed-chard recipe in The Animal Farm Buttermilk Cookbook by Orwell farmer and author Diane St. Clair.
The Vermont Farm Table Cookbook: 150 Home Grown Recipes From the Green Mountain State by Tracey Medeiros, Countryman Press, 240 pages. $19.95.
Tracey Medeiros' first book, Dishing Up Vermont, cinched together recipes from some of the state's celebrated chefs and farmers. For her second, the chef and food stylist includes more farmers in that mix, weaving together farm and restaurant profiles with 150 of their favorite recipes.
"These chefs and farmers are so passionate about creating this vibrant food community, and it was important for me to put together a book of recipes that show that love and passion," says Medeiros, who is working on a follow-up, The Connecticut Farm Table Cookbook.
The Musquée de Provence Pumpkin Bisque from East Randolph's High Ridge Meadows Farm is an uncommon choice for Thanksgiving, a spicy-sweet blend of coconut milk, jalapeño and maple syrup. The silky soup is based on the flesh of the Fairytale pumpkin, a French heirloom variety that I found at Killdeer Farm in Norwich. But canned pumpkin purée will work, too.
Musquée de Provence Pumpkin Bisque
(makes 12 cups)
1 tablespoon unsalted butter
1 large yellow onion, chopped
4 large garlic cloves, chopped
4 cups low-sodium chicken broth
3 1/4 cups fresh Musquée de Provence pumpkin purée* or two 15-ounce cans pumpkin purée
2 large Granny Smith apples, peeled, cored and chopped
1 jalapeño pepper, stemmed, seeded and finely chopped
2 tablespoons pure Vermont maple syrup
2 teaspoons ground coriander
1/2 teaspoon ground cumin
Kosher salt and freshly ground black pepper
One 14-ounce can unsweetened coconut milk
Chopped fresh thyme (optional)
Melt butter in a large stockpot over medium heat. Add the onion and cook, stirring occasionally, until soft and translucent, about five minutes. Add the garlic, stirring frequently, and cook for one minute.
Add the broth, pumpkin purée, apples, jalapeño, maple syrup, coriander, cumin and 1 1/2 teaspoons salt and bring to a boil over medium-high heat. Reduce heat to a simmer and cook, stirring occasionally, for 30 minutes. Let cool for 10 minutes.
Working in batches, purée the soup in a blender or food processor, adding the coconut milk a little bit at a time, until smooth. Return the soup to the stockpot and cook until heated through. Season with salt and pepper to taste. Ladle the soup into cups and garnish with thyme, if desired.
* To make fresh pumpkin purée: Preheat the oven to 375 degrees. Halve a 5- to 6-pound Musquée de Provence pumpkin and remove the seeds and strings. Rub the inside of the pumpkin with 1 tablespoon butter. Place skin side down in a large roasting pan and add enough water to generously cover the bottom of the pan. Roast until the flesh is fork-tender, about 45 minutes. Remove from the oven and let cool. Remove and discard the skin, place the pumpkin in a blender or food processor, and purée until smooth.
Cooking Close to Home: A Year of Seasonal Recipes by Diane Imrie and Richard Jarmusz, Chelsea Green Publishing, 239 pages. $24.95 softcover.
If Diane Imrie's name sounds familiar, perhaps it's because you've eaten a local-beef burger or cassoulet while visiting Fletcher Allen Health Care, where Imrie is the director of nutrition services. Under her guidance, the hospital's kitchen has been nationally recognized for its use of locally grown food.
Two years ago, Imrie collaborated with Jarmusz, Fletcher Allen's executive chef, on Cooking Close to Home, an elegant book of seasonal recipes that draw on Vermont-grown ingredients. Instructions for such dishes as Parmesan-potato pancakes and braised turkey thighs with currants are simple and easy to follow. Included are pro tips on kitchen tricks such as making your own crackers or roasting chestnuts.
Our pick for Thanksgiving is dedicated to Seven Days associate editor Margot Harrison, who has come to editorial meetings in search of ideas for using root vegetables, including kohlrabi. This crunchy, fruity salad is an able foil to Turkey Day's fattier fare.
This recipe is reprinted here with the permission of the publisher.
Winter Kohlrabi and Cherry Salad
(serves four)
Dressing
1 tablespoon black-currant vinegar (or another berry-infused vinegar)
1 1/2 tablespoons olive oil
1 teaspoon fresh garlic, minced
1 teaspoon honey
1 teaspoon dried parsley
1 teaspoon dried, crushed oregano
1/8 teaspoon fresh-ground black pepper
dash salt
Salad
2 cups kohlrabi (any color), thinly sliced
1 cup celeriac or celery, peeled and thinly sliced
1/2 teaspoon fresh lemon juice
1/2 cup dried cherries
1/8 cup white onion, minced
Prepare the dressing by whisking together the vinegar, olive oil, garlic, honey, parsley, oregano, pepper and salt. In a large bowl, mix the kohlrabi, celeriac (or celery), lemon juice, dried cherries and onion. Add the dressing to the vegetables and mix well. Serve.
The Animal Farm Buttermilk Cookbook: Recipes and Reflections From a Small Vermont Dairy by Diane St. Clair, Andrews McMeel Publishing, 210 pages. $27.99.
The dust jacket of Diane St. Clair's homage to buttermilk, The Animal Farm Buttermilk Cookbook, is covered with accolades from the French Laundry's Thomas Keller and chef Barbara Lynch. That's because Keller serves up the butter that St. Clair produces on her Orwell farm, called Animal Farm, at his Napa restaurant, as well as at Per Se in New York and No. 9 Park in Boston. (Closer to home, you can track it down at the Middlebury Natural Foods Co-op.)
The byproduct of butter making is buttermilk — lots of it. So it makes sense that St. Clair is a fount of recipes using milk's slightly sharper cousin, including salmon chowder and green-chili stew with masa dumplings. Her book also includes an alternative to classic creamed spinach: buttermilk creamed chard.
Buttermilk Creamed Chard
(serves four)
Two bunches
Swiss chard
2 tablespoons unsalted butter
2 garlic cloves, minced
1/2 cup chicken stock
1/4 teaspoon freshly grated nutmeg
Salt and freshly ground black pepper
1/2 cup buttermilk
1/2 cup heavy cream
1 tablespoon fresh lemon juice
Trim any thick ribs from the chard. Roll four or five stacked leaves at a time and slice the chard in one-inch pieces.
Melt the butter in a large skillet and cook the garlic for one minute, just until fragrant. Add the greens, chicken stock, nutmeg, and a sprinkle of salt and pepper. Bring to a boil, lower the heat, cover the pan, and simmer gently until the chard is wilted and tender, three to four minutes. Use a slotted spoon to scoop the greens into a dish.
Pour the buttermilk and cream into the skillet and raise the heat. Boil until the liquid is reduced and thickened, about 10 minutes. Stir the chard back into the pan to heat through and coat the leaves in the creamy sauce. Add the lemon juice, adjust the seasoning as needed and serve hot.