Courtesy Of The Vermont Historical Society
Vermonters marching with suffragists from other states in Washington, D.C., in 1913
On August 18, 1920, Tennessee became the 36th state to ratify the 19th Amendment, and on August 26 the U.S. secretary of state certified the ratification, which encoded the voting rights of women into the U.S. Constitution. A century later, people nationwide are commemorating the anniversary while also reckoning with the flaws of a suffrage movement punctuated by racism and an amendment that failed to ensure suffrage for people of color.
The Vermont Suffrage Centennial Alliance is encouraging people to gather in safe numbers on Wednesday, August 26, to recognize the anniversary, urge continued dedication to voting, and oppose the voter suppression that continues in parts of the country. The VSCA began planning centennial celebrations in 2018, according to Sue Racanelli, the VSCA director and president of the League of Women Voters of Vermont. The VSCA is a project of the league's education fund
"It's 100 years since women got the right to vote, and we were looking more at commemorating it than celebrating it, because we knew there was a history of racism in the movement," she said. "It was not a celebration for all women ... It's a long, complicated history, and we're often told all the good things that happened."
Though the pandemic has waylaid the VSCA's original plans for a large celebration, the organization is planning events through the fall, including a traveling exhibit at high schools and virtual presentations.
The centennial is occurring in a year in which racial inequities in many facets of American life have been brought to the forefront of national conversation. Historians and the media are reexamining the legacies of many of the white heroines of the movement who opposed Black people's voting rights, excluded them from the movement and erased their contributions from the story of the fight for suffrage. These women include Alice Paul, famously portrayed by Hilary Swank in Iron Jawed Angels, and Susan B. Anthony, whose gravestone was decorated with "I Voted" stickers in recent elections.
"From its inception, the women's suffrage movement in the U.S. was segregated," said Kathryn Dungy, an associate professor and chair of the history department at Saint Michael's College. "Black women were always in the movement, and there was always contention between white women and Black women."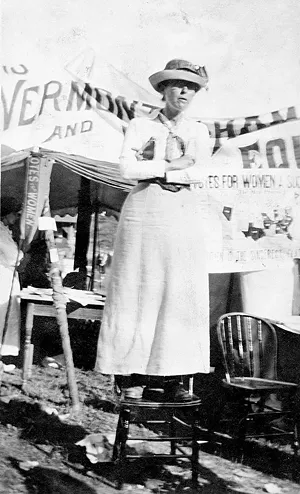 Courtesy Of The Vermont Historical Society
A suffragist at the 1912 Vermont State Fair
After the Civil War, Black men were granted the right to vote by the 15th Amendment in 1870, which caused a split between white suffragists and the abolitionist movement. White suffragists feared that associating their cause with Black women would alienate Southern white women, whose support they felt they needed because Southern Democrats were some of the staunchest opponents of suffrage in the House and Senate.
Many Black women made their names advocating for women's suffrage and civil rights, including Mary Church Terrell, Ida B. Wells-Barnett, Sadie T.M. Alexander and Nannie Helen Burrows. Black women marched in the first suffragist parade in Washington, D.C., in March of 1913, despite white suffragist leaders' attempts to exclude them and make them march at the back.
Even after the 19th Amendment passed, people of color were routinely blocked from voting through various voter-suppression tactics. "It's just a law. It's the enforcement of it that is the issue," Dungy said. "If you're not a white woman, then you're not afforded the protections of your whiteness."
It took the 1965 Voting Rights Act to enforce the 15th Amendment and prohibit racial discrimination in voting, but organizations such as the American Civil Liberties Union argue that modern-day voter ID laws and voter roll purges disproportionately disenfranchise people of color.
"The movement never ended," Dungy said. "Just because the amendment was passed doesn't mean that Black women stopped fighting for the right to vote. They continued in all of their causes." She cited the nomination of Kamala Harris as the Democratic candidate for vice president as a powerful step for Black women.
"One hundred eight years on from the [1913] march, and look what we've achieved," Dungy said. "I don't think any of the women in that march would've ever imagined Kamala Harris being here, where she is, in 2020."
Vermont, despite its modern reputation for progressivism, wasn't one of the first 36 states to ratify the 19th Amendment. (Percival Clement, the governor at the time, prevented legislators from calling a special session to vote on ratification because he largely opposed alcohol prohibition and thought women would vote in favor of it and other reforms.)
Women's suffrage was much more common in western states. After the Civil War, Vermont remained agrarian, didn't industrialize in the same way as other states and actually became relatively "backwards" on women's rights issues, said Marilyn Blackwell, a historian and member of the VSCA executive committee. "The state was not in the forefront of this issue at all."
Rumblings of suffrage had begun in the state as early as the 1850s, when Clarina Howard Nichols proposed that women be able to vote in school meetings. She was the first woman to address the Vermont legislature, said Blackwell, and she was ridiculed. Nichols eventually left Vermont for Kansas; women weren't allowed to vote in Vermont school meetings until 1880.
In later decades, the Vermont suffrage movement drew most of its ideas from national figures in Boston and other northeastern cities. Suffragists from those cities came to visit Vermont, and the newspapers here were "merciless" in mocking them, Blackwell said.
Notable Vermont suffragists included Lucy Daniels, a Grafton woman who had inherited property and never married, which was rare in the early 20th century. Daniels made a splash when she refused to pay her property taxes in protest of her lack of voting rights and painted a prominent sign on her barn advocating for suffrage. She was arrested multiple times at protests in Washington, D.C.
Vermonter Annette Parmelee also became well known as a suffrage advocate, lobbying in the legislature and holding satirical mock sessions in which she invited men to advocate for why they should be allowed to vote.
Courtesy Of The Vermont Historical Society
A postcard encouraging women's suffrage
Along with other talking points, Vermont suffragists picked up discriminatory arguments and attitudes from national leaders. "Many of them were fairly casually using many of the arguments that came from the national movement, suggesting that poor immigrants, uneducated immigrants, were not as good voters as women," Blackwell said.
The movement in Vermont does not appear to have been particularly diverse. "We have been unable to find any Black women who were involved in the movement, or Indigenous women, but it's not surprising," Blackwell said. "Black women who were living here were not apt to be involved with these white middle-class women who were running the movement."
Blackwell said she hopes those who commemorate the centennial will use it to affirm their commitment to voting and to defending voting rights.
"Voting is not only important but hard-won, and it took a long time. This was 70 years that it took for women to get this right. Don't take it lightly," Blackwell said.
Dungy agreed. Despite the flawed legacy of the 19th Amendment, she described it as an important step in the ongoing movement for equality.
"The thing to take away from it is that struggles are not static. Once something is achieved, you can't sit back on your laurels," Dungy said. "If you use the 19th Amendment as a closure, then it disenfranchises people. Because it was not a closure. It was an opening."