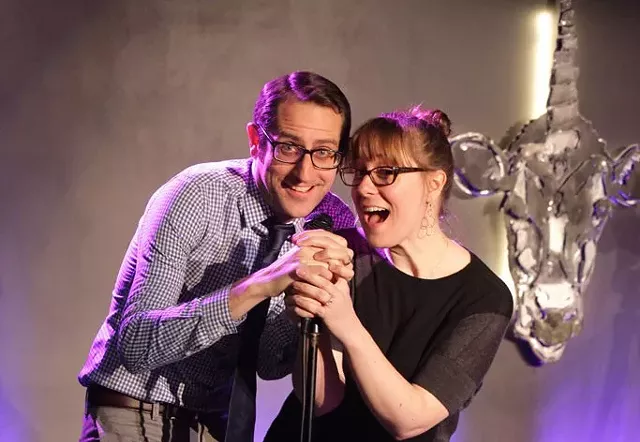 Matthew Thorsen
Nathan Hartswick and Natalie Miller
On opening night, the bathrooms of the new Vermont Comedy Club in downtown Burlington still smelled of fresh paint, the polished concrete floors glistened, and founders Natalie Miller and Nathan Hartswick couldn't have been happier. All four nights of Vermont's Funniest Comedian, the annual standup competition they founded in 2012, had sold out. The bar was packed with comics, comrades and community members off all ages, from fresh-faced college students to seasoned citizens.
This is the first time Miller and Hartswick have hosted the comedic marathon, which pitted 60 local comics against each other, in their own space (previously Club Metronome lent its stage). Their new accommodations in the historic Armory building below the Hilton Garden Inn also serve as new headquarters for Spark Arts, the couple's performing-arts education program.
"We're so appreciative of all of the venues we've been able to perform in so long without a home," Hartswick wrote in an email to Seven Days. "Now that we've designed our own space, made intentionally for comedy and a room that has the full attention of the crowd, it is so rewarding and exciting."
Upon entry to the club, it was easy to see what Hartswick meant. The long bar facing Main Street provided ample room for conversation and libations, leaving the 150-seat theater appropriately quiet. And for thirsty folks who didn't manage to get their fix before the show started, table service ensured that everyone stayed sufficiently lubricated.
Among the crowd waiting for the slammed bartenders to turn their way, the most common question seemed to be, "Are you one of the comedians?" That's because, with 30 performers (the other half were to compete the next night) packed into the club along with 150 ticket-holding patrons, a "yes" wouldn't have been statistically improbable.
We were asked that very question by Rebecca Grenier, a former Spark Arts student, while we vied for a drink. "[The comedy class] was a lot of fun," the Burlington resident said. "It's just such a welcoming scene."
Indeed. As audience members filed into the dimly lit theater, servers began their rounds, proffering snacks curated by Butch + Babe's, and cocktails bearing names like Resting B*tch Face and the Coddington. (The chance to name a drink was a perk for certain contributors to Miller and Hartswick's crowdfunding campaign for the club.)
Hartswick kicked off the night by welcoming the audience to the new space. "My wife, Natalie, would be here normally, but she's off running around like a maniac," he quipped. And with that, the gates opened. Each comic had four minutes to wow the judges and audience with their best bits. At the three-minute mark, a red light signaled them to wrap it up.
The judges were tasked with evaluating each performer on their stage presence, originality, timing, audience response and, of course, how funny they were.
"We pick the judges intentionally," said Keilani Lime, the club's marketing and sales director, "seeking out people who offer real and valuable industry insight, and connections to [help] the comedians further their careers." Three of this year's nine judges work with Just For Laughs, Montréal's international comedy festival; others were booking and production professionals.
As the night unfolded, the audience was treated to a number of memorable moments, such as Bitsy Biron rapping, "I want Bernie Sanders' baby," and Tony Bates saying, "Listening to NPR for five hours a day doesn't cause you to be self-righteous and condescending, but there's a correlation."
Race, sexuality and family dynamics were common themes throughout the night. Jade Marcotte opened up about her "stereotypical black upbringing ... in the Northeast Kingdom of Vermont. On a Christmas tree farm." And Tyler Denton quite accurately thanked the audience "for coming to Vermont's Funniest White People."
Anya Volz reminded the audience of the strange things we do to make ourselves more beautiful: "I won't be fully convinced that the patriarchy has been properly dismantled until I no longer have to pluck the hairs from my areolas in order to feel worthy of love."*
And Kendall Farrell, who came in third in last year's competition, captivated everyone with a story about navigating a difficult conversation with his mom. When the fresh-faced comic perched on a stool, imitating his mom, and leaned in to the audience, it seemed like the crowd returned the action, riveted by his performance. Equally entranced (not that this is a claim of precognition), a reporter jotted down, "Kendall Farrell - THE BEST."
Out of the 60 performers who commanded the stage on Wednesday and Thursday night, only 20 advanced to Friday's semifinals. From that group, 12 were selected to compete for the title of Vermont's Funniest Comedian on Saturday night. Farrell indeed came out on top, taking home $300 in cash and numerous nonmonetary prizes, including a podcast microphone from Advance Music, a head shot session with photographer Ari Scott and a featured show at next year's Green Mountain Comedy Festival. Volz placed second, Sami Schwaeber took third, Mike Thomas fourth and Tim Bridge fifth.
Matthew Thorsen
Kendall Farrell
"I'm excited; it feels good," said Farrell in a post-win phone interview. The 22-year-old Vermont native, who temps for Westaff, says comedy has always been his obsession. "I was one of those kids who grew up watching 'Roseanne' and 'The Office' over and over again."
While there weren't many chances to get onstage in Farrell's native Brattleboro, he said it felt "like it was very fortuitous that I moved [back to Vermont] just as this burgeoning scene was happening, where I can get up onstage just as much as I could in Boston." And while he's enjoyed practicing during open mics at Nectar's and Manhattan Pizza & Pub, Farrell said he's grateful for the atmosphere the new club will provide.
After she was done running around like a maniac, Miller shared her enthusiasm in an email to Seven Days: "It feels incredible, surreal and very exciting. We wouldn't be able to put on shows five nights a week without so much local talent — we'd be nowhere without the incredible comedians in this community."
*Correction, June 14, 2016: This story has been updated with more accurate wording for Anya Volz's joke.