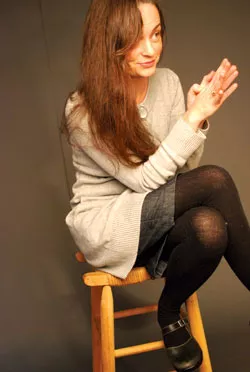 The teenage heroine of Julianna Baggott's dystopian novel Pure has a doll's head permanently fused to her hand. It melded with her body during a series of "Detonations" that transformed the earth into a hellscape of rubble and bizarrely mutilated and mutated human beings.
Is this the latest Hunger Games clone, or a magical-realist twist on The Road? Reading Pure, it can be hard to tell, and the novel's versatility reflects its author's.
Florida-based Baggott has published 19 books over the past 12 years under her own and two pen names, spanning genres from poetry to kids' lit to women's fiction to a novel about the Boston Red Sox. She's one of five distinguished visitors who will speak at the Vermont College of Fine Arts as part of its MFA in Writing residency, which runs from December 29 to January 7. (The others are poet and translator Nicholas Benson, nonfiction writer Harrison Candelaria Fletcher, poet and novelist Lucinda Roy, and Jean Valentine, the former state poet of New York.)
With the third novel in her Pure trilogy due out in February, and the three books optioned by Fox 2000 for film adaptation, Baggott appears to be riding a wave. We emailed her in advance of her visit, and the prolific writer lived up to her reputation by responding to our questions in a mere half hour.
SEVEN DAYS: What will you be reading from or discussing at VCFA?
JULIANNA BAGGOTT: I've developed something much like a TED Talk about efficient creativity, a topic that reaches across various kinds of arts and all disciplines, really. I break down our most detrimental cultural myths about creativity, and pull from inventors and artists, as well as my personal experience, to not only answer questions about what makes an idea beautiful or compelling but also how to get those ideas to come to you with the greatest efficiency. I'll also likely read a bit from the Pure trilogy; the third and final installment, Burn, hits stores in February.
SD: That trilogy combines elements of literary magical realism, speculative fiction and coming-of-age fiction, and I've often seen it referred to as young adult, though it isn't sold that way. I'm curious to know how you conceived the story, and whether considerations of genre and category factored in. Did those labels change as the book went through the publication process?
JB: One tip for efficient creativity in writing a novel is to imagine urgently whispering your story into one person's ear. If you're not urgent, then it isn't the right story to tell. And if you imagine only one person — not vague, disparate mass readership — then all of your decisions are crystallized, from what to leave out to what word to choose. I wrote Pure for my daughter, who was 13 or so at the time. However, the novel went to both adult and young adult editors. We had bids from both, and opted for an adult house. Pure ended up winning an ALA [American Library Association] Alex Award, which is precisely for adult novels with crossover appeal to teens.
SD: You've written in several genres and for different age groups. Do you self-consciously take on a different "voice" for different audiences?
JB: My voice is informed by my audience — again, that one, sometimes young, delicate, wildly imaginative ear I'm whispering the story to. Moving between genres — novels to collections of poetry to essays for, say, the New York Times — helps me stay fresh. Another audience with new expectations brings out my own newness, which I crave. I can't stand it when I read my work and think: Oh, look, there's Baggott being Baggott again.
SD: What's next for you?
JB: I have a forthcoming literary novel that spans the 20th century, The Bloomed Life of Harriet Wolf. Harriet Wolf is a fictional character — a famous reclusive writer who left fans desperate for a seventh book in her oeuvre. When Wolf's dysfunctional family reunites after her death, they are each clamoring to find the lost book. It will be published by Little, Brown in 2015.
Julianna Baggott speaks on Saturday, January 4, 7 p.m., at College Hall Chapel, Vermont College of Fine Arts in Montpelier. Free. For info on this and other readings, visit vcfa.edu/visiting-writers.