In the late '90s, when I was an ironic teen with a thing for infomercials, my favorite featured the slimy Ron Popeil shilling his Popeil Electric Pasta & Sausage Maker. But I didn't enjoy it just for the laughs. I secretly coveted Popeil's all-purpose marvel, which could whip up Indian curry pasta, summer fruit pasta or Russian borscht pasta, as he told his stunned cohost in the infomercial.
In my twenties, I realized that something was missing from my life. It was a Popeil pasta maker. By then, they were no longer being made new (they are again now), so I took to eBay to buy one used. I ignored the unfavorable online reviews with visions of chocolate dessert pasta dancing in my head.
I consider myself a pretty deft home cook, but no matter how I adjusted the basic recipe, I ended up in tears every time I tried to use that bloody machine. If the dough deigned to extrude from one of the "12 pasta-shaping dies," the noodles were so soft that they turned to mush as soon as they hit boiling water.
The Popeil debacle led to a new age of unsuccessful pasta-crafting attempts on a hand-crank machine I bought at T.J.Maxx. Somehow, pasta eluded me. It became my culinary bête noire.
But the inspiring trend of housemade pasta at local restaurants made me decide it was finally time to buckle down and overcome my fear. I resolved to go to the source and get training from two of the most skilled local pasta specialists.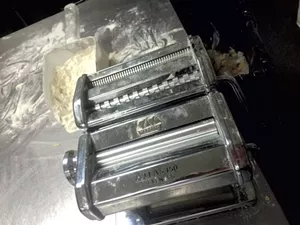 Alice Levitt
Pasta machine at Bluebird Tavern
Bluebird Tavern's executive chef, Eric Martelle, worked his way through the ranks at New York pasta palace Del Posto before returning to his native Vermont to work at the now-shuttered Pistou. He would represent my education in new-school, haute cuisine noodle making. On the Old World end, I would do a morning-long stage at Junior's Rustico with Franco Checchi, the scion of a Barre marble-sculpting clan whose family returned to Italy when he was 7.
Spoiler alert: The training paid off, and my cooking is now in a pasta phase — not unlike Picasso's blue period, but with infinitely more calories. While I wrestle with my own takes on ravioli al uovo and gluten-free spaghetti, I share two of my triumphs here, along with the tricks I learned from the experts. But don't tell Mr. Popeil — I'm not even trying to get my head around his French Champagne pasta.
Last Tuesday, I dropped in on Martelle and Bluebird Vermont executive chef Michael Clauss as they prepared for the Tavern's weekly Handcrafted Tuesday. I arrived just in time to help mix Martelle's chickpea spaghetti in the kitchen's small Arcobaleno pasta machine.
Dumping Bob's Red Mill chickpea flour into the machine with eggs and water, the chef explained that it's important to him to offer such gluten-free options. "I would never deny any diner lamb neck 'cause you can't eat flour," he said, alluding to the bucatini dish on the regular menu. "I love pasta so much, I can't even imagine. Gluten-free people deserve to eat cool stuff, too."
Alice Levitt
Tagliatelle at Bluebird Tavern
Martelle, who also plied his trade at New York landmarks Per Se and Lincoln Ristorante, focuses on making innovative pasta as well as rib-sticking comfort food. A few weeks ago, one Handcrafted Tuesday special that incorporated the chickpea pasta was octopus Bolognese. The cephalopod was ground and stewed with preserved lemon.
In the machine's mixer, the chickpea mixture appeared mealy, like a broken pecan sandy. But it extruded quickly. As I cut the pasta and rolled it into nests, there was some breakage. Martelle said that was partly due to my newbie clumsiness and partly to the brittle nature of the pasta.
But when he served me a sample dressed in olive oil and Aleppo pepper, it was as slippery and toothsome as any wheat pasta. Since Martelle left Del Posto, he told me, the restaurant has begun serving a gluten-free pasta tasting menu. It tastes like he's not far from performing such a feat himself.
Still, there's no real replacement for basic pasta made with all-purpose flour, so I asked for a tutorial. A Bluebird dishwasher who prefers to be identified just as "Josh" took me through the finer points of rolling out the dough and passing it through the manual press.
To build gluten, it's important not to cut corners, Josh emphasized. We started by using the machine's widest setting, then folded the sheet of dough over and over and pressed it through again. Once the texture suited Josh's liking, we took the dough through thinner settings one by one. We ended by sending it through the machine's cutter, resulting in lengths of tagliatelle that we doused in flour and rolled in nests before leaving them to cool on a hotel pan.
I ran to Healthy Living to gather ingredients, then headed home to make my own version.
Tagliatelle With Short Rib Ragú
Pasta:
2 cups all-purpose flour
1/2 teaspoon salt
3 eggs
Ragú:
1 pound beef short ribs or 1/2 pound chuck
1/2 tablespoon cumin
Salt and pepper, to taste
Togarashi, preferably yuzu, to taste
4 cloves garlic, crushed
1 tablespoon tomato paste
1 tablespoon all-purpose flour
1 cup red wine
1/2 cup beef stock
6 kale leaves, finely chopped
1 tablespoon date vinegar
Garnish:
For the pasta:
Combine flour and salt in a large bowl, then form into a well. In another cup, beat together eggs. Pour beaten eggs into center of well, then add flour to eggs, little by little, by hand.
Continue to work dough until it feels like soft clay. Vacuum seal dough or wrap it in plastic and let it sit for half an hour to two hours.
On a heavily floured surface, roll out dough until it's thin enough to begin feeding through your pasta machine. Don't have a press? Continue to roll with a rolling pin or wine bottle until light shows through.
If you do have a machine, put pasta through several times, folding over to build gluten, until pasta is thin enough to pass through the smallest setting. Cut and flour pasta and reserve.
Once you are ready to cook, boil pasta for about three minutes. It goes quickly, so be vigilant. Shock it in cold water before adding to the sauce.
For the ragú:
Season beef and coat in about half of the cumin and the salt, pepper and togarashi to taste. Sear on high, then set aside. Decrease heat to medium and sauté garlic. After a minute or two, combine tomato paste, the rest of the cumin and the flour in pan until lightly toasted.
Increase heat and add red wine. Cook down for a few minutes, then add beef stock. Return to low-medium heat and replace beef. Braise, covered, for two or three hours, until meat easily pulls apart. Pull into chunks and return to sauce. Add chopped kale and vinegar to sauce and stew until tender. Add pasta to pot and thoroughly combine with sauce. Serve with a shower of grated Consider Bardwell Farm Rupert.
Two days after my first pasta lesson, I was back at it in the Shelburne Road kitchen of Junior's Rustico. Though the restaurant is new, Checchi's pasta techniques are anything but. Raised in Pissione, a tiny suburb of Brescia, Rustico's prep manager grew up steeped in local culinary traditions. He told me he returned to the States to escape the lack of opportunities bred by Italian bureaucracy, but that he misses the osterie, trattorie and home cooking of Italy. Lucky for Checchi, his mom recently visited and left him with 350 ravioli in his home freezer.
Checchi arrives before 9 a.m. each day to begin making pasta for the restaurant's specials. Though the kitchen is supplied with both a roller and extruders, he prefers to make his pasta the old-fashioned way, rolling it out by hand with a wine bottle.
"A good rule of thumb: You want to be able to read a newspaper through that," Checchi said, working his semolina dough into a thin sheet under a small portrait of Jesus. He grabbed the instruction manual for one of the pasta machines and slipped it under his dough. The cover was easily legible, meaning it was time to cut the noodles by hand.
Alice Levitt
Franco Checchi with a tray of gnocchi at Junior's Rustico
The semolina maltagliati Checchi was demonstrating to me were just for show, as were the quadrucci, square pasta that the chef likes to use in a chicken consommé. "It's a beautiful, nutritious dish," he said with passion. Checchi's real task for the morning was preparing butternut-squash-and-spinach gnocchi for a special that night.
Such specials are collaborations between Checchi, Rustico's chef Joe Perella and owner Franke Salese. For now, those are the only dishes in which Checchi's pastas appear, though he hopes to begin making all of the restaurant's noodles and sausages from scratch in the coming months.
Many chefs use potatoes and flour in equal measure when making gnocchi, Checchi said. But he prefers to keep flour low to maintain the dumplings' cloudlike texture. It's not always easy to work with dough so soft, but the difficulty of rolling the forgiving pasta into thin tubes is balanced by the joy on the palate.
Before I left, Checchi asked if I'd ever had gnocchi with Gorgonzola cream sauce. He detailed his traditional recipe. I listened, then went home to create my own version sans heavy cream.
Butternut-Squash Gnocchi With Gorgonzola, Lavender and Pear
1 butternut squash, halved and de-seeded
4 potatoes, halved
Pinch of salt and pepper
1 cup grated Parmesan or pecorino Romano
4 eggs
1 cup flour
2 slices pancetta
1 pear, skinned and chopped fine
1 tablespoon butter
4 ounces Gorgonzola, cubed
1/2 teaspoon dried lavender
2 tablespoons milk
For gnocchi:
Season squash and potatoes with salt and pepper, then cover in foil and roast at 400 degrees for about 20 minutes, until soft. Let cool slightly, then use your hands to squeeze out any excess liquid. In a large bowl, mash both finely. Add a pinch each of salt and pepper, the grated cheese, the eggs and the flour.
Once the mixture is thoroughly combined, roll bits of dough into long tubes on a floured surface. Cut each tube into segments about equal to the length between the bottom two bones of your pinky finger. When all the gnocchi are ready, cook them in boiling water until they all float. Pour out and shock in cold water.

For sauce:

On high heat, crisp pancetta, then reserve. In the same pan, melt butter on medium-high heat and add pears. Cook for a few minutes, then reduce heat slightly and add chopped Gorgonzola. Once it's melted, add lavender and a bit of milk. Cook until well combined and slightly reduced.
Add pasta and coat in sauce. Serve with a side salad.




The original print version of this article was headlined "Rolling the Dough"