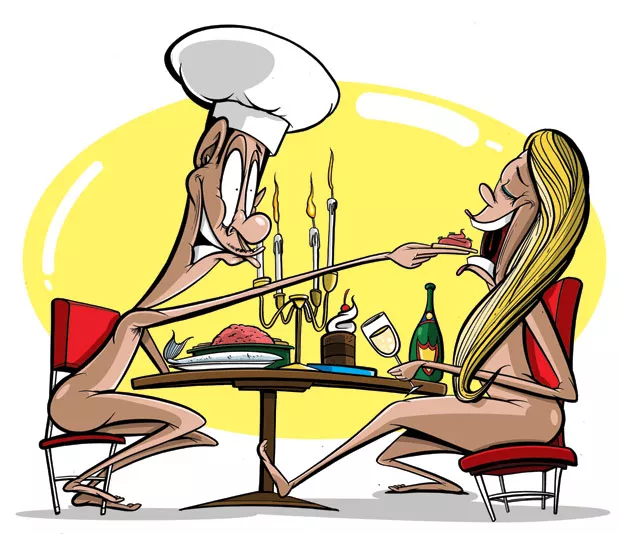 What gets you hot in the kitchen? Neurologist Alan Hirsch of the Chicago-based Smell & Taste Treatment and Research Foundation decided to find out. His 1995 study revealed that penile blood flow could be increased by the smell of foodstuffs ranging from a mixture of black licorice and cola to plain old cheese pizza. Women were more likely to be turned on by cucumbers and Good & Plenty candy. Cherries, by contrast, were a distinct turnoff for the fairer sex.
Scientists like Hirsch may have the patience to pinpoint aphrodisiac effects by combining substances such as pumpkin pie and lavender, or baby powder and chocolate, but most of us just want a food experience that will get our blood pumping. What better source than chefs, who are in the business of getting diners excited about food — and, perhaps, in the mood for post-dining activities?
So we asked four Vermont chefs to share a recipe guaranteed to send couples from the kitchen to the bedroom in short order. From slippery to spicy to luxurious, these dishes might just hit all your culinary erogenous zones. And you can make them at home, so, if you prefer to partake of the after-dinner delights right on the kitchen counter, we won't judge.
Connie Warden, The INN, Montgomery Center
Chef Connie Warden has always had a taste for the adventurous. After selling Chow! Bella in St. Albans last year, she pulled up stakes and headed to Anne Amie Vineyards in Portland, Ore., for the harvest season. Now, at her hip new workplace, the INN in Montgomery Center, Warden is introducing Vermont's rugged northwest to Vietnamese noodle bowls, tempura beets and Red Hot Rock Candy-Encrusted Ginger Snickerdoodle Vanilla Bean Ice Cream Sandwiches.
"My sense of the erotic is slightly skewed these days," jokes the chef, who cooked at Burlington gay club 135 Pearl in the 1980s. But we think Warden's steak tartare, prepared à deux, is just the thing to stir your rawest passions. Warden emphasizes that top-quality beef and a sharp knife are musts. "This participatory process is best done side by side," she says. Just try not to shed any clothes till you're done with those knives.
Tableside Steak Tartare
Yield: Two ample servings of lusty proportions
1 egg yolk or 2 quail egg yolks
2 teaspoons Dijon mustard
2 anchovy filets, finely chopped (don't even think about skipping them)
2 teaspoons soy sauce
1 teaspoon Worcestershire sauce
Tabasco sauce, to taste
Coarsely ground black pepper, to taste
3 tablespoons light olive oil
1 tablespoon Cognac
1 tablespoon shallots, freshly and finely chopped
1 tablespoon capers, rinsed
2 cornichons, finely chopped
4 sprigs flat parsley, finely chopped
12 ounces well-trimmed, fresh sirloin, finely chopped
4 slices fine-quality dark pumpernickel bread, toasted and quartered, for toast points
Separate the egg yolks into a large, stainless-steel bowl and add the mustard and anchovies. Mix well, then add the soy sauce, Worcestershire sauce, Tabasco sauce and pepper. Mix well again.
Slowly whisk in the oil, then add the Cognac and mix again. Fold in the shallots, capers, cornichons and parsley. Keep all well chilled.
Add the chopped meat and mix by hand. Toss the ingredients as if caressing the foam on top of seashore waves until well combined. If you are distracted, refrigerate for a short while.
The tartare is best if shared immediately. Serve with truffle French fries and toasted bread points. Crisp kale salad with lemon-honey vinaigrette and toasted almonds would also complete this orgy of hands-on primal flavors.
A Champagne cocktail of a very dry bubbly topped off with the remaining Cognac from the recipe might well seal the deal.
Chris Russo, San Sai Japanese Restaurant, Burlington
We couldn't skip oysters — or a hint of heat — in our hypothetical sexy meal. And Chris Russo of San Sai Japanese Restaurant wouldn't have it any other way. "I could eat six easily," says the New Jersey transplant, who crafts Burlington's most seductive sushi alongside his teacher, Kazutoshi Maeda. "They're oysters. What's not sexy about oysters?"
Sexier still is the tingly bite that a hint of hot sauce imparts to the slippery shellfish. Russo also says he finds the tang of citrus, er, inspiring. He recommends that home cooks not follow proportions too closely, just mix the listed ingredients to their personal tastes.
But ultimately, it's the dish's simplicity that Russo thinks will get lovers going. "You need to be subtle and powerful — subtle and strong at the same time," he says. "Too much subtlety is not going to work especially well for you in that realm."
Ponzu Oysters
Yield: Serves 2
6 oysters
1/3 cup soy sauce
1/4 cup lemon, orange or lime juice
1 tablespoon rice vinegar
A small amount of daikon, shaved
Hot sauce, to taste
Chopped scallions, to garnish
Shuck oysters. Wash to remove sand. Nothing will kill the moment quicker than a hint of grit. Combine soy sauce, citrus juice and rice vinegar in a small bowl. Dress each oyster with just enough to cover it. Top each with a few pieces of shaved radish, a drop or two of hot sauce and some scallions.
To serve, place oysters on shells and fill a plate with salt. Nestle each oyster in a mound to keep the shell in place. Enjoy with dry or medium-bodied sake.
Jean-Louis Gerin, New England Culinary Institute, Montpelier
Having a knight cook for them is probably enough to whet many people's appetites. And Jean-Louis Gerin, declared both a Chevalier du Mérite Agricole and a Chevalier des Arts et des Lettres by the French government, certainly feeds diners with courtly ardor.
Now vice president of culinary operations and executive chef at the New England Culinary Institute, Gerin is spending less time on the line than he did during the lifespan of his famed Restaurant Jean-Louis in Greenwich, Conn. He's closed it, leaving himself more time for romantic evenings like the one suggested by the recipe he gave us, which is centered on a bottle of Champagne. "Cooking with Champagne is a great excuse to open the bottle," Gerin says. "There is a means to it — it's not just enjoyment. It has a purpose."
If that purpose is seduction, Gerin says, his red snapper dish will provide a sensual experience beyond that of getting drunk on premium booze. "The fish, when it's cooked like that, it's just melting. It's very friendly, and, at the same time, you have the crunch. It's a little bit of biting," he says.
Whether or not the biting continues after dinner, you'll still have that bottle to keep you company.
Champagne Red Snapper With Warm Fingerling Potatoes and Fennel Salad
Yield: Serves 4
4 large fingerling potatoes
4 skin-on red snapper fillets
Salt, to taste
White pepper, to taste
2 cups Champagne
1/2 medium yellow onion, peeled and finely chopped
2 tablespoons heavy cream
4 tablespoons butter
2 heads of fennel, thinly sliced and tossed with 1 teaspoon fresh lemon juice
4 cups arugula
Chopped chives for garnish
2 tablespoons lightly roasted almonds
Place potatoes in a medium pot of salted water, bring to a simmer over medium-high heat and simmer until cooked through, 10 to 12 minutes. Drain, peel and cut potatoes into quarter-inch-thick slices. Set aside.
Season flesh side only of fish (not skin side) with salt and white pepper and set aside. Bring 1 1/2 cups of the Champagne to a boil in a wide sauté pan large enough to fit all four red snapper fillets. Boil 30 seconds to remove the alcohol, then add the finely chopped onions and the red snapper fillets (skin-side up).
Cover and reduce heat to low. Simmer until the fish is cooked and the skin is shiny, about five minutes. Remove fish from pan, set aside and tent with aluminum foil.
To make the sauce: Increase heat to medium high, add the cream and boil fish-cooking liquid until reduced in volume by half, four to five minutes. Transfer liquid (with onions) to blender or food processor and blend with the butter and four slices of potato until smooth.
Bring remaining half-cup of Champagne to a boil in a small saucepan over medium heat. Add the slices of potato and heat. Add the blended fish-cooking liquid and carefully stir to mix well and allow to heat through, but do not boil. Finally, toss in the thinly sliced fennel, which should be wilted but not cooked.
To serve, place the arugula on each plate. Divide potatoes and fennel evenly among plates, then top potatoes with the red snapper. Drizzle fish with emulsified sauce and sprinkle with chives and roasted almonds. We think you know what to do with the rest of that Champagne.
Gerry Nooney, Sugarbush Resort, Warren
When he taught at the New England Culinary Institute, Gerry Nooney always worried that he was courting controversy as he gave future chefs a lesson on portion control that referred specifically to a meal's potential spicy sequel. "You don't want someone to eat 45,000 calories and think they're going to do anything other than sit in their car trying to catch their breath," he says. "What you want your guest to do is go home and have sex, because ultimately, if they do, they're more than likely going to come back to you. They might not remember the food, but they remember it was good."
Nooney never did get in trouble for that advice, and he says he holds to it as director of food and beverage at Sugarbush Resort. But the sexy dessert he shares with Seven Days has a more personal story. His wife chose it. Creamy white chocolate with the zip of cranberry and a hint of heat from cayenne pepper apparently excites Mrs. Nooney, though the chef himself says he finds "very little sexy" about the recipe.
Which brings us to another lesson: Always put the lady's pleasure first.
White Chocolate Mousse With Cranberry Salsa Cruda
For mousse:
4 ounces white chocolate
2 tablespoons heavy cream
2 egg whites
2 tablespoons sugar
2 ounces cream cheese
2 ounces crème fraîche
Vanilla bean or extract, just a touch
For sauce:
1 cup raw cranberries
1/2 cup brown sugar
Zest and juice of 1/2 orange
1 tablespoon fresh ginger
1/4 teaspoon cinnamon
Pinch of cayenne pepper
Pinch of salt
Melt chocolate with two tablespoons of cream over a double boiler. In another bowl, whip egg whites until soft peaks form. Add sugar and slowly beat until stiff peaks form. (You know you like it stiff.)
In a separate bowl, mix cream cheese and crème fraîche until smooth, then add melted chocolate mixture to crème fraîche mixture and whip until well combined. Carefully fold in egg whites. Let set for three hours.
Meanwhile, combine the sauce's ingredients in a food processor. Taste it together, adjusting the cayenne to the heat that you both desire. When the chocolate mixture has set, pour the sauce on top. If you get swept up and forget dessert while you wait, put the mixture in the freezer — a bit of frigidity won't keep this mousse down.
The print version of this article was headlined "Cooking WIth Heat".