Vermont Cedar Chair Company
Jason Lutz
Upbeat music fills the Vermont Cedar Chair Company warehouse in Hardwick, where energetic young staffers are cutting, sanding, assembling and packaging its wooden outdoor chairs. Owner Jason Lutz, 30, is on the phone, making sure everything is on track for the three regional trade shows his company reps will attend the following weekend.
"Have a seat," Lutz tells me with a confident grin, gesturing toward one of his chairs. "It's really comfortable."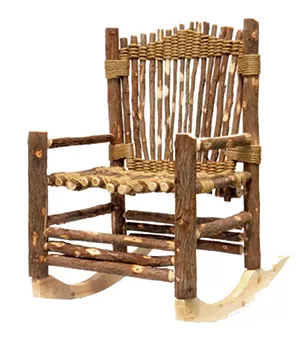 Vermont Cedar Chair Company
He's not exaggerating. Lutz's chairs combine an Adirondack-style frame with a woven, hammock-style back and seat. Unlike the stiff wooden boards customary of outdoor furniture, these innovative "hammocks" are flexible and hug your body.
It's no wonder the company has grown exponentially since its launch five years ago. VCCC's products are sold at local, national and international trade shows and in brick-and-mortar retailers. For the second year in a row, sales are up more than 100 percent.
While Lutz and his six-person team churn out 16 to 20 handmade chairs per day, they can't always stay apace of demand. They've had to turn away large orders, but Lutz is honing the manufacturing process to keep up.
His secret to success? It's twofold: He spent years perfecting the standout design of his product, and he's committed to sourcing its materials in an ecologically responsible way.
"Outdoor furniture is notoriously uncomfortable," Lutz points out. "We offer a comfortable alternative — and you don't have to worry about pillows."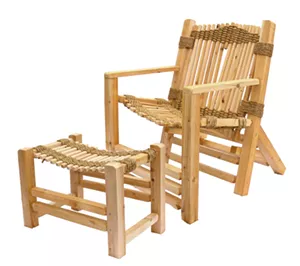 Vermont Cedar Chair Company
Lutz developed his original chair concept during a summer spent working in Jamaica between his junior and senior years at Ohio State University. He became fascinated with the natural bamboo that grew there, he says. The distinctive-looking plants are strong but lightweight and, when harvested, don't rot easily.
"[I] was very intrigued by it as a material," Lutz remembers. "People don't want to work to maintain their chairs. They want to put it outside and forget about it."
Lutz initially aspired to start a fair-trade furniture company that would employ Jamaicans, though those plans didn't pan out when he returned to school. However, something important did come out of that summer: a prototype of the chair he now manufactures and sells. "As soon as we had a prototype, I knew we had something," he says. "Everybody loved it."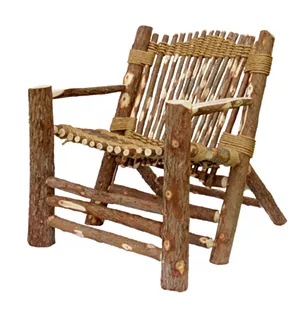 Vermont Cedar Chair Company
Lutz completed college and moved to Vermont, where he worked as a landscaper and considered his next steps. As fate would have it, his mother had purchased property in Danville and hired a logger to thin out a cedar stand in her yard. Instead, the logger cleared it entirely, leaving piles of scraps behind. When Lutz arrived to survey the damage, he had a light-bulb moment.
"It was like, Wow, they left everything I need to make furniture," he recalls. "They took everything that they could use and left anything that was under four inches in diameter. And that's what we use."
And so he began the Vermont Cedar Chair Company, using cedar scraps from the Vermont logging industry, as well as cedar wood from a local "mom-and-pop" logging mill two miles upriver from his warehouse. The latter, used in VCCC's Acadia line, sells at a slightly lower price point and has a more polished look than the rough-hewn industry leftovers.
The company has also expanded its offerings, producing rockers, ottomans and lamps. And Lutz is launching a new business endeavor: the Bamboo Chair Company, inspired by that summer in Jamaica. It produces the same chair from bamboo that's sustainably sourced and manufactured in Vietnam.
Lutz strives to leave no waste with his wood, and his chair seats are woven with natural manila fiber. Their elegantly rustic aesthetic has been a hit with customers. Plus, those hardy natural materials stand up to time and weather — even to years of exposure in harsh New England winters.
It's clear these well-designed chairs are a labor of love for Lutz. And, as he discovered when he was laying the groundwork for his biz, that passion is partly genetic. "My mom said to me, 'Do you want to know why you like to make furniture?' and she pulled out the family album," Lutz says. Turns out, three generations back, Lutz's family in Michigan owned what he says was one of the largest furniture companies in the world at the time: the Grand Rapids Chair Company.
"I had no idea," Lutz says. "It's amazing."
Soon after, he took six chairs to a trade show in Waitsfield and sold out in an afternoon. "The rest," Lutz concludes, "is history."