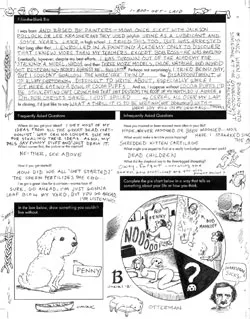 Harry Bliss swears that Louise, the Adventures of a Chicken is his last children's book. The South Burlington illustrator has been "sweating over" the 52-page picture book written by children's author Kate DiCamillo, and he's getting cranky. Oh, he's plenty grateful for the nine that came before it — five of them were on the New York Times Bestseller list, and three made number one. But he wants more time to devote to his first love: cartooning.
The New Yorker has published more than 100 of Bliss' single-panel cartoons — and 17 covers — since he began submitting them in 1998. That's not bad, considering the odds: The magazine receives roughly 500 submissions per week for about 20 available slots. What the esteemed publication doesn't accept from Bliss might appear in some 40 newspapers across the country, including this one. "Bliss" usually manages to be both winsome and wry, but when it tilts too far to wicked, the syndication service turns it down as well. These edgy entries generally find a home in Seven Days.
Further proof that rejection isn't always a bad thing: The Rejection Collection: The Cream of the Crap. Bliss has five cartoons in the recently released second volume of this compilation. Edited by Matthew Diffee, it comprises a selection of submissions that didn't make the cut at The New Yorker — though the book is not officially affiliated with that publication. The Rejection Collection amasses "the ultimate scrap heap of creative misfires," writes Bliss in an email, "from the lowbrow and the dirty to the politically incorrect and the weird."
As with DVDs these days, this collection comes with lots of extras. Diffee issued a questionnaire to the selected cartoonists, and their handwritten answers are included in the book, along with photographed self-portraits. In this sample from a provided "fill-in-the-blank bio," Bliss demonstrates that his irreverent wit doesn't have to come with pictures (his part is in caps):
I was born AND RAISED BY PAINTERS — MOM ONCE SLEPT WITH JACKSON POLLOCK OR LEE KRASNER AND THEY USED jellyfish URINE AS A LUBRICANT AND SOME YEARS LATER, in high school, I TRIED THIS TOO, BUT WAS ARRESTED . . .
The Rejection Collection has an appendix explaining "the top 10 reasons why cartoons are rejected" and "the solitary nature of the job of cartooning." Also, there's a section of questions that the cartoonists were invited to ask New Yorker cartoon editor Robert Mankoff, along with his responses. Bliss' question: "Why don't we make love more than once a week?" You'll have to read the book to learn the answer.
Fans can get an autographed copy of The Rejection Collection this Sunday at Barnes & Noble. Bliss will be signing that as well as his most recent children's book, Diary of a Fly. Both, he suggests, "make great Christmas presents!"
"Bliss" usually manages to be both winsome and wry, but when it tilts too far to wicked, the syndicate turns it down.