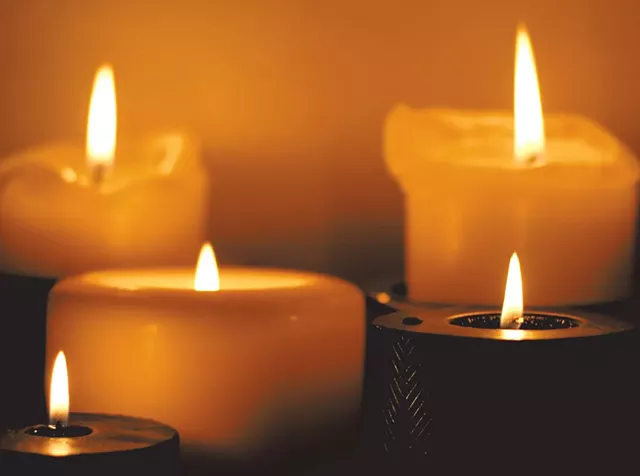 Winter is coming, and you know what that means: It's candle season. Not just if your power goes out in a storm, but because lighting candles against the darkness instantly makes a room warmer, cozier and more inviting. Bonus: Many candles smell good and can even make you feel good.
But before you reach for the matches, take a look at your waxy votive. Unless it's expressly labeled soy or beeswax, it's likely made of paraffin, the most readily available candle wax. And while a paraffin pillar may be cheap, the substance is a derivative of petroleum; some believe that, when lit, it can release carcinogens into the air. In fact, if the candle is made outside of the United States, there might even be a bit of lead in the wick. (The U.S. banned the manufacture and sale of leaded wicks in 2003.)
If you don't want to risk it, plenty of nontoxic and delicious-smelling alternatives are made close to home. Soy wax, derived from soybeans, and beeswax are safe and sustainable ingredients.
Candles might be the easiest décor ever: They instantly light up a room, set an intimate mood, illuminate a dinner table and make everything — and everyone — look better. And you don't need to wait until company comes over to enjoy them.
Here are three Vermont candle makers to consider.
Way Out Wax
76 Deer Run Lane, North Hyde Park, 888-727-1903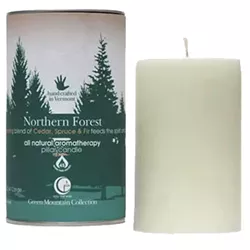 Jim Rossiter began making colorful candles in downtown Burlington in 1992. After realizing that the artificial dyes in his products weren't in sync with the environmentally conscious outlook of his customers, he switched gears.
Gone are the artificial colors. Today, Way Out Wax produces candles in a variety of scents and wax compositions from its Hyde Park factory. While the company's proprietary pillar candle blend contains refined, food-grade paraffin, it also uses palm wax, beeswax and hemp-seed oil. For those concerned about paraffin in the home, Way Out Wax also makes entirely soy-based candles.
Either way, the company capitalizes on scents. With the help of certified aromatherapist Wendy Dorsey, WOW developed such options as Escentual Love, a blend of lavender, rosewood and patchouli; and Northern Forest, a concoction of cedar, spruce and fir oils that will take you to straight to the backcountry.
WOW's general manager, Anna Barrett, says her favorite scents are Cozy Home — for its "comforting blend of culinary spices" — and Clear Head. As that latter name suggests, the candle offers the invigorating effect of peppermint, eucalyptus and rosemary. "Sometimes," Barrett adds, "you just need a little pick-me-up when there's a subzero breeze and it's dark before 5 p.m."
Lunaroma
688 Pine Street, Burlington, 951-9714
When it comes to aromatherapy, Lunaroma pretty much has the local market cornered. In its Pine Street storefront and mix shop, founder Leyla Bringas and cohorts whip up sustainably sourced essential oil blends. These are used in everything from soaps to luxury perfumes to — you guessed it — candles.
All of Lunaroma's candles are made from soy wax. While the scents are blended at the store, the candles are manufactured at the Way Out Wax facility in Hyde Park. Lunaroma switches up scents with each new batch, and the company has just finished pouring the candles that will light homes this winter.
During a recent visit, staff herbalist Rachael Keener offers up some of her favorite candle scents. It's hard to choose, since each is designed to meet a different need. But, Keener suggests, the Clarity blend "is great for sitting at my desk, or doing yoga in the morning." She adds that candles are not just for after the sun goes down. "I love using candles in the day, especially during the winter," she says.
The candles — and other Lunaroma products — can be purchased online, but customers in the Burlington area should visit the shop. How else will you know which scent floats your boat? Cocoa Ylang Ylang, for instance, might not sound particularly appealing in print. But one whiff of the sweet mix of warm cocoa and intoxicatingly floral ylang ylang could change your mind.
Before you light up, Keener has a tip: "You want the puddle [of melted wax] to get all the way to the edge [of the tin] before you blow the candle out." That way, the candle burns evenly and you get the most from those precious essential oils.
Vermont HoneyLights
9 Main Street, Bristol, 453-3952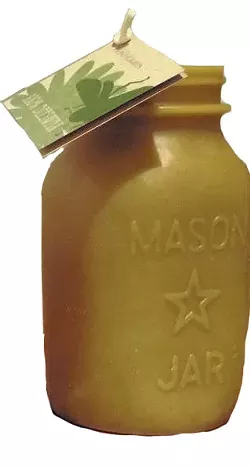 Scented candles aren't for everyone, or for all occasions. Vermont HoneyLights offers a wholesome alternative.
When Bonita Bedard and her daughter, Shawna Sherwin, took over the company in 2000, the first thing they did was eliminate the paraffin in the previous owner's candle formula. For the past 15 years, the women have been pouring 100 percent beeswax candles in their studio-storefront in Bristol.
Each of Vermont HoneyLights' candles is created by hand. Bedard makes most of the molds herself, often from reclaimed objects such as ornamental sleighs, PVC piping, dried corncobs and decorative vases. She's even made a polyurethane mold of asparagus. These shapes are then filled with beeswax, some of it colored with red, green, blue or brown natural dyes. Most of the candles, though, come in the traditional, unadulterated gold and, when lit, emit the soft, honey-like fragrance of beeswax.
Some of Bedard's creations seem too pretty to burn, such as angel-shaped candles or tapers cast from a mold of a branch. Or the cluster of grapes designed to sit atop a wine bottle. The list goes on — Bedard has made 500 candle molds over her time with Vermont HoneyLights, and she's got the inventory to prove it.