Zachary P. Stephens
Christophe Gagné pouring a glass of Windham Flora while standing in the wilderness behind Hermit Thrush Cellars
Vermont's first beer of the spring began in a Northeast Kingdom forest. On a drizzly June afternoon, Vasilios Gletsos, Wunderkammer Bier's brewmaster, gathered tips and branches of juniper, pine, spruce, cedar and fir for his Waking Insects beer. That's the fourth in an annual series of brews based on a Norwegian juniper beer.
Gletsos' children, Kosmos (age 10) and Poppy (age 7), helped him forage. In the woods on their Craftsbury property, Kosmos climbed up a spruce tree and tasted a tip. "It's a little bit sour, a little bit bitter. It's pretty good," he reported, adding bits of the evergreen to the reusable grocery bag hanging from his neck.
After the family forages enough material, Gletsos soaks the juniper branches overnight in local birch sap, and then takes the branches out of the mash. He adds the rest of the tips to the boil, a stage of beer making, then makes it come alive with kveik yeast, Brettanomyces and mixed cultures.
For Gletsos, gathering wild ingredients "is really about expanding my own sense of wonder" and "bringing some expression of the Northeast Kingdom" to his hauntingly complex, cult-status brews. But if the beers are unique, the ingredients are seasonally common: yarrow and rose petal in July, sumac and goldenrod in September, lichen in October, and other plants and mushrooms throughout the growing season.
Gletsos, whose day job is brewing at world-renowned Hill Farmstead Brewery in Greensboro Bend, began Wunderkammer as a side project in 2016. He uses space at Hill Farmstead to produce and bottle his small-batch beers, making about 100 barrels of Wunderkammer beer per year. Half of it is bottled, half kegged.
After studying at Maine College of Art in Portland, Gletsos, 41, came to Vermont in the '90s to perform with Bread and Puppet Theater, which he occasionally still does. His creativity is apparent in the Wunderkammer labels he illustrates, and in his poetic musings. To be in the woods foraging is to "experience the world in a slightly different way," he said. And he delights in seeing fans of his beer take up foraging, as well. To drink the results of such a foray? "In the sense of eliciting wonder and curiosity about the world, I hope it sort of draws you out of your everyday experience," Gletsos said.
Wunderkammer's expressive beers do just that. The Hyla Crucifer, made with lichen, chagga, "some sticks and leaves, as well as other typical brewing material," Gletsos said, is a revelation in how intricate a beer can be. A sip first reveals tartness, followed by rooty qualities, and then earthy and pleasantly bitter tastes. These are bewitching beers to share with friends while talking about the nature of joy and art. Or perhaps pondering what it means to drink an exceptionally complex, $12 bottle of beer made from foraged ingredients in the climate-changing 21st century.
Wunderkammer can be found periodically at a few places in Vermont, including Parker Pie in West Glover, Tap 25 and Cork Wine Bar & Market in Stowe, and Healthy Living Market & Café in South Burlington. Gletsos sends an occasional keg to New York State and to Oregon, where he used to live, but he's not seeking to expand or increase production. He described his releases as akin to finding flushes in the woods, like a patch of chanterelles one can stumble upon with good timing and the willingness to wander.
Due to the inclusion of Brettanomyces and mixed cultures, many Wunderkammer beers are sour, though Gletsos thinks of sourness as an aspect of flavor, not a style in and of itself. But at Hermit Thrush Brewery in Brattleboro, sour and wild are the sole focus.
"There's a certain magical mystery to the fact that we've only done wild fermentations, ever, and have never bought yeast," said Christophe Gagné, 32, president and brewmaster of Hermit Thrush. "Beer all used to be sour, to varying degrees, until Louis Pasteur came along and was able to control the yeasts. Sour beer was safer than water in the 1600s," he noted.
Nowadays, Gagné uses a mix of traditional methods and contemporary innovation to produce Hermit Thrush's beers. After experimenting with culturing different yeast strains from throughout the Northeast, he found that Brattleboro's southern Green Mountains and farmland, full of "green things and sweet things," helped produce yeast with "good diversity and high cell count." Also pleased with Brattleboro's crisp water, he founded Hermit Thrush with Avery Schwenk in 2014.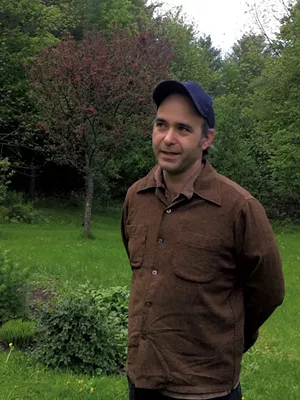 Zachary P. Stephens
Vasilios Gletsos
Gagné explained their process of capturing wild yeasts, which they do for six or seven weeks every fall. After the initial brew day, they screen in the overhead door and let the sterile beer cool overnight in open-top steel coolships, allowing in the moist valley air. By morning, the mix is bubbly and fermenting from the yeasts carried by the wind.
This mixture becomes part of the house pitch, which contains 180 different yeast strains from the Saccharomyces, Pediococcus, Lactobacillus and Brettanomyces yeast groups. Gagné has had the yeasts isolated and plated, and he can distinguish the attributes that different yeasts give to beer.
"If you tease apart the biology, you start to learn which families, or species or strains, make certain flavors," Gagné said. "Some make funk and some don't. Some taste like wine or fresh fruit — everything from hay to horse blanket." He regards yeast as a brewing "partner" rather than an ingredient.
"Sour beers are much less about designing a flavor profile than finding a way to hit that target — more of: I'm here, with the dusty sunbeam flavor of yeasts [from] the area," he said.
Gagné uses Vermont apples and other fruits — skins, seeds and all — for his barrel-aged fruit beers, and the yeasts on those fruits add to the mixed wild culture. As with natural wines, the weather and seasonal variations make for a different beer every time.
"The most interesting beers are the ones where I try to not mess up what the farmer did," he said. "What beauty do you observe around you, and how do you aggregate that to allow the yeast to reach its potential?"
Like Gletsos' foraged beers, Gagné's approach is drastically different from that of standard beer making, which seeks to reproduce the same flavors in each batch. In a state where hop-heavy IPAs and double IPAs oversaturate the microbrew market, it's refreshing to have beer that seeks to surprise, not conform.
These beers' complexities evolve in part from the time it takes to make them, which is reflected in the higher price point. Although Hermit Thrush's kettle sours can be ready in four to six weeks, its barrel-aged beer ages for 12 to 18 months before it leaves the brewery. Some Wunderkammer beers are released after nine months.
At other breweries, typical ales, including IPAs, can be ready in as little as two weeks; lagers can be drinkable in three. While most beer should be imbibed young, the barrel-aged beers of these microbrewers can sit for a long time.
But don't wait years before trying one of Hermit Thrush's quaffable Party Guy sours, or its Fou D'or, a barrel-aged sour golden ale. Drink them with savory food, especially salty charcuterie or sweet-and-spicy barbecue. While sipping, consider how the beer reflects the Brattleboro landscape: the bright taste of its fruit, the crispness of its water and perhaps the metaphorical, tentative sweetness of the decommissioning of nearby Vermont Yankee.