Courtesy Of Chip Allen Photo
Mike Czok of Bent Hill Brewery
Summertime is happy time for many Vermonters, and for the state's tourists, too. And when it's hot outside, most of us want to tip back a cold brew or two. Vermont's craft breweries oblige with plenty of reasons to don your drinking shoes. Do you like hoppy IPAs? You'll find those flowing at Frost Beer Works, River Roost Brewery and, really, just about every brewery in the state all summer long.
What else can we expect to imbibe this summer? Fruit beers, for one thing.
In Northfield, Good Measure Brewing co-owners Scott Kerner and Andrew Leichthammer are cooking up a series of citrus-infused brews (and one very special, super-lightweight shandy). In Bridgewater Corners, Long Trail Brewing's Sam Clemens and Ian Harbage are working with local farms to source fruit for a series of small-batch brews. In Braintree, Bent Hill Brewery's Mike Czok has a curious raspberry-coconut offering, among others.
If a spate of fun new brews makes you feel like dancing, you can do that: At least three Vermont breweries, including the Alchemist, Otter Creek Brewing and Long Trail Brewing, will host music series this summer.
Thirsty yet?
BYO Blanket
The Alchemist, 100 Cottage Club Road, Stowe, 882-8165, alchemistbeer.com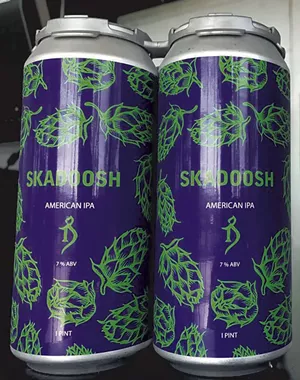 Courtesy Of The Alchemist
The Alchemist's Skadoosh IPA
If you've not yet visited the Alchemist's arty new brewery in Stowe, this summer will afford at least one weekly excuse to go. Just make sure you bring lawn chairs or a picnic blanket. Every Thursday evening starting May 31, co-owner Jen Kimmich said, the brewery will host a lawn party.
Attractions include games, live music and art, along with grilled fare courtesy of the cooks from Hen of the Wood sister pub Doc Ponds. And, of course, lots of beer, Frisbees and good cheer.
"We are really hoping that this takes off," Kimmich said, "and that our community members come out to enjoy some laid-back fun with their neighbors."
IPAs, Always
Bent Hill Brewery, 1972 Bent Hill Road, Braintree, benthillbrewery.com
Stainless steel tanks crowd the small production space at Braintree's Bent Hill Brewery, where owner Mike Czok continues to brew on the same three-barrel system with which he opened four years ago. When space became tight, Czok moved out his aging barrels — a heart-wrenching decision for any brewer — and put his dreams of barrel-aged sour beers on hold.
Of course, there's always a work-around. This summer, Czok said, he'll release a series of lightly soured beers aged in stainless steel. These include Curiosities, a Berliner Weiss with raspberries and toasted coconut. Look for that in cans in early June. Later on, he'll drop Peculiar, infused with blood orange, ginger and pineapple.
But Czok said Bent Hill's hottest summer brew will likely be a new, 6 percent ABV New England-style IPA called Always All Ways.
"I don't want to call it a 'session [beer],'" Czok said, "but it's along those lines."
Brewed with German wheat, two-row barley malt, "a ton of oats," and twice the normal portions of Mosaic and Citra hops, the bright, densely aromatic beer will be released several times before fall, Czok expects.
The newbies will be on draft starting this week at the brewery. On Saturdays through October, visitors can sit for full-pint pours, handmade sausages and other fresh fare from South Royalton's Putting Down Roots Farm.
If Braintree is too far from home, look for the new product at bars and restaurants in central Vermont and Burlington; in cans at retail outlets including City Market, Onion River Co-op and Winooski's Beverage Warehouse; and at the Vermont Brewers Festival, where Bent Hill will make its inaugural appearance in July.
New Research
Frost Beer Works, 171 Commerce Street, Hinesburg, 949-945-4064, frostbeerworks.com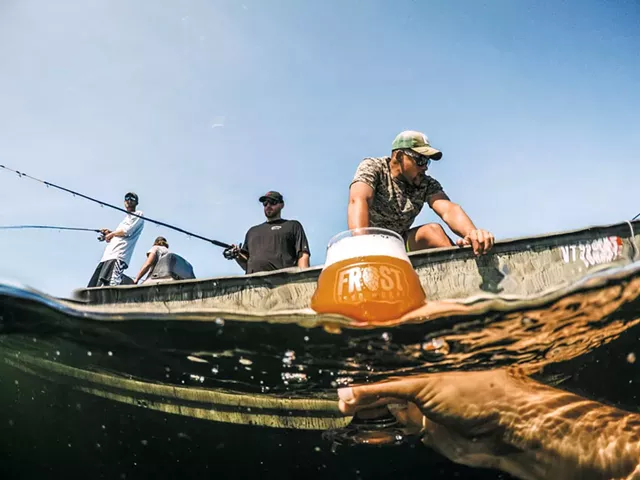 Courtesy Of Frost Beer Works
Frost Beer Works' Lush
When Frost Beer Works first hit the summer brew-fest circuit in 2015, few drinkers knew of its beers, said brewery co-owner Christina Frost. But a lot can change in three years.
"Now people are saying, 'I've had all of your beers,'" she said.
So, this summer, brewers Garin Frost, Jack Droppa and Steve Nelson are sending something new to the tasting tables.
"We're bringing our Research [Series]," Christina Frost told Seven Days, referring to Frost Beer Works' experimental beers, made in small batches and typically available only at the brewery.
Those beers — including current offering the Big Oyster, a piney double IPA — will be available in cans, thanks to the new canning line the facility added earlier this year.
Also this summer, Frost's popular dry, malted-wheat Really Pale Ale will be available on local draft lines and in cans in a major way. "In the winter we have it in limited quantity," Frost said. "But when the sun is out, that's what you want."
Summer Citrus
Good Measure Brewing, 17 East Street, Northfield, 485-4600, goodmeasurebrewing.com
Courtesy Of Good Measure Brewing
Good Measure Brewing's Early Riser cans
Starting right about now, Good Measure Brewing is putting its new canning line into overdrive, co-owner Scott Kerner told Seven Days last week. Six-packs of the brewery's Early Riser cream ale landed on shelves at Maplewood convenience stores in April, and soon brewery visitors will be able to snap up shiny little packages of Social Club pale ale.
On deck are Day-Glo, a 4 percent ABV American blond ale with a bouquet of new- and old-world hops; and Fizzy!, a cream-ale shandy cut with Noah's Fizzy Lemonade, which is made by Waitsfield teen entrepreneur Noah Schwartz.
In the Good Measure taproom — and on a newly opened sidewalk patio — drinkers can sample beers from co-owner Andrew Leichthammer's Life in Technicolor series. He's infused hop-forward brews with "citrus of all shapes and sizes," Kerner said.
On draft now: Absolutely, a 5.8 percent ABV pale ale with Meyer lemon and Cascade, Centennial and Citra hops.
Tutti Fruity
Long Trail Brewing, 5520 Route 4, Bridgewater Corners, 672-5011, longtrail.com
Courtesy Of Long Trail Brewing
Ethan Freeland in Long Trail Brewing's Farmhouse
Fruit beers used to get a bad rap. But in recent years, said Long Trail's Sam Clemens, who heads the brewing department with Ian Harbage, "People [are] a lot more intentional about what tastes good about the fruits and how those flavors really work in the beer."
That's good, since things are about to get fruity at Long Trail's Farmhouse. There, Clemens, Harbage and R&D brewer Ethan Freeland are working on a series of fruit beers in collaboration with local farms.
First up is a rhubarb-maple golden ale using fruit from Earthwise Farm and Forest in Bethel. Then, as berry season picks up, Clemens said, drinkers can expect a sour beer with black currants and a peach-infused double IPA, as well as beers flavored with berries, plums and maybe even gooseberries.
"We don't really have the option of sourcing local grain or — to some extent — hops for the volume of beer we're producing," Clemens said. "So we're trying to take advantage of opportunities to get involved with local farmers in the way that we can."
The fruit brews will be available only at the brewery — along with live music on Thursdays starting in July. As for Long Trail's new large-scale releases, check grocery shelves for VT IPA, a juicy potion made with Munich malts, flaked oats, and Citra and Amarillo hops.
Tight-Lipped
River Roost Brewery, 230 South Main Street, White River Junction, riverroostbrewery.com
Courtesy Of River Roost Brewery
River Roost IPA
Since doubling his brewery's floor space to 5,000 square feet in March, River Roost owner Mark Babson has been able to spread out a bit. "Before, we were just jammed in to produce more and keep up with demand," he said. Once the new area is plumbed and concrete floors have been poured, Babson will shuffle his tanks around to make way for additional fermentation capacity — and some exciting new developments.
Eventually, he'd like to add a new bar, he said, making possible a tasting-room experience that goes beyond samples and growler fills. But for now, he's focused on production.
As for his summer plans, Babson said he intends to bottle a few barrel-aged beers, such as an imperial stout. And he hinted at shiny cans filled with hazy, hop-heavy pale ales, IPAs and double IPAs but declined to say when those might appear.
"We're not going to announce it," Babson said, wary of building prerelease hype. "We're just going to can the beer and see how it all goes, and then we'll sell the [cans at the brewery]."
No need, then, beer fans, to mark your calendars or stand in line.
On draft now is the usual rotating lineup of clean and juicy ales, Babson said, pointing to an evolved version of the Strong Suit double IPA, dry-hopped with Nelson cones instead of Mosaic.