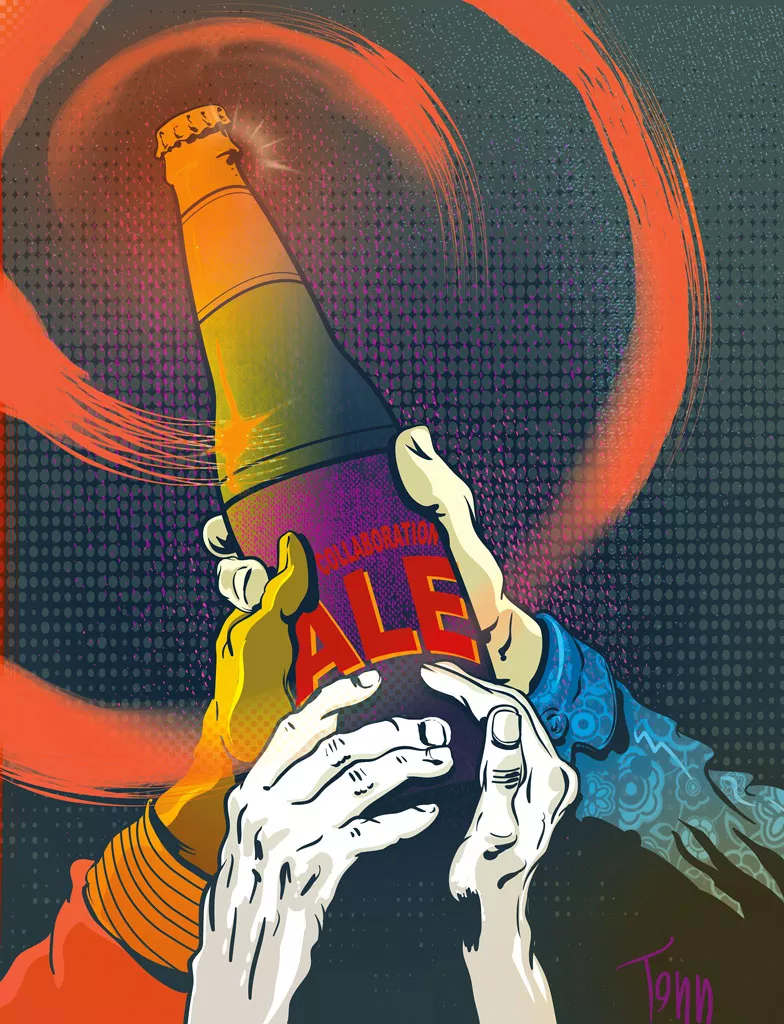 Michael Tonn
Sean Lawson, Tommy Noonan and Russ FitzPatrick
Brewmaster Mike Gerhart slipped away from our table at Otter Creek Brewing's Middlebury taproom and returned minutes later with a pitcher. "I shouldn't be doing this," he said with a wry smile. "But why not?"
Gerhart set tasting glasses on the table and filled them with a semi-viscous golden liquid. We each buried our nose in a glass; the beer's fruity, juicy aroma flooded our senses. In the mouth, it was dense, with herby notes of coriander and citrus — but mostly bitter.
Gerhart was sharing an early sip of Double Dose IPA — a beer that isn't solely his. Brewed with Sean Lawson of Lawson's Finest Liquids, it was the latest in a growing number of collaborative efforts between Vermont brewers. Or one of them: Also last week, Stowe's Crop Bistro & Brewery released a beer created with neighboring Trapp Lager Brewery.
Around the state, brewers are working together.
In Vermont, beer isn't brewed in a vacuum: Brewers talk. At brewfests, they spend days pouring beer and chatting behind the tables. They also bump into one another — at the bar, in the grocery store, on the street — and when shop talk inevitably ensues, it often leads to group projects. It's one of the fringe benefits of working in a small state with the nation's highest number of breweries per capita — more than 40 and counting.
When we sampled it last week, Double Dose was about 10 days shy of ready; it goes on sale at a pop-up party at Mad River Glen this Friday, September 19. But Gerhart said the brew was shaping up well. "At this age, it's where we want it to be," he said, swirling the beer in his glass. "As brewers, it's very hard to let anyone taste your beer until it's ready.
"This is going to be very bitter, because there's hops floating in it," Gerhart continued. "You're actually drinking the hops. No one aside from Sean or the [Otter Creek] brew crew has had access to this."
Gerhart and Lawson originally brewed Double Dose in summer 2013, using malt and hops from both breweries. They trucked water back and forth — first from Otter Creek's facility to Lawson's boondocks abode in Warren, later from Warren to Middlebury.
Parsing schedules was a challenge, Gerhart said. "I was like, 'OK, Sean, let's just pick a date. I'll come to your place with a truckload of hops and malts, and we'll just figure it out.'"
When they did settle on a date, "Sean pulled all these malts out of storage at his house, and we just sat there together breaking up different hops and smelling them," Gerhart recalled. "At the end of the day, we were like, 'OK, what did we use?'"
Since Double Dose calls for crowd-sourced Vermont hops, picked fresh and thrown in at the end of the brew, this year's recipe varied a bit from the original. "Last year we had this garbage bag of hops," Gerhart said, "and the person didn't even know what [variety] they were. He just said they'd been growing behind his parents' house forever."
The local hops, he noted, are "a small token for the brew, but it's also a way to incorporate the local community and make them part of the beer."
Magic Hat Brewing brewmaster Christopher Rockwood, who last summer created Steven Sour (a sour IPA) with Vermont Pub & Brewery, said brewers work together naturally. "Whether we're officially collaborating or whether it's more informal," he said, "[brewers] are always talking back and forth. There are always questions about how to get to a different flavor; those things come up all the time."
The exchange of ideas and advice among brewers keeps the energy fresh at a production brewery, Gerhart said. When the big batch of Double Dose went into the brewhouse at Otter Creek, the brew team worked around the clock for two days. "That 48 hours of brewing is entirely different than what we're normally doing," he said. "Everybody just gathered together to make it happen. This is the good stuff. This is why you're a brewer, for fun stuff like this."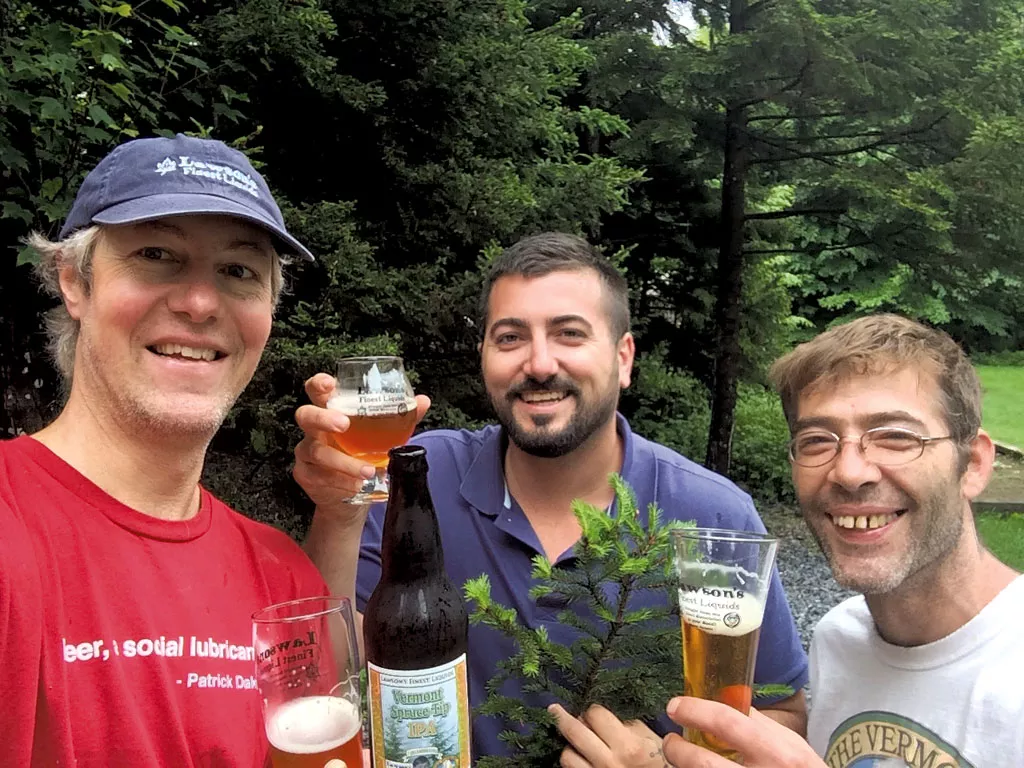 Courtesy Of Vermont Pub & Brewery
Sean Lawson, Tommy Noonanand Russ FitzPatrick
In Stowe, J.P. Williams and Will Gilson, of Trapp Lager Brewery and Crop Brewery, respectively, work just two miles apart. Last week, they tapped a double bock they had made earlier this summer. "We're so close by," Gilson said in a phone conversation, "we see each other all the time."
Williams said that the congenial relationship extends beyond Stowe town limits. "A lot of us have known each other for a long time," he noted. "If we need ingredients, we have a long list of people we can call."
Williams and Gilson's 8 percent ABV double bock is called Zwillinge Bock — "zwillinge" means "twins" in German — after Williams' new twins, who were born as the men brewed the beer. Gilson said the process pushed him beyond his comfort zone. "This is definitely the biggest, chewiest beer I've ever made," he said. "Lots of viscosity in the malt."
Williams said he enjoyed brewing on Crop's equipment, which is similar to a new system Trapp recently purchased from southern Bavaria. When the equipment arrives, it will expand Trapp's production capacity significantly and allow the brewery to bottle and ship beer throughout New England. Williams said working on the Crop system — though smaller than his incoming steel — was great practice.
Both brewers agree that the bock represents a fruitful partnership. "It's great to bounce ideas around," Williams said, "and make a killer brew in the process."
Collaborative beers usually hit the market in limited quantities, on tap at both breweries and their accounts, or in specially labeled bottles bearing both brewery names.
At Magic Hat, Rockwood said Vermont's diversity of brewery sizes fosters learning during collaborations. "There's such an array of the technologies," he said; large operations such as Magic Hat and Otter Creek operate very differently from smaller ones such as Lawson's, VPB and Crop. And that's part of the challenge.
Rockwood said he and VPB brewmaster Russ FitzPatrick and owner Steve Polewacyk made the first batch of Steven Sour on VPB's tiny 18-gallon pilot system, then scaled it up to fill the brewery's 14-barrel system. Later, they tweaked it to fill Magic Hat's 120-barrel system. "Figuring out how to evoke the same flavors [on such different equipment]," Rockwood said; "it was cool to talk through all that with Russ and Steve."
VPB has been in business since 1988 and has worked with nearly a dozen other brewers since 2012. Polewacyk admits to some friendly competition in the brewing scene, but said he's more than happy to play with others. "We were the first guys on the block," he told Seven Days last week at his pub. "We want people to know that we're here, and that we're available to them."
Rockwood, who's been in the business for seven years, said that brewing with more experienced guys at VPB was stellar on-the-job training. "Working with someone who's been in the business for so long, seeing where their mind goes, in terms of the science behind it all, was great," he said. "You know, the nitty-gritty stuff ... I mean, working with the VPB yeast strain, which is proprietary to them. It was a lot of fun to see those different yeast characteristics and get to know that yeast."
The collaboration also allowed VPB to brew 110 barrels of Steven Sour in a single batch — beer that would be bottled and shipped far beyond the brewpub's normal reach and that would have filled VPB's entire system eight times.
Sean Lawson said the Otter Creek collab allowed him to reach a wider audience, too. "It's been a great way to spread the beer out much farther than we normally can," he said. "To get the Lawson's name out there."
More broadly, Lawson added, working together "creates a cross-feed for brewers who have very different followings; it can expose people to a brewery that they may not be used to getting their beer from."
In the case of Double Dose, regular Otter Creek drinkers are in for an unexpected treat. To make the beer work between Lawson's seven-barrel system and Otter Creek's much larger one, Gerhart said, they had to fudge it. "I'm trying to figure out how my formula works with his numbers," the brewer recalls, "and we're just like, 'The math doesn't work!' Finally, we were just like, 'Fuck the math; this works here in the moment.'"
And that's what these collaborations seem to be about.
Yeast is a living, metabolizing organism that behaves differently depending on who feeds it. A beer reflects the person or persons brewing it: their habits, ideas and brewing philosophy. And it reflects the ingredients — such as random hops from someone's mom's backyard — that are available to a brewer at a given moment.
"You can give five brewers the same ingredients and have them brew a pale ale," Polewacyk observed, "and they'll all make something different."
A beer, then, is a snapshot of a person, place and time. In the case of a collaboration, it also captures the synergy of two people with a single, simple goal: to make a great beer.
"There's this energy," Polewacyk said, recalling making a Spruce Tip IPA with Lawson earlier this year. "When two guys get together to brew, it's really something else."
INFO
Otter Creek Brewing and Lawson's Finest Liquids release Double Dose IPA on Friday, September 19, 3 to 5 p.m., at Mad River Glen in Fayston; and at Otter Creek Harvest Fest, Saturday, September 20, 2 to 6 p.m., at Otter Creek Brewing in Middlebury. Info, ottercreekbrewing.com.
The original print version of this article was headlined "Malty Meld"