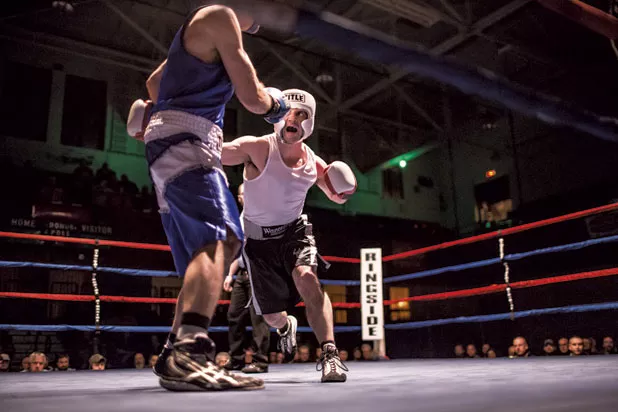 Jeff Prevost of Rumford, Maine, (white) and Scott Kirby of Winooski, Vt. (blue)
As a rivulet of blood trickled from his nose to his chin, super heavyweight Golden Gloves boxer Jonathan Marinelli inhaled and grudgingly shook his head from side to side. He knew he'd been beaten. Just 25 seconds after it started, this fight was over.
Marinelli, of Hanover, N.H., seemed even more stunned by his defeat than were the 600 or so spectators at Saturday evening's semifinal round of the Northern New England Golden Gloves of Vermont, held at Burlington's Memorial Auditorium. His opponent, Luis Diaz Ramos, of Northfield, used a blizzard of wallops to score a TKO, or technical knockout, and advance to the finals. Ramos is now one of a select few local athletes for whom the road to Las Vegas may very well run right through downtown Burlington.
January 18 was the first of three successive Saturdays of competition in the regional chapter of the country's premier amateur boxing tournament. The semifinals were held on January 25, and the finals will take place at Memorial Auditorium on February 1.
Fighters in two divisions compete in the Golden Gloves tournament. Boxers with fewer than 10 bouts under their belts are classed in the novice division, and their fights consist of three two-minute rounds; the open division is for more experienced fighters, who spar for three three-minute rounds.
The boxers who win in each of 10 weight classes proceed to the New England Golden Gloves tournament in Lowell, Mass., in late February, where they'll battle other regional champions. Las Vegas will host the National Golden Gloves event in May.
You won't recognize any of these fighters from Sports Illustrated, or even from the pages of local sports sections. These are amateur boxers: unpaid and competing for — pick one or more of the following — pride, glory, exercise, the fulfillment of a dream, the love of the sport or a long-shot chance at the Big Time. The only money that changes hands goes toward basic operating expenses, such as travel, food and lodging.
The boxers competing in the tournament are not even under contract, which means that it's not unheard of for a match to be canceled because one of the scheduled boxers simply doesn't show up.
But the occasional no-show is just part of the experience, explains tournament director Ernie Farrar, 71, who's been running this event for nearly four decades. Saturday's card didn't fall into place until 24 hours before the bouts began. Farrar — who's better known locally for his 40-plus years on the air at WVMT — took over operations of the tournament "right after the '76 Olympics." He was just 33, and then the youngest tournament director in the nationwide Golden Gloves network.
At the time, Farrar, a longtime resident of St. Albans, was running a couple of informal boxing competitions for teenage kids, which was experience enough for him to step into a supervisory role. By the mid-'70s, the local Golden Gloves tournament had been dormant for a few years. That meant Farrar didn't have access to a venue, or boxing gloves, or a boxing ring.
"So I went out and found a ring," he says. "I can't remember who it was from. It was an old wooden ring that had been around and was used in the Gloves years before."
Farrar approached his friend Bernie Cummings, then the director of the Burlington Boys Club, who provided a sparring space in the club's gym. The space prohibited the elevation of the ring, and the room held only about 200 people, but the tournament survived. A few years later, after a short stint in the Winooski High School gymnasium, the Golden Gloves moved to Memorial Auditorium, where it has taken place every year since.
Each regional tournament has a specific geographical area from which it draws its fighters; the local tournament draws from all of Vermont, Maine and New Hampshire north of Concord.
Vermont fighters received the biggest cheers last Saturday night, but the enthusiastic crowd had clearly converged on Burlington from all over the region to cheer on their own local boys. Hollered encouragement and advice — "Uppercut!" "Get 'im, Scotty!" — rang out in the arena.
While northern New England may not have a strong association with boxing, Farrar asserts that the region has produced its fair share of good fighters. And big ones, too: "This year," Farrar notes, "we're short with the lower weight classes. We don't grow 'em that small here," he says with a wink.
The heavyweights attract the most attention, but some of the best boxing last weekend occurred in the middleweight division. South Burlington's Anthony Bambara, 23, making his ring debut, was the most impressive fighter on the card. His agile ducking and bobbing ensured that his opponent, Ben Koch of Essex Junction, connected only rarely. Having disoriented Koch with his defensive skills, Bambara quickly turned on the offense, stunning Koch with quick uppercuts. By 1:49 of round one, Koch informed the ref that he couldn't continue, and Bambara had scored a TKO in his very first bout.
Bambara trains at Opposing Force Boxing Club in South Burlington. He took the fight on short notice, which meant he had to lose 10 pounds in about seven days. "I really had to clean up my diet … and be careful with my liquid intake," he says. "Lots of grilled chicken and steamed vegetables."
Bambara looked great on Saturday night — but … a boxer from Vermont? Sure, it's happened before. The name of Charlie "Buster" Beaupre is not especially remembered today, but, says local boxing historian Robert Winkler, he was one of the more notable Vermont boxers, having contended for the middleweight championship in the early 1940s. Most of Beaupre's contests took place within Vermont's borders, at venues in Burlington, Bennington and Barre.
"There's a rich history of boxing in the Montpelier-Barre area," says Winkler, who runs the website Vermont Boxing History & International Pugilist Review, and edited the book Gloves: The Stories of Vermont's Greatest Boxers, Trainers, and Personalities, coauthored by Farrar and Alan E. Rubel. Winkler's own research is focused on local boxing in the years prior to 1935, when the sport was popular, ubiquitous and relatively uncorrupted by financial interests.
"When you talk about boxing in Vermont," Winkler says, "it really means boxing in New England, because people would come in from Maine, come in from Boston." He adds that the sport was "seen as an outlet for young men. Instead of roaming around the streets and getting into trouble, they would box and learn discipline and learn how to compete."
Asked what he loves most about the sweet science, Farrar concurs with Winkler: It gives kids an outlet for their youthful energy and aggression, and keeps them out of trouble.
Both Farrar and Winkler insist that boxing, despite its reputation, is safer than many other sports. "In all of the years that I've been doing this," Farrar says, "I've probably seen only one broken nose."
Golden Gloves fighters are required to wear protective headgear, and are further protected from grievous bodily harm by watchful referees, who will halt a match if a boxer gets hurt — a safeguard not necessarily in place in high-stakes professional boxing.
Boxing's profile in Vermont is holding steady, if in a fairly low orbit. There are boxing facilities in Winooski, St. Albans, Williston, Hardwick and Rutland, among other towns. And the tournament, especially the finals, attracts a solid crowd. Still, Winkler is concerned about the prospects of the sport in the Green Mountain State.
The local Golden Gloves tournament, he believes, must address at least two concerns to secure its future — and, by extension, that of Vermont amateur boxing. First, the venue. "I love Memorial [Auditorium]," Winkler says, "but it's been around almost a hundred years, and I don't think it does justice to the boxers."
That may be true, but neither the boxers nor the crowd seemed put out on Saturday night. Memorial Auditorium, with its exposed girders and uncomfortable bleacher seats, feels like an old boxing gym. And the ring is situated right in the center of the floor, so every seat affords an excellent view.
More important, Winkler notes, is the need for Farrar to groom his own replacement. Winkler suggests there may be no one else "with the passion and the love and the determination and the time and everything else — for free, basically — to do this."
Farrar doesn't see either situation as a problem; in any case, his wife, Sherry, and sons Mike and Tony all take part in the operation of the tournament. He's confident there's plenty of community support for local amateur boxing.
Dave Huckabay of Burlington, who fought on Saturday in the light heavyweight division, was something of a crowd favorite, and it was easy to see why. Handsome and affable, Huckabay is a powerful puncher and has a gracious presence in the ring. He bypassed the de rigueur glove bump and actually hugged his opponent, Achelas Anchers of Strong, Maine, after their bout, then greeted and thanked Anchers' trainers. Huckabay's small fan club had drawn up signs of support using markers on paper plates.
Huckabay, 25, a bouncer and waiter at several Burlington restaurants, trains at Precision Boxing Club in Williston. He got into boxing about three years ago for precisely the reason that makes Farrar value the sport: to clean up his act. "I was into drugs and partying, and I hit 20, 21, and I just realized I wasn't doing anything with my life," Huckabay said in an interview before his bout. "I quit the drugs, got straight and, two months later, walked into a [boxing] club and said, 'This is what I want to do. This is it.'"
Huckabay characterized his former self as a "street fighter, a puncher," but said he realized — after being "embarrassed" the first time he stepped in the ring — that he was not even close to being a boxer. "If you're out fighting on the street, don't think you can walk in here and land a big punch on any of these guys," Huckabay said, "'cause they're smarter and faster, and they know what's up."
Because Huckabay started a boxing career at 21, his chances of reaching the big time are remote, though he still holds the slim hope of achieving that goal.
That's not why he was here, though. Summing it up in words that would surely make Farrar proud, Huckabay said, "[Boxing] has done wonders for me … [I want to] prove to myself what I've got. I don't want to be one of those guys who looks back when he's, like, 35 and goes, 'I didn't see what I was made of. I didn't see what I had to offer.'"
Northern New England Golden Gloves of Vermont tournament. Saturday, February 1, 7:30 p.m. at Memorial Auditorium in Burlington. $11 bleachers, $14 reserved seats.
The original print version of this article was headlined "Glove Love"