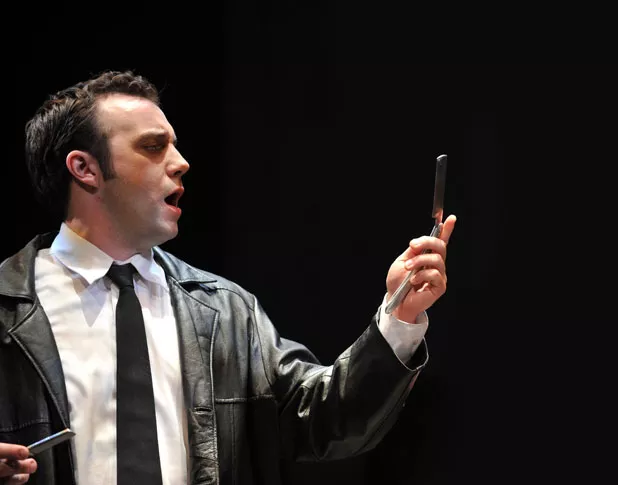 Vermont is known for its lively arts scene, but Broadway it's not. Professional theater groups such as Lost Nation Theater produce musicals sporadically at best. Lyric Theatre Company puts on just two shows a year, and groups such as the Stowe Theatre Guild are active only in summertime.
A dearth of musical-theater opportunities didn't hold back David Janes, however. The Colchester-bred 27-year-old will have the ultimate "local-boy-makes-good" performance on Thursday, February 26, when he plays the title role in the Broadway touring production of Sweeney Todd on the Flynn MainStage. The youngest actor ever to tour the role, Janes — who appears under the stage name Merritt David Janes — joined the production a year ago, after he spent a year on the road playing the Adam Sandler part in the musical adaptation of The Wedding Singer. Janes may repeat the back-to-back feat: He's in contention to star as Tony in the European tour of West Side Story. If he gets the role, his life as a Jet will begin right after he ends his run as the Demon Barber of Fleet Street.
How did the Vermonter make it as an actor — and, rarer still, a steadily employed one? Janes says the thespian bug bit him before he can remember. His mother Susan Janes, a violinist and now concertmistress in the Vermont Philharmonic Orchestra, nurtured his love of music. One of Janes' earliest memories is of Mom and some orchestra cronies performing as a string quartet at his daycare, with him conducting.
"Singing up a storm through high school," as he puts it, Janes discovered his passion for musical theater while working with John Coon of the Colchester Theatre Company, the joint drama club for Colchester and Rice Memorial high schools. It was also during this time that a Rice teacher introduced Janes to Bill Reed. The South Burlington-based vocal coach "really helped me find my voice and allowed me to access all the styles that I have," Janes explains. After graduating from the University of Maine, he once again took direction from his coach.
"He got his degree in music education and was really conflicted about whether to find a job in a school somewhere or whether to follow his dream to be on Broadway," says Reed. "I convinced him to go to Circle in the Square and give it a go in the theater."
New York City's Circle in the Square Theatre School is among the top acting schools in the country, and one of a few that offer a specialty in musical theater. Reed just happens to be one of the program's founders. At Circle in the Square, Janes would take scene-study classes from another Vermont resident, Alan Langdon of Essex, whom he credits with "help[ing] me find my ability as an actor."
But before he went to New York in 2004, Janes had unfinished business in Vermont. Before college, he'd snagged the lead in his high school production of Grease, but "I broke my ankle a week before the show and couldn't play the role of Danny Zuko," Janes recalls. Later, when he was about to go to Circle in the Square, he learned that Lyric was producing [Grease]. "I . . . stayed on to do that role," Janes says.
Coincidentally, Liana Hunt, the actress who costarred as Sandy in that Lyric production, begins her run next week as the lead in the North American tour of the Abba-tacular Mamma Mia! in Lexington, Kentucky.
Not that lead roles in anything come easily. Janes was offered his spot in The Wedding Singer only after nine boot-camp-style auditions. Following a daunting two-week wait, the casting director called with the good news. "I told everyone in the world that I got the role," says Janes. "Then the casting director called me back and said they had one more guy they wanted to see for the role, from 'American Idol.'" With "Idol" finalist John Peter Lewis as competition, Janes "thought for sure I wasn't going to get it." But he did.
The Sweeney Todd audition process was a bit more leisurely: "I was in Atlantic City for the summer with Wedding Singer," Janes says. "The first round of auditions, they sent a limo between Atlantic City and New York."
This production of Stephen Sondheim's dark musical is not what Janes refers to as "the Angela Lansbury version." Playing inmates of a mental institution, the actors accompany themselves in a chamber-play-within-a-play. Singing and acting weren't enough — Janes had to hit the right notes instrumentally, too. Though he was experienced at guitar, trumpet and piano, the casting director hoped Janes might slash throats — and a cello. "When I got to the audition, the casting director said, 'I rented you a cello.' I said, 'That might be a waste of money,'" says Janes. His Sweeney ended up alternating between guitar and trumpet.
Though he's getting the musical-theater equivalent of Hamlet under his belt at a young age, Janes declares, "I'll never get too old for this role. I look forward to the challenge of immersing myself in an older person's circumstances. This is a real actor's role," he adds. "You get to experience every possible state of mind in that character."
In recent years, Vermont natives have appeared on the stages of Broadway and in touring productions of Legally Blonde, Spamalot and The 25th Annual Putnam County Spelling Bee. Janes chalks up these successes partially to strong public schools, advising, "In these hard economic times, you can't let the arts fall by the wayside. It's a big part of what creates good hearts and souls in people." But he also thinks Green Mountain temperament plays a role: "We have a David-and-Goliath syndrome with the rest of the world," says Janes. "There's a subconscious need to try to stand out."