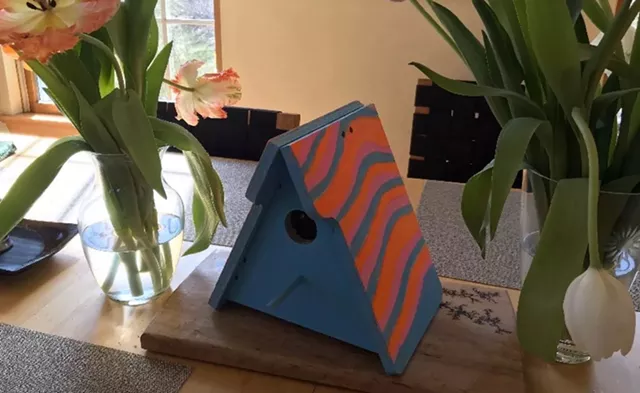 Courtesy of Peter Pomerantz
A finished birdhouse
When Fayston woodworker Peter Pomerantz temporarily furloughed employees this spring, he began looking for a project to fill some of his extra time. His Waitsfield business,
Pomerantz Woodworking
, specializes in high-end residential kitchen cabinetry and furniture, so he had a complete wood shop at his disposal. His two sons — 12-year-old Quin and 10-year-old Alden — were also home from school and looking for something to do.
Courtesy of Peter Pomerantz
Pomerantz's sons assemble birdhouse kits
The three decided to create birdhouse kits for Mad River Valley families, an initiative they dubbed the Vermont Bluebird Project. Pomerantz's intention was to create a hands-on project for kids, and also to spread hope and optimism during a difficult time.
To date, Pomerantz and his sons have made about 115 kits. Each one contains Baltic birch wood parts, a perch, glue and a glue brush, sandpaper, and wire for hanging the birdhouse. The finished product is a handsome A-Frame dwelling that kids can customize with paint if they'd like.
Courtesy of Peter Pomerantz
Through Front Porch Forum, the family offered free kits to interested community members and fifth and sixth graders in area schools. They received dozens of requests.
On Thursday, April 23, Pomerantz and his sons set up tables outside his shop and laid out the kits — wrapped tightly in plastic and labeled with names.
Adhering to social distancing guidelines, people picked up their kits and cleaned them with Clorox wipes while Pomerantz cranked Bob Marley and the Wailers' "Three Little Birds" on his stereo. The remaining kits were picked up by appointment at his workshop.
He asked participating families to send him photos or post images of their finished birdhouse on social media, using the hashtag #vtbluebirdproject. For those who offered a donation, he deferred and suggested that, instead, they "pay it forward" in any way they chose.
For more information, visit Pomerantz Woodworking's Facebook page.